'Tis The Season For Being Thankful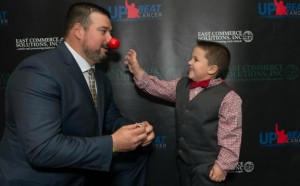 Another November is almost in the books, and it certainly was a month the Joe Andruzzi Foundation will never forget.Between a record-breaking Gala, new campaigns with amazing partners, and quality time spent with family, we're not quite ready to turn the page to December yet!
But before we completely look ahead to the final month of 2016, let's recap everything that kept the Joe Andruzzi Foundation smiling in November!
All the best,
Jen and Joe Andruzzi
---
JAF BY THE NUMBERS
2016 GRATITUDE GALA TOTAL FUNDRAISING: $1 Million
2016 #GIVINGTUESDAY FUNDRAISING: $30,000+
---
2016 Gratitude Gala Raises Record $1 Million For Cancer Patients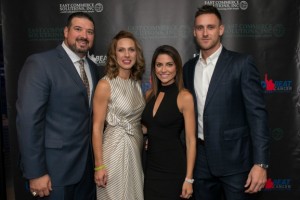 Last Wednesday – the day before Thanksgiving – we were crunching numbers in a fury, trying to put a bow on exactly how much our Gratitude Gala raised. At some point the office erupted with joy, and for good reason: for the first time in its nine-year history, the Gala's fundraising total hit the $1 million mark!
To be crystal clear, it's all thanks to YOU – our amazing supporters – who helped us reach these new heights. To borrow a circus idiom – our Gala's theme for 2016 – you all "stepped right up" and delivered when we needed you most. For that, we are forever grateful to have you in our corner. We are also indebted to the amazing Jenny Dell who did a tremendous job emceeing the Gala.
We want to thank Ed and Lisa Medeiros and our amazing friends at East Commerce Solutions, our Gratitude Gala's Presenting Sponsor for the third consecutive year. They have long been more than just a corporate partner of JAF. East Commerce is family, and over the years they have contributed well over a half million dollars towards hundreds of our patient families.
We were also so happy to have Nicki Maher, Senior Vice President of ALEX AND ANI's CHARITY BY DESIGN division, with us at the Gala to accept JAF's annual (Up)Beat Award on behalf of the company. We first met Nicki in late 2012 at a non-profit event in Rhode Island, and we immediately started talking about how we could work together. Fast forward three plus years, and ALEX AND ANI's generosity has empowered the Joe Andruzzi Foundation to assist more than 630 patients. Check out ALEX AND ANI's recap for their take on attending the Gala and receiving the award. (Click below for our recap as well – and be sure to check out the amazing video ALEX AND ANI shot for the event).  Read all about this amazing event on our blog.
---
Bob's Discount Furniture Doubles JAF's #GivingTuesday Impact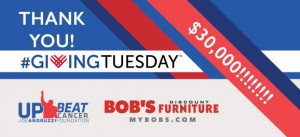 This year on #GivingTuesday (November 29) the Joe Andruzzi Foundation partnered with Bob's Discount Furniture to double our supporters' impact in the lives of cancer patients who are in desperate need of financial assistance. All donations made to JAF throughout the annual day of giving was matched by Bob's Discount Furniture, dollar for dollar, with 100% of the proceeds benefiting JAF patients and their families.
We're excited to share that yesterday's Giving Tuesday campaign raised more than $30,000 for our Foundation, which will singlehandedly allow us to assist 40+ new cancer patients in need.
Thanks to everyone who donated to our Giving Tuesday campaign this year, and, of course, a HUGE THANK YOU goes out to Bob's for their generosity and presenting sponsorship!
---
Honey Dew Donuts Supports JAF, New England Cancer Patients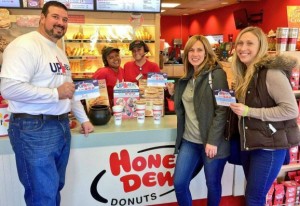 For the third consecutive year, our amazing supporters at Honey Dew Donuts rallied to fundraise for the Joe Andruzzi Foundation! From November 1 – 14, New England's largest locally owned coffee and donut shop chain invited its customers to support the Foundation by purchasing $1, $3, or $5 window decals sold at participating locations throughout Massachusetts, New Hampshire, and Rhode Island.
The final numbers are still being tallied, but if the incredible feedback we heard from our supporters is any indication, this year's campaign was a huge win for the patients JAF serves. (Not to mention, Honey Dew will be matching all proceeds from the decals sales for their donation to JAF!)
Please join us in thanking Honey Dew Donuts for their continued support of JAF's mission. We wouldn't be where we are today (or, as consistently caffeinated) without them!  For more information, please click here.
---
Support JAF While You Vacation In Aruba This Winter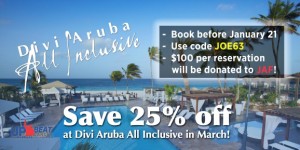 As we turn the page to December, a harsh reality is starting to set in: Winter is coming.
There is good news, though! You can escape to Aruba this winter and help JAF patients at the same time! The Joe Andruzzi Foundation is partnering with Divi Aruba to help (Up)Beat cancer! Divi Aruba will donate $100 per reservation booked between November 21, 2016 – January 21, 2017 for Aruba travel in March using the code JOE63.
Supporters taking advantage of the promotion can also receive a special thank you from Joe himself with an autographed photo and at the meet and greet on March 20th at the Divi Aruba resort. For reservations and more information, contact 1-800-554-2008 or book now online!
---
Patriots Win Over Jets Caps Big Goal Line Giving Month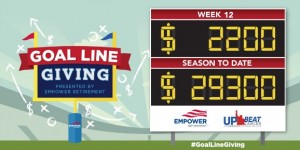 The Patriots went 2-1 in the month of November, scoring 76 points over three games. Thanks to Empower Retirement's dedication to tackling cancer's impact on the patients we serve, the Goal Line Giving scoreboard is up to $29,300 this season through 12 weeks!
As a reminder: for every point New England scores during the 2016 regular season, Empower Retirement will donate $100 towards the Joe Andruzzi Foundation's mission.
Follow along with the Foundation's social channels using the #GoalLineGiving hashtag – JAF's Twitter and Instagram accounts will be live-updating fundraising totals as each point is scored during games this season. Be sure to bookmark this page as well and check back weekly as we update the Goal Line Giving scoreboard.
---
Support JAF While You Shop This Holiday Season!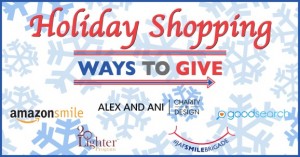 If you braved 4AM Black Friday lines, scored on Cyber Monday deals, and got all of your holiday shopping done already, some big congratulations are in order for you. For the rest of us, there is a lot of catching up to do.
This holiday season, there are plenty of ways you can shop for the special people in your life while also paying-it-forward to the cancer patients JAF serves!
Join the JAF Smile Brigade: Make a reoccurring year-end (or monthly) donation in your giftee's name this holiday season and help share smiles across New England! You can also make individual, one-time gifts in someone's name here.
AmazonSmile: Bookmark, or click through, this link before shopping on Amazon.com this holiday season and a percentage of your order will come directly back to JAF (at no cost to you!).
ALEX AND ANI: Shop the Rhode Island-based jeweler's new Liberty Copper Collection online from now until December 31, 2016 by clicking through this link [http://bit.ly/2caTdh4] and 10% of your sale will be donated back to the Joe Andruzzi Foundation! As always, you can also purchase JAF's "Positive Is How I Live" charm bangle, with 20% of all sales coming back to JAF!
Goodsearch: This fantastic search engine donates half of its revenue to charities designated by users like you! You can download the Goodsearch/Goodshop toolbar here! While you're shopping at over 5,000 participating stores, you'll be making a donation to JAF!
20Lighter: After over-indulging on Thanksgiving (okay, and maybe a day or two after), give yourself the ultimate gift: eating healthy and feeling great! We have partnered with 20Lighter – a doctor-supervised weight loss program completely personalized for each individual client (like JAF President Joe Andruzzi, who is down more than 60 LBS!). Mention JAF when signing up and a portion of your program fee will be donated back to support Joe Andruzzi Foundation patient families!
---
United Airlines New York City Half Marathon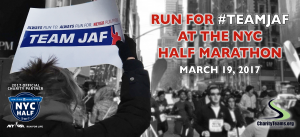 For more information, please click here.
---
2017 Boston Marathon®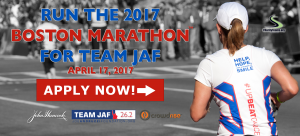 We have filled all of our charity spots but if you are a qualified, registered runner and would like to run with Team JAF, please click here for more information.
---
#UpBeatCancer Spotlight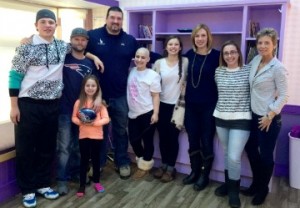 Last Monday was, of course, a special day for JAF as our 2016 Gratitude Gala raised more than $1 million for the first time – but it was also a meaningful day for our foundation for a very separate reason.
November 21, 2016 marked the one year anniversary of the passing of Jenelle "Nelly" Camara – a former JAF patient recipient and one of the most incredible "(Up)Beat" ambassadors we have ever had the pleasure of knowing.
Nelly, a beloved cheerleader and softball player from Fall River, MA, lost her battle with Ewing's sarcoma at the young age of 17, but her memory lives on through the positivity she passed to all who were privileged enough to spend time with her.
Nelly was such a bright light for so many people in her life, and we hope you will join us in remembering her spirit as chronicled through the JAF Patient Profile we wrote about her in 2015.