Hello From the Joe Andruzzi Foundation

This October the Foundation kicked off several exciting partnerships and events.

We recently had the pleasure of being a part of Colleen Sullivan's Be Bold, Be Bald! surprise fundraising event, as well as a beneficiary of the national Be Bold, Be Bald! campaign; tasted how delicious raising funds and awareness can be through our partnership with Honey Dew Donuts, in which they have generously pledged to match funds raised by the sale of JAF window decals; and welcomed the return of our "Points for Patients" initiative with National Grid.

To honor all those who support the Foundation, we will show our gratitude at our upcoming Gratitude Gala at Gillette Stadium on Monday, November 24. More details and ticket info below!

We're excited to share what we have planned as we near the end of the year with the same upbeat positive attitude in which we started!

All the best,
Jen and Joe Andruzzi
---
JAF BY THE NUMBERS
2014 FUNDRAISING TO DATE: $1,402,757
2014 PATIENTS ASSISTED TO DATE: 1239
---
Honey Dew Donuts

Our partnership with New England's largest locally owned coffee and donut chain has been a whopping success, through the sale of special (Up)Beat red and blue-sprinkled chocolate donuts and $1 window decals.  Honey Dew also ran a month-long contest encouraging customers to take a photo with the life size cut out of Joe in stores and post their photos on Twitter and Instagram with the hashtag #IFoundJoe.
A big thanks to Honey Dew for partnering with us for this delectable endeavor, and for their generosity in matching funds raised by the decal sales! We'll have final fundraising numbers for you soon. Watch Dick Bowen and Joe talk about our partnership by clicking here.
---
Be Bold, Be Bald! with Team Sullivan Strong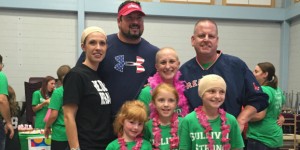 One of the most memorable days of our year so far is the surprise Be Bold, Be Bald! party for Mansfield teacher and breast cancer patient, Colleen Sullivan, to celebrate her last day of radiation! Colleen is a true example of the upbeat attitude. In her honor, the successful Be Bold, Be Bald! event raised $2,475 for the Foundation. Fundraising isn't over! Check out the surprise video here – bit.ly/1D2cAPP – cast your vote for Team Sullivan Strong by end of day October 31, and the Foundation will have a chance to win a $5,000 donation.  To read more about Colleen's story, here's a link to our blog.
---
Breast Cancer Awareness Month
In honor of National Breast Cancer Awareness Month, we honored remarkable women who are courageously battling the most commonly diagnosed and second deadliest cancer for women. Throughout October we encouraged our supporters to wear pink, as Joe's NFL brethren have, to show their solidarity with women battling this illness. We continue to strive to make this battle a little less stressful for our JAF patient families, and invite all of you to join us in living pink!  Click here for a message from Jen.
---
Gratitude Gala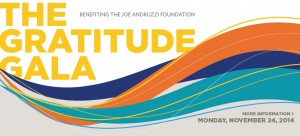 We are thrilled to host our inaugural Gratitude Gala, honoring all those who have contributed to our enduring mission to ease the financial strain on cancer patients and their families on November 24 at Gillette Stadium's Putnam Club. Formerly known as the New England Celebrities Tackle Cancer Gala, this year's event will feature an enthusiastic collection of big names, plus this year's keynote speaker and childhood cancer survivor, Mayor Martin J. Walsh. In addition to the speaking program, the evening will feature a meet-and-greet cocktail reception with local athletes and celebrities, an elegant three-course dinner, and live and silent auctions. Join us for a night of gratitude; get your tickets today!
---
2015 Boston Marathon®

Any runner will tell you it's never too early to start setting your next goal. Why not make yours the 2015 Boston Marathon®? We've been selected by The John Hancock® Nonprofit Partners to receive charity entries for the 119th Boston Marathon® on April 20, 2015, and want you to join us in our race to the finish line! The Team JAF roster will be announced in November, so get your last-minute applications in today (click here to submit an application). More news coming soon on this year's Boston Marathon® Team JAF – including numerous exciting ways for Team JAF supporters to get involved. We look forward to your support as the training season kicks off!!
---
Patriot Subaru Share the Love

Our good friends at Patriot Subaru of North Attleboro, MA are launching their "Share the Love" holiday charity event. Between November 20, 2014 and January 2, 2015 they will donate $250 to the customer's choice of five charities, every time a new car is purchased. We are honored to be one of this year's beneficiaries! Other participating charities this year include the ASPCA, Make-A-Wish Foundation and Meals on Wheels Association of America. Subaru will donate up to $15 million, bringing this event's seven-year total to $50 million! We wholeheartedly support Patriot Subaru and "Share The Love" for your holiday automotive needs. To learn more, click here.
---
#GivingTuesday

In the midst of the madness between Thanksgiving and the holidays, we are dedicating a day to simply give. "Giving Tuesday," on December 2, is a day for the world to celebrate generosity. People from all walks of life, as well as charities, businesses, and community centers, will take the simple step of coming together to give. Make a conscientious response to Black Friday and Cyber Monday by celebrating "Giving Tuesday" – make a charitable donation and share your generous action with the hashtag #GivingTuesday.
---
Patient Profile
Laurie Beattie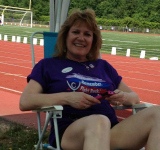 Laurie Beattie is on the verge of being a two-time champion. The N. Attleboro mother of three, including a son who has successfully fought his own battle with cancer, is now facing a second diagnosis of breast cancer… and she's not blinking. She's fighting cancer again, remaining upbeat and encouraging friends to put their health first and get regular check-ups. "After a year of chemo, I am going to beat it again. I fought it once and won and I will win again this time." Check out more of Laurie's story in our blog by clicking here.