Wishing You A Happy & (Up)Beat Halloween!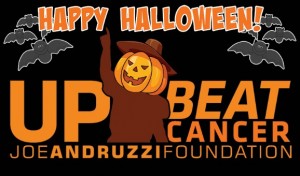 What do ghosts eat for supper?
Spooketti!  
On behalf of the entire Joe Andruzzi Foundation, we want to wish you and your family a very Happy and (Up)Beat Halloween!
Speaking of which, it certainly is scary how quickly October flew by! We're under a month away from our annual Gratitude Gala, and before you know it, we'll be cheering on Team JAF runners as they come down Boylston Street on Marathon Monday! (Okay, maybe there will be some snow mixed in between)
But before we start getting our winter coats out of the closet, let's take a look at everything that kept the Joe Andruzzi Foundation busy in October!

All the best,
Jen and Joe Andruzzi
---
JAF BY THE NUMBERS
DAYS UNTIL THE GRATITUDE GALA: 21
DAYS UNTIL THE 2017 BOSTON MARATHON®: 168
---
Honey Dew Donuts & JAF Partner To Support New England Cancer Patients
For the third consecutive year, our amazing supporters at Honey Dew Donuts will rally to fundraise for the Joe Andruzzi Foundation – and it all kicks off tomorrow!
From November 1st – 13th, New England's largest locally owned coffee and donut shop chain will invite their customers to support the Foundation by purchasing a $1, $3, or $5 window decal that will be sold at participating locations throughout Massachusetts, New Hampshire, and Rhode Island. At the end of the campaign, Honey Dew will match proceeds from the decals for their donation to JAF.
To get involved, visit your local Honey Dew location before the 13th – and be sure to click here to find out more about this year's campaign!
---
Get Your Gratitude Gala Tickets While You Can!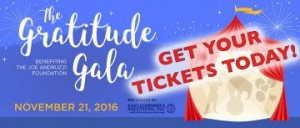 The countdown is on! Only 21 days until the Joe Andruzzi Foundation's signature event – the ninth annual Gratitude Gala, hosted by CBS Sports Reporter Jenny Dell on Monday, November 21st at Gillette Stadium's Putnam Club!
This year's Gala, presented by East Commerce Solutions, Inc., will feature a fun circus theme – so get ready to dress snazzy like a ringmaster, have cocktails with the monkeys, dine under the big top, and bid like a clown. You'll be off to a great place, the 21st is your day, the circus gala is waiting – so get on your way!
But first…make sure you secure your spot before it's too late!
To purchase tickets, visit: http://bit.ly/2016JAFgala.
---
JAF Supporters "Go Bald" For Cancer Patient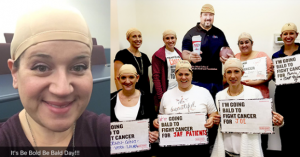 October 21st, the Joe Andruzzi Foundation joined thousands of people across the country as we put vanity aside and wore bald caps to show solidarity with those who bravely fight cancer. Six JAF fundraisers participated in the 2016 Be Bold, Be Bald! day, raising nearly $3,500 in support of our mission!
Please help us in sending a big THANK YOU to our top fundraiser, Lindsay Rosa, who participated for the second straight year, and raised more than $2,000 for JAF patients!
---
Calling All Qualified & Invitational Boston Marathon® Runners…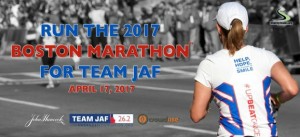 We are thrilled to announce the Joe Andruzzi Foundation has filled all of its John Hancock Non-Profit Marathon Program Boston Marathon® entries for 2017.
Qualified, invitational runners, or those already in possession of a 2017 entry who wish to join Team JAF and fundraise at least $1,500 toward the Foundation may still apply by clicking here. All fundraising by Team JAF runners directly supports the Foundation's mission of providing help, hope, and a reason to smile for cancer patients and their families.
---
Put Another $4,100 Up On The #GoalLineGiving Scoreboard
$21,700 has been raised through eight weeks, which will allow JAF to assist more than 31 cancer patients – all thanks to Empower Retirement's dedication to tackling cancer's impact through our Goal Line Giving campaign!
For every point New England scores during the 2016 regular season, Empower Retirement will donate $100 towards the Joe Andruzzi Foundation's mission of providing financial assistance to cancer patients and families – helping them focus on recovery, not bills. That means New England points scored on the football field will have even greater meaning this year – allowing the Joe Andruzzi Foundation to potentially support families in numerous ways!
Follow along with the Foundation's social channels using the #GoalLineGiving hashtag – JAF's Twitter and Instagram accounts will be live-updating fundraising totals as each point is scored during games this season.
Be sure to bookmark this page as well and check back weekly as we update the Goal Line Giving scoreboard.
---
What Do You #CARRYLIGHT For?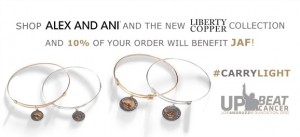 Needless to say, ALEX AND ANI has been a huge supporter of our mission for years, and we want to share just how proud and excited we are for their amazing new Liberty Copper Collection – featuring pieces containing original copper preserved from the Statue of Liberty's centennial restoration. Just as the Statue of Liberty shines her perpetual light of positivity, JAF and ALEX AND ANI encourage everyone to spread their own light to the world.
You can help us #CARRYLIGHT for cancer patients in need through ALEX AND ANI's online store – purchase items from now until December 31, 2016 by clicking through this link [http://bit.ly/2caTdh4] and 10% of your sale will be donated back to the Joe Andruzzi Foundation.
---
#UpBeatCancer Spotlight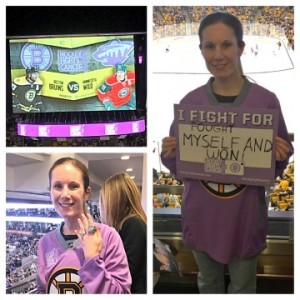 Thanks to Joe Andruzzi Foundation supporters who donated their tickets, Dawn DeLuca – a cancer survivor – got to take in an (Up)Beat Opportunity at the Bruins game on Tuesday, October 25th!
We believe patients and their families can greatly benefit from the relief of cancer's financial and emotional burdens, which allows them to focus on what really matters: getting better and enjoying life.
At the forefront of JAF's (Up)Beat Cancer mantra is the Foundation's ongoing series of (Up)Beat Opportunities – events and gatherings organized to help take patients' minds off of treatment, even if just for a few hours.
Many of the families attending JAF (Up)Beat Opportunities are battling through extraordinary circumstances, and being mentally removed – like a night at the Bruins game, family boating experiences out on Boston Harbor, or an afternoon at Fenway Park cheering on the home team – provides our patients and families with much needed opportunities to relax and smile.
Do you have tickets to fun sporting events, concerts, or actives in the New England area? Do you want to donate them to cancer patients? Email info@joeandruzzifoundation.org to help create an (Up)Beat Opportunity.