Wishing You A Spooktacular Halloween From The Joe Andruzzi Foundation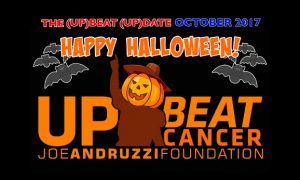 On behalf of the entire Joe Andruzzi Foundation, we want to wish you and your family a very Happy and (Up)Beat Halloween!
Speaking of which, it certainly is scary how quickly October flew by! We're just about a month away from our annual Gratitude Gala, and before you know it, we'll be cheering on Team JAF runners as they come down Boylston Street on Marathon Monday!
But before we start getting our winter coats out of the closet, let's take a look at everything that kept the Joe Andruzzi Foundation busy in October!
All the best,

Jen and Joe Andruzzi
---
JAF By The Numbers
34
DAYS TO THE JAF'S GRATITUDE GALA
117
DAYS TO '18 BOSTON MARATHON
---
Local Business Leaders, Star Athletes Kick-Off Inaugural Champions Circle Appreciation Night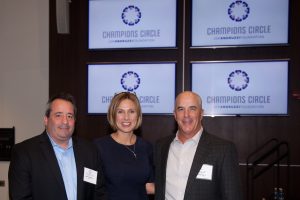 On Tuesday, October 24, 2017, more than one hundred Joe Andruzzi Foundation supporters gathered at the inaugural Champions Circle Appreciation Night held at the Cross Insurance Pavilion and Business Center at Gillette Stadium to celebrate the first year of our new annual giving society.
Champions Circle members and their guests were treated to a celebrity panel, hosted by Scott Zolak, 98.5 The Sports Hub Midday Host and Patriots Color Analyst, which included former New England Patriot Jerod Mayo, Olympic gold medalist in US Women's Gymnastics Nastia Liukin, former WWE wrestler and founder of the Concussion Legacy Foundation Dr. Chris Nowinski, former US Women's National Soccer Team player Kristine Lilly, former Seattle Seahawk Isaiah Kacyvenski, and former Olympic gold medalist in US Women's Ice Hockey Katie King Crowley. All of our panelists, including our host, donated their time Tuesday evening, and we are incredibly appreciative of that wonderful gift.
We were thrilled to recognize all our MVP level supporters on stage, and were equally thrilled and honored to have so many Champions Circle members in the room. Champions Circle launched on June 1, 2017 and since then has raised over $67,000 for the Foundation. We've welcomed many new supporters to the cause and have been lucky to meet many new friends.
The evening was made possible by our friends at Cross Insurance who generously donated the event in its entirety.
Be sure to check out the Champions Circle Appreciation Night Facebook photo album to view photos of the evening.
If you're interested in becoming a Champion Circle member or upgrading your current membership level, please contact Meaghan Peters, Annual Giving Manager, at meaghan@joeandruzzifoundation.org , by calling 508-261-0630 or visiting our Champions Circle website.
---
JAF, Honey Dew Donuts Four-Year Partnership Pushes Towards $150K Goal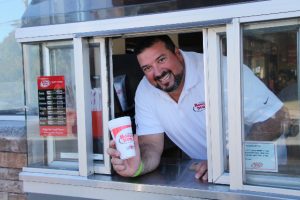 Sunday, October 22 marked the final day of our three-week, in-store fundraising campaign with Honey Dew Donuts – where customers supported the Joe Andruzzi Foundation by purchasing $1, $3, or $5 window decals sold at participating locations throughout Massachusetts, New Hampshire, and Rhode Island. Honey Dew Donuts will generously match the proceeds from the decals for their donation to JAF, helping us assist even more patients throughout New England in the year to come.
This year's campaign marked the fourth year of our valued partnership with Honey Dew Donuts, and while fundraising totals are still being tallied, we are hopeful to reach our grand, four-year goal of $150,000. (Stay tuned!)
In the meantime, please help us send a HUGE THANK YOU to Dick Bowen, Honey Dew Donuts, the franchisees who supported the campaign, and, of course, all the generous customers who purchased a window decal this October!
---
David Yurman Boston's New Store Opening Benefits JAF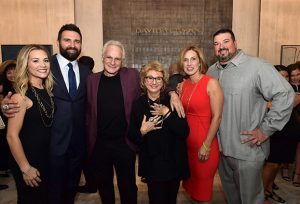 On October 11, David Yurman Boston welcomed JAF friends and supporters to its new Copley Place location for an opening party/JAF fundraiser – where 15% of proceeds from all purchases during the event benefited the Joe Andruzzi Foundation in support of the CJ Buckley Pediatric Brain Cancer Research Fund at Boston Children's Hospital.
The event was a huge success, and we had a blast celebrating with Mr. Yurman himself (pictured left), Rob Ninkovich, Billy Costa, and so many other JAF supporters. We cannot thank everyone at David Yurman enough for pulling the event together! Keep an eye out for our final numbers which will be announced next month.
---
"(Up)Beat Burger" Crowned Champion at Barrett's Alehouse's Battle of the Burger Fundraiser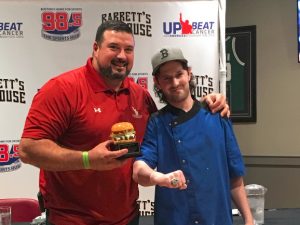 Please help us send another HUGE THANK YOU to Barrett's Alehouse in West Bridgewater for hosting the "Battle of the Burgers" fundraising event on Wednesday, October 18!
During the event, each of Barrett's Alehouse and Fireside chefs competed to create the "(Up)Beat Burger" (judged by Joe himself), which will now be added to their menu for a limited time – with proceeds benefiting the Joe Andruzzi Foundation!
Congrats to winning burger chef Christopher Benoit, and thanks to everyone who came out to support the event – including some former JAF patient recipients!  Visit our Facebook page for photos!
---
Last Call: Apply to Run Boston in 2018 with Team JAF!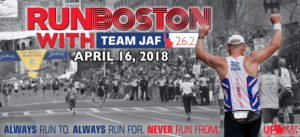 "Team JAF" has once again been selected to participate in the 2018 John Hancock Non-Profit Marathon Program, and on April 16, 2018 – Marathon Monday – our runners will take strides against cancer through the streets of Boston for the eighth straight year.
Team JAF welcomes applications from those seeking a charity entry, as well as runners anticipating receiving entries through qualification or outside invitations. Those seeking charity entries are required to raise a minimum of $8,500 for the Foundation, while qualified and invitational runners must pledge to exceed $1,500 in order to become a member of Team JAF.
To fill out our online application, or to learn more about joining Team JAF, click this link.
---
A Milestone 10 Years in the Making…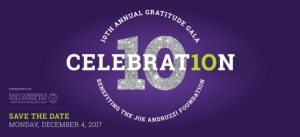 The Joe Andruzzi Foundation returns to Gillette Stadium's Putnam Club on Monday, December 4, 2017 for the 10th Annual Gratitude Gala, presented by East Commerce Solutions, Inc.!
Be sure to secure your spot to celebrate our gala's 10-year milestone because this December's event is going to be BIG! In 2016, we raised $1,000,000 through the event, and we want you to join with us to help make our 2017 signature gala another record-breaking success!
Click the link below to purchase tickets while they last. For information on sponsorship opportunities, please click here or email events@joeandruzzifoundation.org.
---
Champions Circle Business Spotlight–Southeastern ABA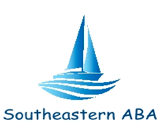 JAF: Tell us a little bit about Southeastern ABA…
Pam Ten Eyck [Co-Owner, Executive Director]: Amy Gavin and I started Southeastern ABA 3 years ago. We are a company designed to help families better manage the impact of autism on their daily lives. We use applied behavior analysis to provide support and direction for our clients and their family. Our focus is not on acquiring academic skill, instead we work on managing every day life skills such as: getting a haircut, going to a dentist or grocery store, applying for a job, showering independently, managing home life and belongings or daily chores. Our goal is to improve communication, teaching our clients to advocate for themselves at whatever level they are able to access in order to promote independence and success. For some families, the diagnosis of autism can be overwhelming and devastating. At Southeastern ABA we strive to show parents how to manage the implications of autism and to continue to live life to the fullest with all of their family members.
JAF: How did Southeastern ABA hear about the Joe Andruzzi Foundation?
Pam: I heard Joe Andruzzi speak at Relay for Life in Mansfield many years ago and was moved by his foundation and the support for families.
JAF: Southeastern ABA recently joined JAF's Champion's Circle as an MVP Founding Member. What drew you to our new business giving society?
Pam: It is important to us that we give back to our communities and provide support to families who are in need. Allowing families to access some "normalcy and joy" in a day is one of the things we strive for in our work. JAF provides opportunities for joy, laughter and fun amidst very difficult times and we at Southeastern ABA are grateful to have the chance to support that work.
…
Champions Circle is the Joe Andruzzi Foundation's new giving society designed to recognize exceptional businesses who want to play a key role in emotionally and financially supporting New England cancer patients and their families through their cancer journeys. The program is focused on highlighting businesses and business leaders who commit to making an impact locally with their annual gift to JAF. As a member of Champions Circle, you join like-minded business leaders who share a commitment in supporting cancer patients with impact at a local level. For more information, please visit www.jafchampionscircle.org.
---
#UpBeatCancer Spotlight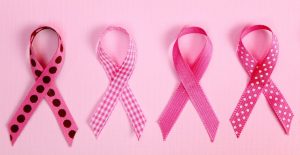 In honor of Breast Cancer Awareness Month, we spoke with four JAF Patient Recipients who have fought, or are fighting, the disease that devastates the lives of thousands of women across the globe each year. Please take a moment to click below and read about the journeys of each of the courageous women profiled in our recent JAF Patient Profiles: