Welcoming Autumn & New Partnerships!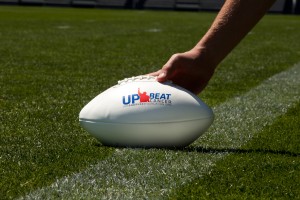 Where did summer go!?
Labor Day seems like ages ago, mostly because the Joe Andruzzi Foundation jumped right out of summer and into a bevy of new September partnerships and initiatives! We're so lucky to have such an incredible group of companies and individuals who support our cause and believe in our mission, and it's been so much fun getting to share the exciting news with you all month long! Oh yeah, we also hosted a comedy night!
We've also been busy preparing for November's annual Gratitude Gala, and we even have some excited Boston Marathon news for perspective runners (see below)!
But before we get to that, let's take a look at everything that kept the Joe Andruzzi Foundation busy in September!
All the best,
Jen and Joe Andruzzi
---
JAF BY THE NUMBERS
DAYS UNTIL THE GRATITUDE GALA: 52
DAYS UNTIL THE 2017 BOSTON MARATHON: 200
---
Calling All Runners! 2017 Team JAF Boston Marathon® Application Open!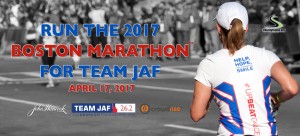 The Joe Andruzzi Foundation is now accepting applications for those interested in running the 2017 Boston Marathon® as a member of Team JAF!
Team JAF has once again been selected to participate in the 2017 John Hancock Non-Profit Marathon Program.  On April 17, 2017 – Marathon Monday – our runners will take strides against cancer through the streets of Boston for the seventh straight year.
We're looking for applications from those seeking a charity bib, as well as runners with entries through qualification or outside invitations.For more information, and to fill out our 2017 online application, visit: http://bit.ly/JAFRunsBOS17.
---
Get Your Gratitude Gala Tickets Now!

The Joe Andruzzi Foundation will return to Gillette Stadium's Putnam Club on November 21, 2016 for the ninth annual Gratitude Gala, presented by East Commerce Solutions, Inc. – so step right up and come celebrate a night of gratitude and celebration "Under the Big Top" for this year's circus-themed gala and live auction!
In 2015, we raised $900,000 through the event, and we want you to join with us to help make our signature gala a record-breaking success!
Individual tickets and sponsorship opportunities are now available online – visit http://bit.ly/2016JAFgala to secure your spot today!
---
#GoalLineGiving Turns New England Points Into Donations Thanks To Empower Retirement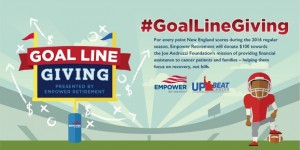 The Joe Andruzzi Foundation has teamed-up with Empower Retirement to tackle cancer's impact on the football field this season through our Goal Line Giving campaign!
For every point New England scores during the 2016 regular season, Empower Retirement will donate $100 towards the Joe Andruzzi Foundation's mission of providing financial assistance to cancer patients and families – helping them focus on recovery, not bills. That means New England points scored on the football field will have even greater meaning this year – allowing the Joe Andruzzi Foundation to potentially support families in numerous ways!
Follow along with the Foundation's social channels using the #GoalLineGiving hashtag – JAF's Twitter and Instagram accounts will be live-updating fundraising totals as each point is scored during games this season.
Be sure to bookmark this page as well and check back weekly as we update the Goal Line Giving scoreboard – we're already at $8,100 through three weeks!
---
JAF & ALEX AND ANI Extend Partnership with #CARRYLIGHT Campaign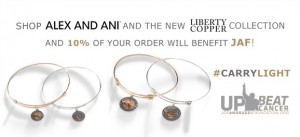 Needless to say, ALEX AND ANI has been a huge supporter of our mission for years, and we want to share just how proud and excited we are for their amazing new Liberty Copper Collection – featuring pieces containing original copper preserved from the Statue of Liberty's centennial restoration. Just as the Statue of Liberty shines her perpetual light of positivity, JAF and ALEX AND ANI encourage everyone to spread their own light to the world.
You can help us #CARRYLIGHT for cancer patients in need through ALEX AND ANI's online store – purchase items from now until December 31, 2016 by clicking through this link [http://bit.ly/2caTdh4] and 10% of your sale will be donated back to the Joe Andruzzi Foundation!
---
Third Annual (Up)Beat Comedy Night Fundraiser A Side-Splitting Success!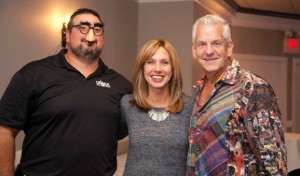 On Wednesday, September 14, 2016 the Joe Andruzzi Foundation hosted its 3rd Annual (Up)Beat Comedy Night fundraiser, presented by Bob's Discount Furniture! The evening, headlined by funnyman Lenny Clarke, raised $30,000 in support of JAF's mission. A special thanks goes out to all of the hilarious comics, and Raffael's Banquet Facility co-owner, Joe Bartucca, who generously donated the space for the event.
If you couldn't make it out to the event, check out the photos on our Facebook page (here). And, one more time: THANK YOU to everyone who came out to support the event. We can't wait to laugh with you all next year!
---
Who Will You Go Bald For?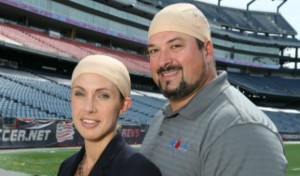 Be Bold, Be Bald! is a national fundraising event held on the third Friday of October each year (October 21, 2016 this year), and takes place wherever you are. Participants go bald by boldly wearing a bald cap (or very boldly shaving their head) to honor those who bravely fight cancer and raise money to help fight back. Register now to support the Joe Andruzzi Foundation's Be Bold, Be Bald! team and begin your fundraising efforts, or, support one of the participants "going bald" for JAF this year!
---
#UpBeatCancer Spotlight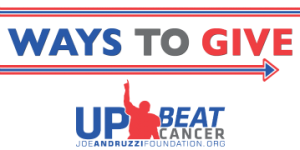 Over the last 31 days, JAF has been generously named beneficiary of two supporter-hosted golf tournaments. On August 29, our dear friends at Foster Country Club held its 6th Annual Charitable Golf Classic in Foster, Rhode Island, raising money in support of JAF's mission. Three weeks later, on September 19, JAF supporter Tom Turco hosted the 6th Annual "(Up)Beat Open" on two courses –  Wachusett Country Club and Kettlebrook Country Club – also benefitting JAF. Between the two events, a combined $74,000+ was raised, allowing the Joe Andruzzi Foundation to directly assist more than 105 cancer patients. It doesn't get much more #UpBeatCancer than that!
We can't thank both organizing groups enough for their benevolence – they both raised funds, and awareness, for JAF that otherwise wouldn't have existed if not for their generosity!
Are you interested in hosting your own event, fundraiser, or campaign to benefit the Joe Andruzzi Foundation? Head on over to our "Ways to Give" page, where you will find guidelines, contact info, and our Supporter Fundraising Application!