Going Beyond the Goal Line for Cancer Patients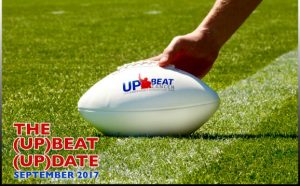 Though it's sad that another summer is officially in the books, fall 2017 has already brought a bevy of exciting initiatives to the Joe Andruzzi Foundation!
Over the past month, we've asked everyone to mark their calendars for our 10-Year Gala celebration, put out the bat-signal for our 2018 Boston Marathon® superheroes, and relaunched our Goal Line Giving campaign. Plus, we've got some exciting news to share for National Coffee Day today!
But that's not everything that kept JAF busy in September – read all about the month that was below!
All the best,
Jen and Joe Andruzzi
---
JAF By The Numbers
66
DAYS TO THE JAF'S '17 GRATITUDE GALA
3,224
DAYS SINCE JAF'S INAUGURAL GALA ('08)
---
JAF & Honey Dew Donuts Aim to Complete Four-Year Campaign with $150K!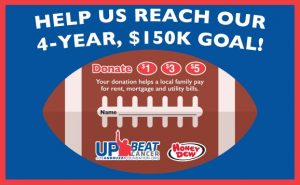 The Joe Andruzzi Foundation (JAF) is thrilled to announce that Honey Dew Donuts®, New England's largest locally owned coffee and donut shop chain, will yet again help the Foundation in our commitment to providing cancer patients and their families with financial and emotional support when it is needed most.
Beginning September 29 through October 22, Honey Dew Donuts will encourage their customers to support JAF by purchasing a $1, $3, or $5 window decal that will be sold at participating locations throughout Massachusetts, New Hampshire, and Rhode Island. At the end of the fundraising campaign, Honey Dew Donuts will generously match the proceeds from the decals for their donation to JAF.
"We are so grateful for Honey Dew's continued support of our mission, and the generosity the brand and its customers have shown us over the past several years," said Joe Andruzzi, Foundation President. "This is the fourth year of our valued partnership, and we are hopeful to reach our grand total goal of $150,000 raised and help even more patients." Click here to read all about it our press release!
---
Calling All Marathoners: Run Boston in 2018 with Team JAF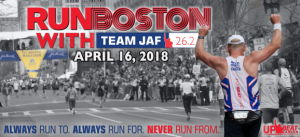 "Team JAF" has once again been selected to participate in the 2018 John Hancock Non-Profit Marathon Program, and on April 16, 2018 – Marathon Monday – our runners will take strides against cancer through the streets of Boston for the eighth straight year.
Team JAF welcomes applications from those seeking a charity entry, as well as runners anticipating receiving entries through qualification or outside invitations. Those seeking charity entries are required to raise a minimum of $8,500 for the Foundation, while qualified and invitational runners must pledge to exceed $1,500 in order to become a member of Team JAF.
To fill out our online application, or to learn more about joining Team JAF, click here.
---
'Goal Line Giving' Back for 2017 Football Season!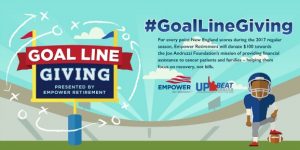 The Joe Andruzzi Foundation (JAF) is once again teaming-up with premier retirement services provider Empower Retirement for year two of our "Goal Line Giving" partnership – where Empower has pledged to donate $100 to JAF's Financial Assistance Program for each point New England scores on the football field throughout the upcoming NFL regular season.
Through the Goal Line Giving campaign, New England points scored on the football field will allow the Joe Andruzzi Foundation to support families in numerous ways, such as:
›Touchdown (6 points = $600) – equivalent to JAF assisting with a patient's rent/mortgage payment
›Field Goal (3 points = $300) – average cost of JAF assisting with a patient's car/automotive payment
›Safety/2 Pt. Conversion (2 points = $200) – cost of a patient's monthly gas bill
›Extra Point (1 point = $100) – helping the Foundation assist with a patient's phone or electric bill
We are so privileged to be uniting with such an incredible and generous company again. Last year, Empower generously donated $50,000 towards the Goal Line Giving campaign, and we're already at $9,900 heading into this weekend's matchup versus the Panthers!
Be sure to follow along with the Joe Andruzzi Foundation's social channels using the #GoalLineGiving hashtag – JAF's Twitter account will be live-updating fundraising totals as each point is scored during games this season. And don't forget to check in with our partnership page throughout the season as we update our Goal Line Giving scoreboard each week!
---
A Milestone 10 Years in the Making…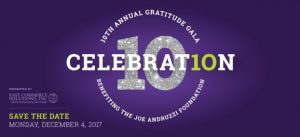 The Joe Andruzzi Foundation returns to Gillette Stadium's Putnam Club on Monday, December 4, 2017 for the 10th Annual Gratitude Gala, presented by East Commerce Solutions, Inc.!
Be sure to save the date to celebrate our gala's 10-year milestone because this December's event is going to be BIG!
In 2016 we raised $1,000,000 through the event, and we want you to join with us to help make our 2017 signature gala another record-breaking success!
Keep an eye out for exciting details and ticketing information. In the meantime, for sponsorship opportunities please click here.  Email events@joeandruzzifoundation.org for more information.
---
Champions Circle Business Spotlight–Dynamic Dental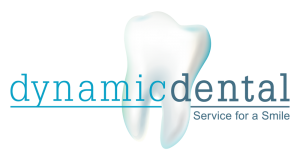 JAF: Tell us a little bit about Dynamic Dental…
Jeff Salmeri [Co-Owner & Practice Manager]: Dynamic Dental is a cosmetic, family and multi-specialty dental practice. Providing all phases of dental care in one location, including Orthodontics. Dynamic Dental is not a chain and is singularly owned by Dr. Edita Outericka. We embrace technology – high tech tools and high-tech thinking. We use the latest techniques and technology to deliver the highest quality patient care and experience. The technology, coupled with a knowledgeable and friendly team, make visiting the dentist extremely enjoyable!
JAF: How did Dynamic Dental hear about the Joe Andruzzi Foundation?
Jeff: The team at Dynamic Dental is very active in the community-be it hosting a 5k charitable run, supporting community groups or helping families with their personal needs. We looked to partner with a local charity that we felt was really working hard to deliver to people in need. All of us here at Dynamic Dental understand what a great service the Joe Andruzzi Foundation provides for folks going through a very difficult time. We are very happy to be a supporter!
JAF: Dynamic Dental recently joined JAF's Champion's Circle as an MVP Founding Member. What drew you to our new business giving society?
Jeff: Dr. Edita Outericka and her husband have attended several JAF fundraising events and have had an opportunity to speak with some of the folks who are directly benefiting from the hard work of JAF. They were touched by the stories they heard and know how important the work of JAF is. Many patients and team members of Dynamic Dental take an active role in supporting JAF as well.
…
Champions Circle is the Joe Andruzzi Foundation's new giving society designed to recognize exceptional businesses who want to play a key role in emotionally and financially supporting New England cancer patients and their families through their cancer journeys. The program is focused on highlighting businesses and business leaders who commit to making an impact locally with their annual gift to JAF. As a member of Champions Circle, you join like-minded business leaders who share a commitment in supporting cancer patients with impact at a local level. For more information, please visit www.jafchampionscircle.org.
---
#UpBeatCancer Spotlight