Steve Hewitt is used to telling athletes' stories.
He's been a sports reporter for The Boston Herald since 2014, assisted with coverage of the Red Sox' World Series victory in 2018, and was named the newspaper's Red Sox beat writer in 2019.
Now, it's Steve's turn to be an athlete in the spotlight as part of Team JAF, the Joe Andruzzi Foundation group of runners who participate in charity races on behalf of the Foundation.
On Monday, October 11, he and two dozen other Team JAF athletes will participate in the 125th running of the Boston Marathon to raise money for JAF and provide financial assistance to patients battling cancer in New England.
This year's Marathon will be Steve's fifth, overall, and his third time running Boston. He ran Boston in 2018 and 2020 for the Martin Richard Foundation, but had to do so virtually last year due to the COVID-19 pandemic.
"I was always envisioning that last run down Boylston Street in our MR8 singlets," Steve said.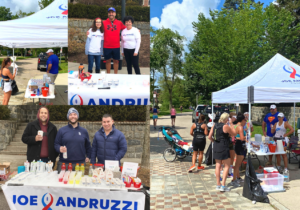 Even though that scene never materialized, Steve had always considered running for JAF. While he was training for his first Marathon on runs organized by our friends at CharityTeams, he used the JAF water stop – a volunteer-run pit stop the Joe Andruzzi Foundation has been setting up for years along the training route – as a landmark to motivate himself, and as a chance to develop relationships with JAF staff members and learn about the Foundation's mission.
"JAF, it seems like every week, had the water stop at Mile 5. It was always my saving grace because I had never run more than seven or eight miles before I started training for a marathon," Steve said. "I met so many people involved with JAF through the training runs, met Joe on some of the long training runs, learned more about the mission, and kind of had a soft spot for them."
Like so many Team JAF athletes who ran before him, Steve and his family have been impacted by cancer. His grandfather passed away from cancer when he was a baby, and Steve never had the chance to meet him. His godfather, Jimmy, died of cancer in 2016, and Steve always admired his godfather's mental fortitude during his battle.
"He wasn't supposed to live very long with the cancer that he had, but he did. He got to see his kids grow up and get married. He was one of the most resilient people I ever met. Whenever we visited, it seemed like he was kicking cancer's butt," Steve said. "That's what inspired me to run for JAF – to be able to provide that experience for people. Obviously, the financial burden is so much on people, and if I can help just one family experience what my godfather experienced, it would be all worth it.
To help Team JAF reach its fundraising goal, Steve borrowed an idea from a media colleague – MassLive Red Sox beat writer Chris Cotillo – to help solicit donations. Last year, – in the spring during the onset of the pandemic, and again during the holiday season – Cotillo raffled off multiple sports memorabilia pieces via his Twitter account to benefit multiple charities. He set an opening bid, a closing time, and asked his followers to reply with their bids.
Steve adapted the idea for his almost 2,800 followers. Each donation in increments of $5 accounts for one entry into the raffle, and he draws a winner at closing time. So far, he's raffled off David Ortiz and Rafael Devers bobbleheads, some UMass men's hockey memorabilia, and a pair of tickets to the UMass-Boston College football game.
Just finished the longest Boston Marathon training run — 21 miles from Hopkinton to BC. Awesome to have @Andruzzi63 out there to support at the finish.

Race day is in 23 days and I'm ready to go. Support me with a donation to @joeandruzzifndn! https://t.co/z4F37LmQVF pic.twitter.com/omHXRSGIKW

— Steve Hewitt (@steve_hewitt) September 18, 2021

Steve has another Marathon goal he'd like to accomplish, but he needs some help from the Red Sox on that one. Because this year's Marathon is in October instead of April, the Red Sox could be in the MLB postseason on Marathon Monday. If the Red Sox play Game 4 of the American League Division Series, it will be at Fenway Park on Marathon Monday. If the game is in the afternoon, Steve said he won't cover the game because he won't get to Fenway in time for the first pitch after he crosses the finish line. But if the game is at night, he's hoping for a unique opportunity.
"Who else could say they ran the Boston Marathon and covered a Red Sox playoff game on the same day? That's a once-in-a-lifetime opportunity."
To support Steve and other Team JAF 2021 Boston Marathon runners' fundraising campaigns, click here!