The Joe Andruzzi Foundation (JAF) made its second stop on the Road Trip a familiar one – its 'home state' of Massachusetts! Appropriately, JAF celebrated here as it officially marked its 15th anniversary on Monday, May 22, in the company of staff, board, and partners.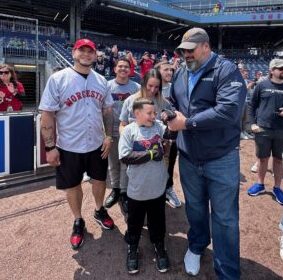 Sunday Funday – Day one started on an (Up)Beat note with JAF hosting 12 patients and their families to Polar Park in Worcester, MA, for a (successful!) double-header against the Lehigh Valley Iron Pigs. Blue skies made for a great backdrop for smiles and family fun. JAF patient recipient Jose Ortiz joined Joe in throwing out the first pitch, and our friends at Revise invited a few lucky patients to their suite to enjoy the game. All patients were treated to sandwiches from The Sausage Guy courtesy of David Littlefield.
Mission Monday – Happy Anniversary to JAF! Jen and Joe Andruzzi kicked off this special day with patients, as you would imagine. Sturdy Memorial Hospital in Attleboro, MA, opened its doors to the team, highlighted by patient visits and Jen visiting with hospital President Aimee Brewer. In the evening, JAF celebrated its 15th Anniversary at Davio's in Foxborough.
Two Hospitals, Double the Smiles – Joe was on the road and on the air bright and early on Tuesday, driving to Fun 107 and WBSM 1420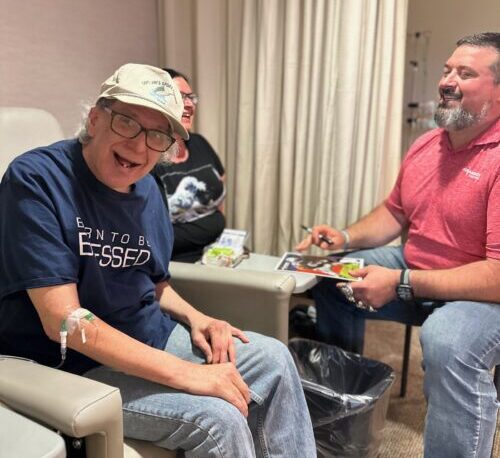 in Fairhaven to share about JAF's Road Trip. After grabbing some Dunkin' (it was Dunkin' Ice Coffee Day), the team visited St. Anne's hospitals in Fall River and Dartmouth. Here, Joe and Jen visited with oncology patients, and our Programs team caught up with members of Saint Anne's Oncology Social Work team, Mark Theodore–a member of JAF's Healthcare Council–and Carrie Mathers-Kurkland. One such patient had his last infusion on the day JAF visited and was delighted to meet Joe and Jen.
Gratitude for our Champions – JAF's Champions Circle giving society is a group of philanthropic businesses that support the Foundation's mission with an annual gift. On Wednesday, it was JAF's turn to deliver a gift so a handful of our loyal Champions at ACS Services, Bearingstar Insurance, Bay Coast Bank, Pearle Vision, and Well Told Design.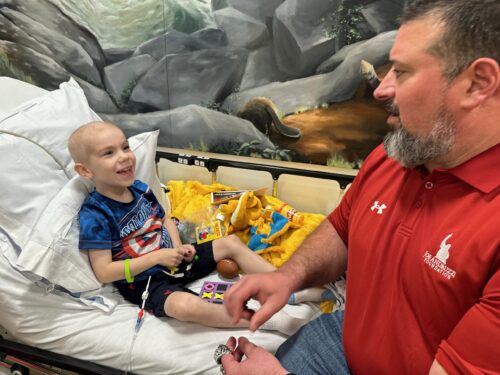 Little, But Mighty – Thursday brought the team to the pediatric oncology unit at Massachusetts General Hospital in Boston. Here, the brave and beautiful young patients gave us smiles and reminded us of the importance of hope. It took only as far as our second patient visit, where five-year-old Theo gave us a belly laugh with his question to Joe, "Why are you so sweaty?" All of the amazing children and teens we met were inspirational – thank you to Keegan, Georgia, Penelope, and Lochlan for sharing your time and stories with us. Later that evening, supporters Jack and Judi Remondi generously opened their home and invited friends to learn more about JAF's mission. The Foundation is so grateful for this opportunity to share the exciting things ahead for JAF and how we will continue to help New England cancer patients.
Foxborough Friday took us to Gillette, but Joe didn't need his helmet and cleats. Instead, JAF headed to Dana Farber Cancer Institute's new Foxborough facility located next to the Brigham & Women's/Mass General Hospital in the shadow of the stadium. Here, Joe and Jen met many patient recipients who shared how the grant assistance made a difference for them. Unfortunately, our grand finale event planned for The Greatest Bar in Boston couldn't compete with Memorial Day weekend, so we postponed it until later this summer.
And last but not least – sincere thanks and a round of applause to the healthcare workers we met (or didn't get a chance to meet) at the outstanding medical facilities.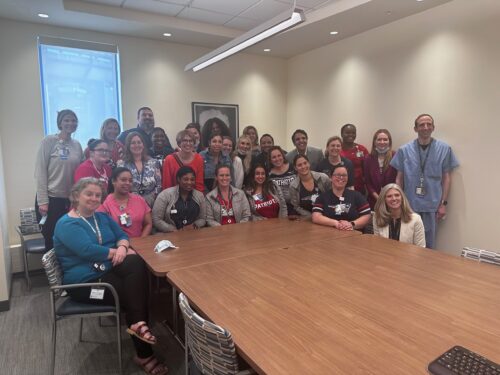 Witnessing the care and respect given to the patients you serve as nurses, physicians, social workers, patient navigators, and administrators is simply an honor. Thank you for all you do and for allowing us into your space to sit alongside patients and hopefully bring some smiles.
Special appreciation to those who helped make the Massachusetts Road Trip possible: our official Massachusetts sponsor Poland Spring, Polar Park, the WooSox Foundation, The Sausage Guy, Davio's Northern Italian Steakhouse in Foxborough, Only Prettier Design in Norfolk, 5Tool Productions, Cookiecasions in Mansfield, and Hometown Bakery in Mansfield.
Massachusetts was wicked awesome!