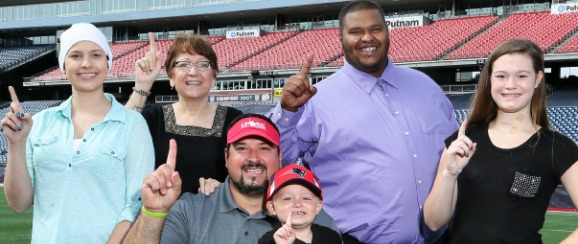 On September 30, Andrea Marino was perusing Twitter when she came across the National Grid #PointsForPatients Twitter contest. After looking into it, she entered the contest by tweeting her playful pro-Patriots slogan: "Go Brady, Go Pats, we're gonna kick some Saints a** #PointsForPatients". A few days and 140 characters later, she was randomly selected as the contest winner and the recipient of two tickets to the New England Patriots vs. New Orleans Saints game at Gillette Stadium.

For those who aren't familiar, the Foundation's "Points for Patients" campaign is a charitable partnership between the Foundation, National Grid, CBS Radio Boston and The Place Restaurant in Boston. For each Patriots touchdown scored this season, National Grid donates $500 to the Foundation and also hosts patient families, identified by the Foundation, at Pats home games throughout the year. To drive added awareness of the campaign, National Grid also created the #PointsForPatients Twitter contest, giving fans throughout New England a chance to win tickets to Gillette.
An avid Patriots fan, Andrea was thrilled to be chosen. As the National Grid and Joe Andruzzi Foundation teams reached out to Andrea to coordinate the details, we got some insight into her story. As we discovered more and more about her family, it seemed like fate that Andrea was selected winner of the contest.  
Andrea has been impacted by the effects of cancer directly. At age two, her daughter Amanda was diagnosed with a rare form of Rhabdomyosarcoma, a highly aggressive soft tissue muscle tumor. Thanks to an early diagnosis, Amanda was able to undergo treatment immediately. At this time, Andrea was handling Amanda's medical nightmare while also caring for her two-month-old son, continuing to work and managing a household.
Through organizations similar to the Joe Andruzzi Foundation, Andrea was able to find support and guidance during this extremely difficult time. "No matter what your circumstance, a cancer diagnosis makes a huge impact on finances. For our family, we couldn't work as much and the bills really started to pile up. We wanted to keep focus on our daughter's treatment, so any help we got was a blessing."
After a full year of weekly chemotherapy and several surgeries, Amanda was pronounced cancer-free! This resilient toddler was an inspiration throughout each and every challenge presented to her. The same strength has helped her deal with the long-term effects of her aggressive treatment.
Today, Amanda has committed to studying nursing at the University of Rhode Island with the intention of becoming an oncology nurse for children. Once fearful of doctor appointments and more specifically, needles, Amanda has overcome this anxiety and vows to pay it forward by becoming part of a field that gives so much back to patients and families.
Amanda told us recently, "I know first-hand how cancer can wear down a person and make them weak. The best thing anyone can do is help people going through an illness like this. That's why I want to be a nurse. I want to help kids with cancer too."
When Andrea was announced as the latest winner, she immediately passed the tickets along to her daughter and her daughter's boyfriend – who has also overcome serious medical battles with grace and a positive attitude. When we spoke with Andrea about their experience, she said, "they're both hooked! They were so excited to have such incredible seats and they can't wait to go back for another game."
The Marino family is still active in the cancer community. Andrea is constantly looking for ways to support organizations that provide assistance to cancer patients and their families. They have raised over $25,000 for The Jimmy Fund throughout the years, and the family has also been involved with the WEEI Jimmy Fund Radio-Telethon, which has raised millions of dollars. "We never forgot how much support we got. We are forever grateful."
In addition, Amanda has been asked to speak about her experience at the annual "An Evening with Champions" fundraiser for the last 10 years. It is particularly meaningful, because Amanda benefited from the program when she was a cancer patient. "I get to talk to families about my experience with cancer, my passion for figure skating and how I was able to focus my energy on something I love. I'm honored to be a part of the event and participate from the other side."
For anyone facing a similar situation now, Andrea's advice is to get as much information as possible. "It is much more comfortable to know the facts and understand the implications so that you can make informed decisions for your family. Reach out to friends, seek support from family, and take the time to look for organizations like JAF and The Jimmy Fund. You are not alone."
We'd like to thank Andrea and Amanda for taking the time to share their incredible story with us. For more information about JAF's partnership with National Grid and the Points For Patients campaign, and to learn how you can get in the game by making a donation, please click here.
-Jen Andruzzi