The Christmas Jars, by Jason F. Wright, is a story about a family that aims to help, even if in just a small way. The family saves and collects change and little items throughout the year. And then on Christmas Day, they anonymously give jars filled with those collections to families in need and provide a Christmas they might not have otherwise had.
Bart Stires grew up in that family.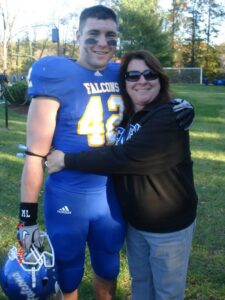 "My mom, Carol, read that book and we started doing that as a family. A lot of times I had to pull a black ops mission to give the jar without alerting the recipients. But that was innately in [my mom], giving back."
It was that tradition that led to Bart's instant connection with the Joe Andruzzi Foundation. Its mission and the memory of Bart's mom led him to become part of Team JAF and to run the 2022 Boston Marathon.
Bart grew up in Arizona; the result of a bet between his parents and an uncle who said the family wouldn't join him there within the month. Always up for an adventure, Carol and the family arrived 30 days later, they showed up on his doorstep and said to the uncle "you owe us $100, and we need to stay here until our condo is ready."
Bart also embraced new challenges. His mother helped persuade him to attend Brophy College Prep for High School, a school he would've never otherwise considered that ended up changing his life. Later he would move across country to play football at Bentley University, his mom was always encouraging him to pursue his dreams.
Throughout his mother's diagnosis and treatment, Bart and his family were worried and experienced first-hand the toll that a cancer diagnosis can take. For insurance to cover treatments, Carol had to work through the Cancer Treatment Center of America (CTCA), flying from Phoenix to Chicago to receive care.
On one occasion, Bart recalls a CTCA sponsored ride from the airport to the treatment center. It was very late, and Bart could tell his mom needed something to eat. He asked the driver if they could stop somewhere, and the driver found a Wendy's. The group of Bart, his mom, and five or six other patients all got frostys and something to eat.
"It changed the whole dynamic of the ride. People were talking to each other and smiling, instead of just sitting there in silence…It was just about getting my mom something to eat, but I could tell it made a little difference."
And trying to make that 'little difference' is why Bart and his family started a small foundation of their own that awards scholarships for high school seniors and is helping people in need. It's something that Bart wishes he had the resources to do on a larger scale. So, when Bart read about JAF, it all clicked.
Last summer was Bart's first encounter with JAF. A co-worker and former member of Team JAF sent out a fundraising email. Bart had played with the idea of running a marathon before. But it was reading the mission of JAF when things really resonated. And it brought him back to those Christmas Jars.
"That notion of giving back, it's an underserved part of the charity networks, helping cancer patients. There's a lot of charities that help with research, but not as much to help with the patients. When I read JAF's mission, I immediately thought this is something I want to be a part of. The marathon is just the first step."
Bart's mom valiantly fought cancer four times through the years before finally succumbing to the awful disease six years ago. But through it all, she always remained positive, encouraging, and wanted to give back.
That was who Carol was. She dedicated herself to her kids, wanting the best for them and always being their biggest cheerleader. And on Marathon Monday, Bart will carry all the generosity and confidence to achieve your goals instilled in him by his mother.
We know Carol will be proud.
To support Bart and other Team JAF 2022 Boston Marathon runners' fundraising campaigns, click here!