Jordan Smith fell into running at the start of the pandemic. She thought half marathons might be in her purview one day, but not a full marathon.
But when her father-in-law got back from running in the 2021 Boston Marathon, he told Jordan he thought this was right up her alley. So, she decided she would commit and try it.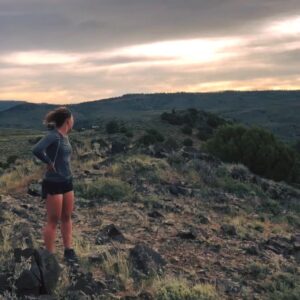 It's not the first time Jordan has decided to try something new. Jordan grew up in Central Maine, and eventually became a high school math teacher. She started to take some leaps of faith by leaving her job and going back to school to pursue a degree in accounting. Later, after a trip to Lake Tahoe to visit her now husband, Jordan decided life is too short. She sub-leased her apartment, sold all her stuff, and 60 days later was out living in Tahoe. Jordan now calls Wilmington, North Carolina home, while still holding a remote job working for an electric utility in Lake Tahoe. And it's in that spirit she decided she would try and take on the challenge of the Boston Marathon.
Jordan started looking for a charity that could be personal for her. She kept coming back to one – the Joe Andruzzi Foundation. The connection to her community was instant.
"Central Maine is a pretty resource constrained area. It's a low to middle income area. So, bumps in the road like cancer can financially ruin people. I started thinking of all the people who, had they known about JAF, could've benefited from that."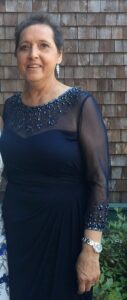 Her mind also went to her Aunt Kathy, who continues to be in a valiant fight with cancer. It took her whole family by surprise when she first got sick. Kathy was a very active community member who was always volunteering and doing things with her church. One day she just fell ill.
Kathy lives near the Canadian border in Maine, and first went to Augusta. The doctors there couldn't figure out what was wrong, and Kathy had to just keep traveling south. Eventually she was diagnosed with acute myeloid leukemia, an aggressive and rare form of cancer. Kathy had to go through a total wiping of her immune system, has been on steroids, had hips and shoulders replaced. Incredibly, for a diagnosis that carried a life expectancy of two years, Kathy is six years in and still fighting, even getting to see her first grand baby.
"She's had the best attitude through this. Jordan said. "Her diagnosis was pretty grim, life expectancy 18-24 months. She's trying really hard. She's still finding ways to participate in her community. She's the perfect example of who I want to run for. She's probably had the roughest go of it, and she'll still call and talk like nothing is wrong. She cares more about people and what you're doing."
But Jordan and her family have seen the toll that the diagnosis still can take. Kathy's medications at times have cost thousands of dollars a month. She's had to stay at the treatment facility in New Hampshire for months at a time. Jordan's uncle has made frequent trips all while juggling a job back home. It's why Jordan has formed such a strong connection to the mission of JAF.
It has kept Jordan on the training path, even working through a back injury that knocked her out for about a month. She hopes the Marathon Monday weather might be closer to the warm Wilmington temperatures to which she's grown accustomed, running down at Wrightsville Beach rather than Boston's typical unpredictable April.
Whatever that day brings, Jordan will have her Aunt Kathy in mind.
To support Jordan and other Team JAF 2022 Boston Marathon runners' fundraising campaigns, click here!