Lake Quannapowitt in Wakefield, Mass. is Mike Nelson and Jim Diozzi's running spot.
At least once or twice per week, the longtime friends will meet there for an early-morning six-mile run before starting their days. But running is not the only common bond for these two friends who have known each other since their Saugus Little League days.
In recent years, both Mike and Jim's families have been affected by the hardships of cancer, so this year, they decided to run the Falmouth Road Race on August 15 for the Joe Andruzzi Foundation (JAF) as a part of Team JAF. It's the fourth time Mike has run the race and Jim's first. Mike has also run the Boston Marathon for Team JAF.
Mike has seen how cancer creates added stress for a family. A few years ago, Mike's sister was battling cancer and the treatment was difficult on her. She became a recipient of much needed support from JAF, and since then, Mike has always remembered how JAF cared for his family during that difficult period.
"I had really young nieces that were maybe, five, eight or, nine years old at the time," Mike remembers. "Joe and Jen and the whole crew were amazing to my sister, to my sister's family, and to the kids during that time. From that point, I wanted to do a whole bunch of fundraisers for them."
Cancer unfortunately runs in Jim's family, too. His mother-in-law is currently battling Stage 2 colon cancer.
"We've been ravaged by cancer, my family. My dad passed away from cancer, I have an aunt who just passed away from cancer a few years ago, and my mother lost both her parents to cancer when she was a teenager," Jim says. "And I saw everything that Mike went through with his family, so running this race is a no-brainer for me."
Now, those early-morning runs by the lake have an added purpose. The two friends have been inspired by JAF's mission and are turning a years-long tradition into a new one. They've received strong support from their family members, colleagues, and communities. Mike is the athletic director at Greater Lawrence Technical School in Andover, Mass., and has received multiple donations from staff, administrators, and coaches. As soon as Jim put out a request for fundraising to the North Shore Stars, a youth hockey program his three sons play for, the players' families and coaches helped him reach his fundraising goal on the same day.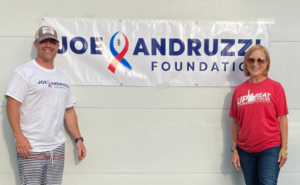 Mike, who is also a member of the Team JAF Advisory Committee, held a backyard cookout fundraiser for the race, complete with custom JAF and Boston Marathon-branded cornhole boards. He says he can't wait to get down to Falmouth to enjoy the seven-mile run along the coastline after the 2020 was held virtually due to the COVID-19 pandemic.
"It's just a cool atmosphere down there," Mike says. "It's lively. Some road races are scarce. This is not. You'll have people on the sidelines. Everyone is out on their lawns having a little party… and you're running on the coastline of Falmouth. It's gorgeous… between the people, the energy, the scenery, you can't lose. It's a beautiful race."
Mike and Jim have logged hundreds of miles together over the years, but the next seven in Falmouth as part of Team JAF will surely be special.
"I'm always trying to give back to JAF because I saw firsthand the good that they do," Mike said. "As I was going through all these different fundraisers and initiatives, Jimmy has always been right next to me."
To support Mike, Jim, and other Team JAF 2021 Falmouth Road Race runner's fundraising campaigns, click here!