Laura Schulz has run the Boston marathon before. But this year, it will take on an even greater meaning. She'll be running with the names of 26 cancer warriors on her shirt as she competes as part of Team JAF – the Joe Andruzzi Foundation's athletic fundraising team – at the 2022 Boston Marathon.
Cancer Warrior. It's a term Laura uses a lot. She has sadly seen the realities of a cancer battle up close and seen some who have won and those who haven't. But she's always seen the strength of someone who goes through that battle, even with all that's stacked against them.
"The term warrior to me connotes someone who is fighting so strong, and sadly sometimes they don't survive. But they are still a warrior."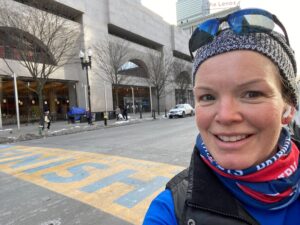 Unfortunately, one of those cancer warriors was Laura's mom Barbara, who was diagnosed in 2019 not long after Laura's first Boston marathon and sadly passed away some months later. Laura was with her mom during that time and gained a real appreciation for the impact that a cancer diagnoses can have, even outside of one's medical care.
"I didn't have to worry about things like rent & tuition, [my mom] had insurance, she had the means so we could just focus on her care and trying to beat the illness. Sadly, she didn't beat it, but I came away from that experience with such a profound appreciation for all the other things in life that become a worry when you're trying to battle an illness."
Laura had learned about JAF during her first marathon training, and after that time in her life, the connection to the mission of JAF was significant. Laura was extremely motivated to be a part of Team JAF this year.
"Being a part of the iconic Boston marathon and being part of such a quality organization, it's like a dream came true twice."
Laura feels her parents every day, but especially as she is training to run this race. Her dad Martin also battled cancer, and subsequently passed away from another illness. Her parents were her biggest cheerleaders.
"[I was] so lucky to be raised in an environment where I was always encouraged. [They were] incredible role models, they had such a strong moral compass and sense of duty and service. It's another reason I feel a connection to JAF, that connection to duty and service."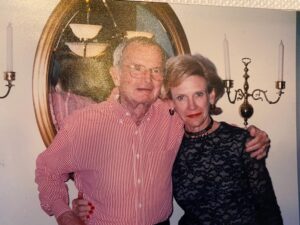 Her mom and dad won't be the only two cancer warriors on Laura's mind on Marathon Monday. She's asked people to donate a mile of the race to a cancer warrior they might like to honor. While it's a sad reminder of just how ubiquitous cancer sadly is, it's a way to connect with other people who aren't necessarily running the race but have had to deal with the impact of cancer in their own lives.
Laura has 'turned right on Hereford and left on Boylston' before. But when she makes those famous turns this Patriots' Day, she'll be doing so with 26 cancer warriors and the memory of her parents along for the ride. And the connection to JAF will make it all the more special.
"It was an important moment for me when I got accepted to Team JAF, it was a real catalyst. I'm motivated to be running the race and delighted to be raising support for Team JAF. It's near and dear to me."
To support Laura and other Team JAF 2022 Boston Marathon runners' fundraising campaigns, click here!