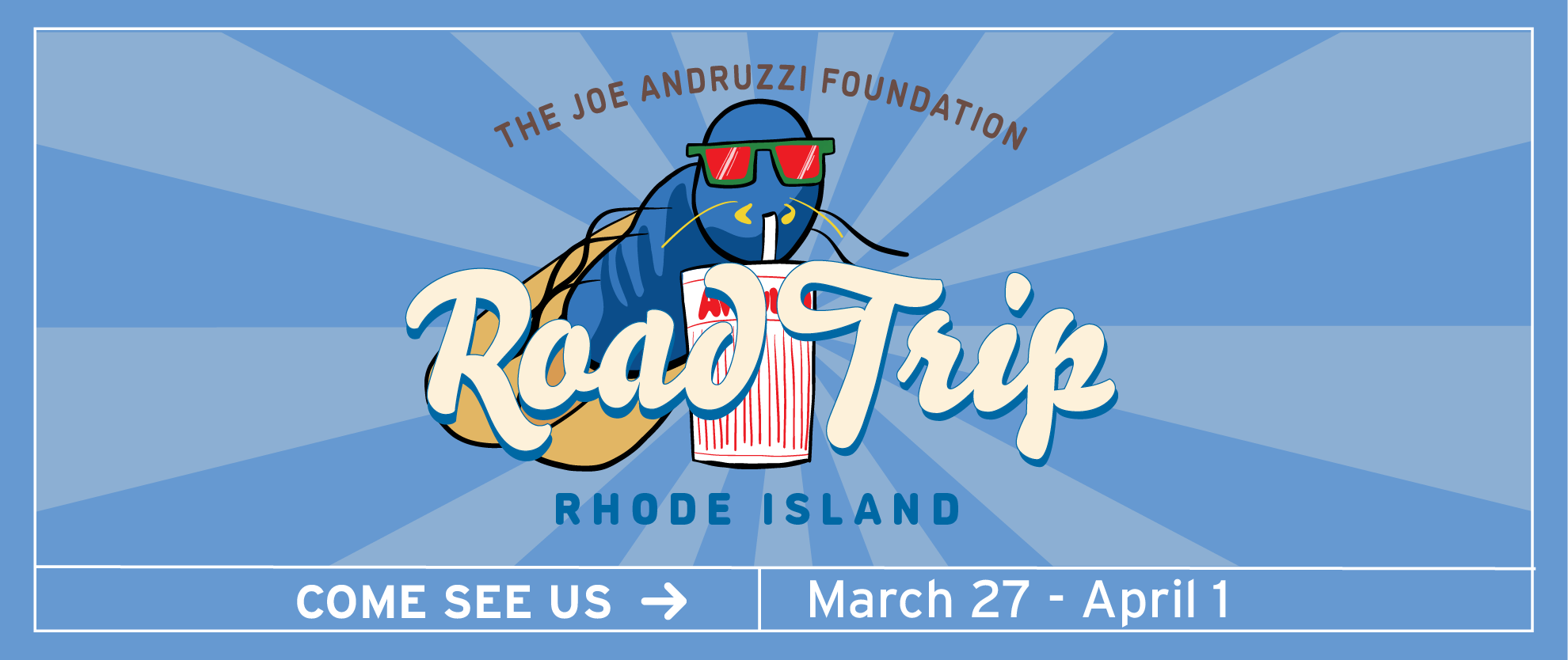 The Joe Andruzzi Foundation (JAF) is so excited to kick off our Road Trip in Rhode Island!  Since 2008,  JAF has been blessed to partner with so many wonderful people and organizations in our mission to help Rhode Island cancer patients and their family members. Together, we have provided more than $750,000 in assistance and resources to help with everyday household expenses.
To celebrate our 15th Anniversary, Joe and Jen Andruzzi are traveling to see our Rhode Island community and to share updates on the Foundation's work, how we've expanded our resources for cancer patients, and how you can get involved.  Of course, JAF has included stops at some of Rhode Island's favorite destinations for some fun.  See our schedule below to see where you can join us.  We look forward to seeing you at an event!
Tuesday, March 28:

Rhode Island Hospital, Lifespan Cancer Institute, Providence (private event)

Joe and Jen Andruzzi will meet with patients and social workers/patient navigators.
Wednesday, March 29:

JAF Hop Over at Ravenous Brewing,

Cumberland, 5:30 – 8:30 pm

Be sure to purchase your ticket and come see us at Ravenous Brewing!  The perfect after work event, Joe and Jen will be there with the team to welcome everyone.  Guests receive some tasty food, a drink token to sample some craft beer, and early bird registrants receive a custom pint glass. Thanks to our host committee of Kim Chula-Maguire, Dorian Rave, Pat Reilly, Ravenous Runners Running Club for this warm welcome to Rhode Island! REGISTER HERE.
Thursday, March 30:   

Wright's Farm Restaurant,

Burrillville, 5:00 – 7:00 pm

The Foundation will make a visit to legendary Wright's Farm for a delicious (Up)Beat dinner with our patient ambassadors and our Food Security sponsor AmpliX to highlight JAF's Food Security Assistance.  So consider taking your family out for a great meal and be sure to say hello to Joe and Jen!
Thursday, March 30: 

Women & Infant's Hospital, Providence (private event)

Joe and Jen Andruzzi will meet with patients and social workers/patient navigators.
Friday, March 31:

Trivia Night at Audrey's Coffee House & Lounge,

South Kingston, 7:00 pm

Joe is teaming up with The Bachelor's Jared Haibon for  Trivia Night fun!  Join us for delicious cocktails and coffee at this fabulous new spot and learn more about the Foundation!  Joe will be available for a meet and greet prior to 'game time.'  Thank you, Jared and Ashley! #BiggestFans  MORE ABOUT AUDREY'S 
Saturday, April 1:

Newport Night Run,

Newport, 7:30 pm

For our 'grand finale,' TeamJAF will participate in the Behan Bros Newport Night Run – the city-by-the-sea's annual after-hours 5k starts and finishes at Rogers High School.  The course showcases some of Newport's most beautiful rural roads, including parts of Ocean Avenue and Hazard Road.  Walkers and runners of all ages and paces are welcome to participate!  Join JAF's team this year. Bibs are limited.  Contact Gillian@joeandruzzifoundation.org for more information or CLICK HERE.
Can't join us on our Rhode Island Road Trip, but still want to help cancer patients?  Give to 401Gives this week! 

Not only is this week dedicated to Rhode Island, but JAF is participating in 401Gives – Rhode Island's day of giving!  With your help, JAF can continue to help Rhode Island cancer patients worry less about financial barriers and instead focus on their health.   JAF helps patients stay in their home, put food on the table, and have transportation to treatment.
Please consider making a gift during this week – or on April 1 – and join other generous Rhode Island residents in helping your neighbors.   A donation of ANY amount helps.  Consider making a gift of $15 to to celebrate our 15th Anniversary!