Joe Andruzzi Foundation's (Up)Beat (Up)Date: June 2018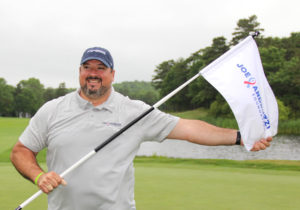 Happy first week of Summer 2018!
Can you believe the Fourth of July is just days away? That means our annual Joe Andruzzi & Friends Golf Tournament has just wrapped-up.
But that's not everything that kept JAF busy in June – read all about the month that was below!
All the best,
Jen & Joe Andruzzi
---
JAF By The Numbers
$32,000+
TEAM JAF'S FALMOUTH ROAD RACE FUNDRAISING TO DATE
51
DAYS UNTIL 2018 FALMOUTH ROAD RACE
---
10th Annual JAF Golf Tournament A Record-Breaking Success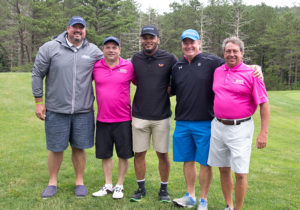 This Monday, June 25, 2018, the Joe Andruzzi Foundation, its supporters, and a host of local athletes and celebrities, came together at Pinehills Golf Club in Plymouth, Mass. for the 10th Annual Joe Andruzzi & Friends Golf Tournament to have a day of fun out on the links and to raise crucial funds in support of New England cancer patients.
By the end of the day, more than $338,000 had been raised in support of JAF patients and their families, allowing the Joe Andruzzi Foundation to provide financial assistance to hundreds of New England cancer patients in the months to come. That means, over the course of 10 years, our golf tournament has raised more than $2.2 million!
Follow this link to check out photos and read a full recap of the event!
---
Run For Team JAF At Falmouth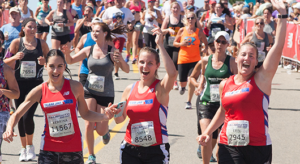 This August, 50+ Team JAF charity runners will represent the Joe Andruzzi Foundation on the scenic 7-mile race through the heart of Cape Cod – all to raise funds in support of JAF's mission of providing help, hope, and a reason to smile for New England cancer patients and their families.
While Team JAF's charity entries are filled, we are still accepting applications from those already in possession of a Falmouth Road Race bib who wish to run and fundraise ($500 minimum) as part of a non-profit team.
To apply, or to make a donation to a Team JAF runner, click the link here.
---
Brewster Scientist Contributes to Research While Fighting Cancer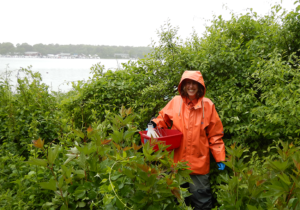 For Brewster Scientist Abigail Archer, a cancer diagnosis came the way so many do: out of the blue, with no warning. "I was super resistant in the beginning," she admits. "I thought, this can't be cancer."
Read the full story behind Abigail's cancer journey in the latest JAF Patient Story.
---
Champions Circle Business Spotlight–Infinity Family Care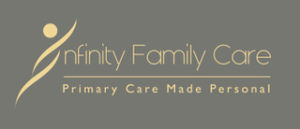 JAF: Tell us about yourself and Infinity Family Care.
Dr. David Cunningham: Dr. Wendy Cohen and myself are both Board-Certified Family Physicians who have been practicing in Southeastern Massachusetts for over 25 years collectively. Our practice covers the full spectrum of patients, from newborns to seniors. We opened Infinity Family Care in February of 2016 – a direct primary care family practice in Mansfield – which has allowed us to focus on the doctor-patient relationship and less about the numbers and volume. Because of this structure, we are more able to partner with the patient, so they can take ownership of their health and feel like they're in control again, rather than doing things because the insurance requires it.
Dr. Cohen and I both enjoy developing relationships with our patients and being involved in our communities. We both have families with two kids each, so we understand busy households. We like spending time with pur friends and families outside of the office. Primarily, we're both interested in doing the right thing. It's not about the money, but about taking care of the patients.
JAF: How did you (Dr. Cunningham) hear about the Joe Andruzzi Foundation? What made you want to get involved as a Champion Circle member?
Dr. David Cunningham: We heard about JAF through a friend and JAF supporter, Eric Kagan. Through that relationship, we donated a three-month membership to our practice for the Gratitude Gala in November 2016. In June 2017 we were introduced to Champions Circle, and after a call with JAF we joined as a Team Captain. It was only a natural fit being a local community business. Champions Circle was a perfect way to show our support and engage with the local business community. Personally, I joined the Champions Circle Committee primarily because I liked the direction and focus of Champions Circle – getting to know others in the local business community.
JAF: Anything else you want people reading this to know about Infinity Family Care and/or JAF?
Dr. David Cunningham: Dr. Cohen and I feel very fortunate to have found JAF as a partner in helping patients and we're very fortunate to have created a practice in which we can think about the larger community. This allows us to think about more than just the medical care element. It's about the entire person in front of us – including their financial needs. In that regard, what we do and what JAF does are closely related.
—
Champions Circle is the Joe Andruzzi Foundation's new giving society designed to recognize exceptional businesses who want to play a key role in emotionally and financially supporting New England cancer patients and their families through their cancer journeys. The program is focused on highlighting businesses and business leaders who commit to making an impact locally with their annual gift to JAF. As a member of Champions Circle, you join like-minded business leaders who share a commitment in supporting cancer patients with impact at a local level. For more information, please visit www.jafchampionscircle.org.