Joe Andruzzi Foundation's (Up)Beat (Up)Date: June 2019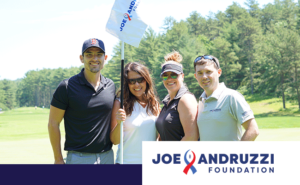 Happy summer! Can you believe the Fourth of July is just days away?
We have a July and August lined-up with some fun and exciting new initiatives – but before we get ahead of ourselves, let's take a look back at what has kept JAF busy in the month of June!
All the best,
Jen & Joe Andruzzi
---
JAF By The Numbers
52%
OF JAF GRANTS ASSIST WITH HOUSING EXPENSES
1,221
CANCER PATIENT AND FAMILY MEMBERS ASSISTED WITH RENT AND MORTGAGE YTD
---
11th Annual Golf Tournament Raises Over $350K for JAF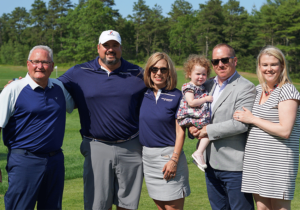 On Monday, June 24, 2019, the Joe Andruzzi Foundation, its supporters, and a host of local athletes and celebrities, came together at Pinehills Golf Club in Plymouth, Mass. for the 11th Annual Joe Andruzzi & Friends Golf Tournament to have a day of fun out on the links and to raise crucial funds in support of New England cancer patients.
By the end of the day, over $350,000 had been raised, allowing the Foundation to provide financial assistance to hundreds of New England cancer patients and their family members in the months to come. This also means that, through 11 years, our golf tournament has raised over $2.5 million.
Read more about JAF's day on the links in our recap blog!
---
JAF's Inaugural Brewery Event Series Launch at Night Shift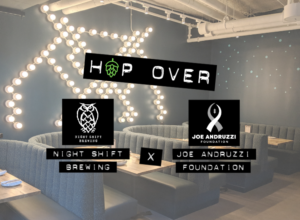 JAF's inaugural "Hop Over" brewery event series kicked off on June 20th at Night Shift Brewing's Lovejoy Wharf location in Boston, giving like-minded individuals interested in the issue of cancer a forum to discuss and learn how they can help patients and families through the Joe Andruzzi Foundation's mission.
The event was a huge success, and we owe a big thanks to Night Shift Brewing and its Lovejoy Wharf staff, our Brewmaster Sponsors, Well Told Design, and everyone who came out to support the event!
Stay tuned for details on the next 'Hop Over' event!
---
Join Bridge Builders and Become a Monthly Donor Today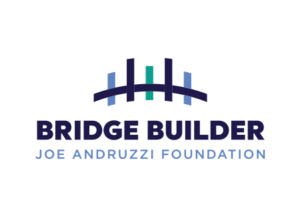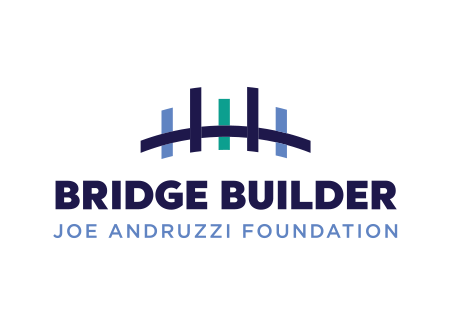 While undergoing cancer treatment – between hospital stays and returning home – patients and their families need help bridging the gap between paychecks. Through JAF's monthly giving program – Bridge Builders – you can join a group of individuals committing to provide sustainable financial support to New England families in cancer treatment so they can stay in their homes, keep their heat and lights on, and safely get to their treatment appointments.
When you commit to a monthly donation (here), you are providing the Joe Andruzzi Foundation with steady, reliable funding. Just as a bridge is built piece by piece by many hands, your contribution will combine each month with the gifts of fellow JAF Bridge Builders to carry New England cancer patients and their families across times of financial distress.
When you become a JAF Bridge Builder, you'll receive…
Quarterly e-newsletter updates about the patients and families you're supporting.
Exclusive early access to JAF events.
For a monthly gift of as little as $15, your choice of a commemorative magnet or keychain.
Together, we can build bridges for families facing cancer. Click here to learn more about this exciting program.
---
90+ Cellars Launches Wine to Benefit JAF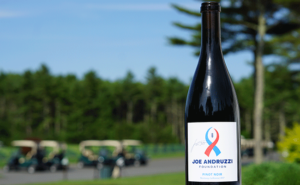 We're excited to announce a new partnership with our friends over at 90+ Cellars.Introducing the Joe Andruzzi Foundation Pinot Noir – fresh and full-bodied, with a mix in generous flavors of black cherries, plums and sweet spice. The best part? $5 from every bottle purchased online will benefit JAF!
Order your bottle today through this link!
---
JAF + the PawSox = a Home Run!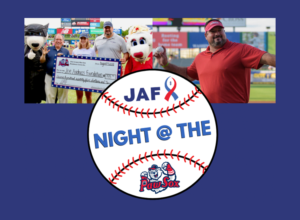 Our annual "JAF Night at the PawSox" outing returns this summer on Saturday, August 3, at McCoy Stadium in Pawtucket, Rhode Island.
A special rate on general admission tickets for the PawSox vs. Rochester Red Wings game (6:15 PM) is available for Foundation supporters – just $10 – with $5 of each ticket purchased through the "Get Tickets" button on JAF's event page (here).
When you purchase tickets through this special JAF promotion, you will also receive access to a bunch of extras and goodies – like to vouchers, on-field pre-game access, Superhero Night, fireworks, and more! Follow this link to learn more and score your tickets while they last!