Joe Andruzzi Foundation (JAF) has had a team participate in the Boston Marathon since 2011. While much respect and accolades belong to the dedicated runners training for a 26.2-mile marathon and fundraising thousands of dollars for the charity, another team is also laboring for many months to build the JAF Boston Marathon Team and provide support to the runners all along the way.
At the Foundation, preparations for the Boston Marathon start with one name: Gillian O'Brien, JAF's Senior Manager of Events. Each year, she will tell you what is her highest priority: showing appreciation for the runners.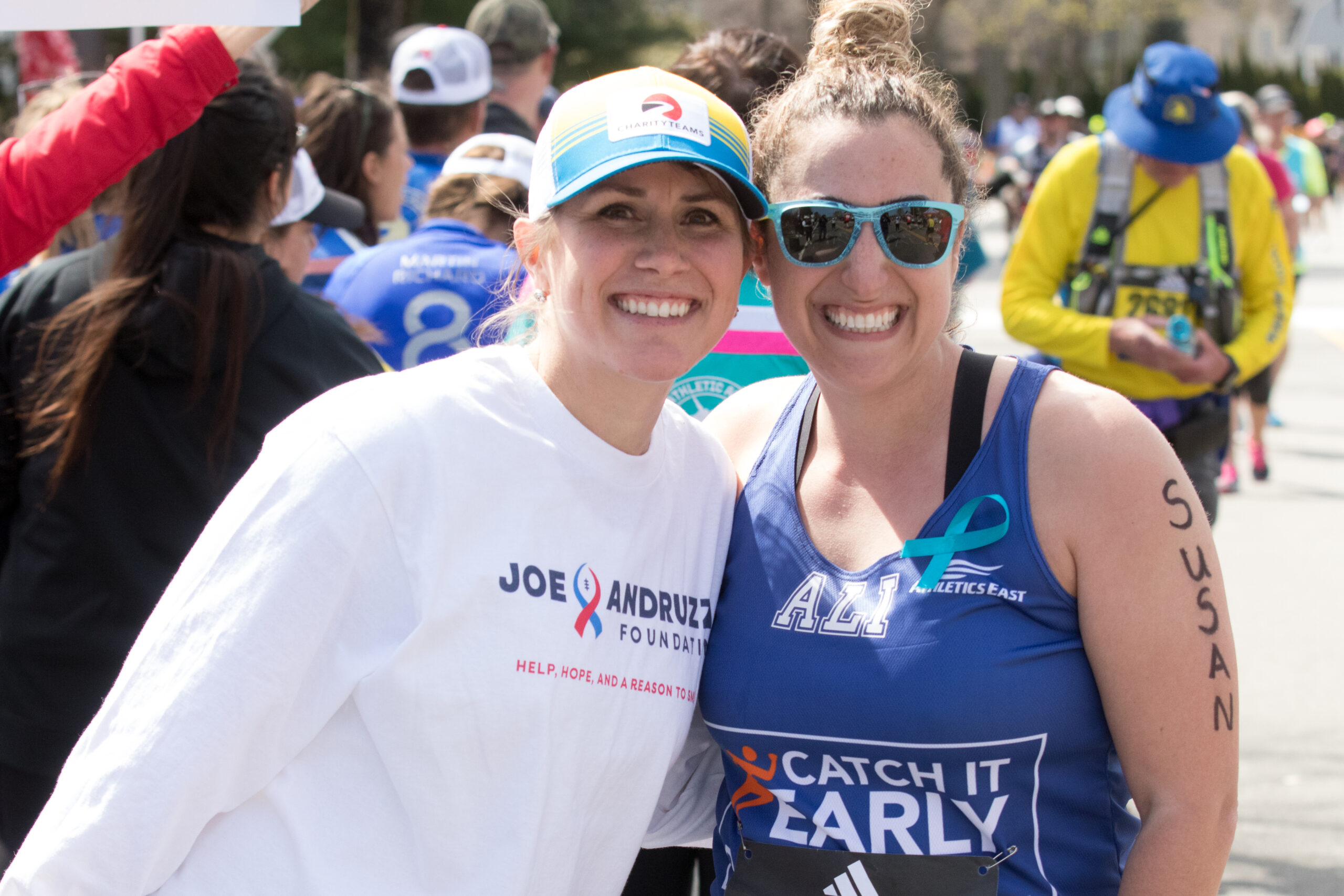 "We're always looking for ways to make all our runners feel loved and supported," O'Brien said. "That's what really goes into the planning from the start to marathon week of, how can we show how grateful we are of all their training and fundraising they've done over the last few months and the impact it has on JAF's mission."
Beginning in the fall as soon as bibs are secured, O'Brien puts out the call for runner applications. She then conducts numerous runner interviews. During this time, the Foundation asks what has brought the runners to JAF and its mission. Additionally, the JAF aims to understand each applicant's fundraising plan and how driven they are to fundraise the required $10,000 minimum.
O'Brien's partner at JAF for all things Boston Marathon is Development Operations Manager Sandy Clinton. As JAF's longest-tenured staff member, Sandy is well-known in the JAF community and has the primary role of supporting runner fundraising. Around the office, Clinton is referred to as JAF's 'Money Queen.' A title Clinton enjoys having for several reasons.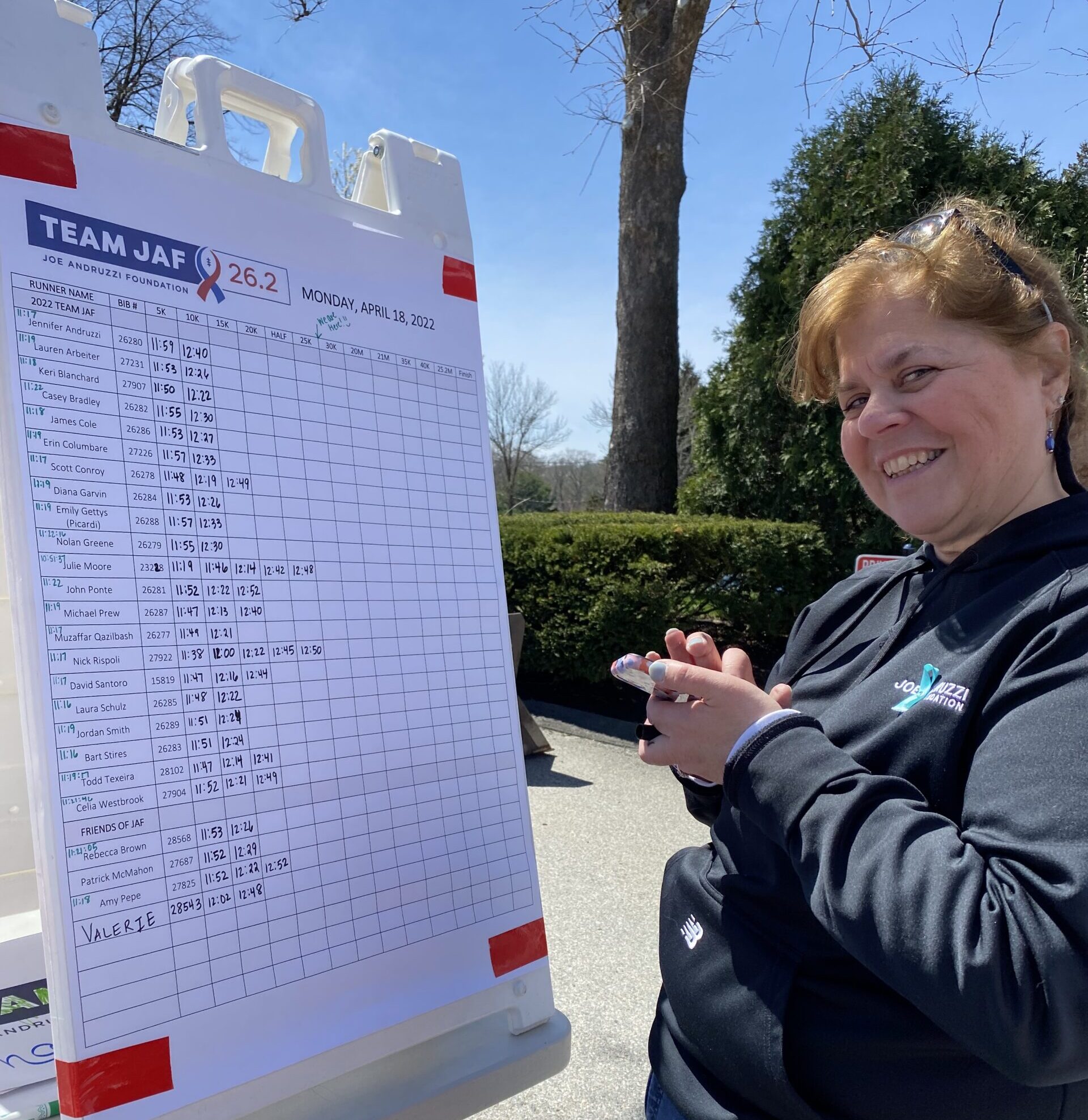 "It's just so exciting to watch these people raise money for JAF," Clinton said. "It's a huge undertaking to raise $10,000. It should never be taken lightly; these people are doing an amazing feat by raising that much for the Foundation."
O'Brien shares Clinton's sentiment describing a runner's fundraising initiatives as taking on another full-time job. Additionally, O'Brien mentioned how runners spend countless hours training and being 'ambassadors' to JAF's mission.
Supporting a team of motivated athletes comes with other responsibilities, too. O'Brien also ensures that JAF joins with other charities to staff weekly water stations along the route in the months leading up to the Marathon. She coordinates volunteers, enlists corporate partners for supplies, and has packing the 'aid kit' down to a science with absolutely anything a runner would need from runner favorite 'Goo' to Kleenex, band aids, and gummy bears. All of this may seem like a small part of Marathon preparation, but ask any runner who is out on training runs, and they'll tell you how happy they are to see the JAF banner out on a table and how relieved they are seeing Gillian and her volunteers are out there.
Did we mention the Team Kick-off Party and the Pasta Dinner? Two more ways O'Brien is committed to building a community amongst her runners. She brings them together in the beginning to get to know one another in a fun social setting and establish some networks. The Pasta Dinner is the culmination and celebration of their training and fundraising. At this point, she has created a Team JAF' family.'
It is their last meal before the big day, and the laughter, stories, and even some tears cement their bond.
All of the logistics, planning, events, late nights, travel, phone calls, and details emails are worth it, according to O'Brien. She wants to ensure the appreciation is genuine.
Jen Andruzzi, JAF's President and CEO, made it a point to highlight O'Brien's work and how she's a 'huge advocate' for all Team JAF members.
"That's a lot of work that Gillian does," said Andruzzi. "And that's on top of her other responsibilities at JAF. I think she does such a good job of recognizing every runner individually and as a team."
Clinton shared the same sentiment, describing O'Brien as the 'mama bear' of Team JAF.
"I hope that people realize that behind the scenes, there's one person who is all about whatever the runners and their supporters need," said Clinton. "She's worried about the apparel arriving on time to each runner, supporting their fundraising ideas, making sure there's enough food and water for not just the athletes, but their families or supporters there for a training run or the marathon."
While she appreciates the praise from her colleagues, O'Brien wants to make sure it's all about how incredible Team JAF has been.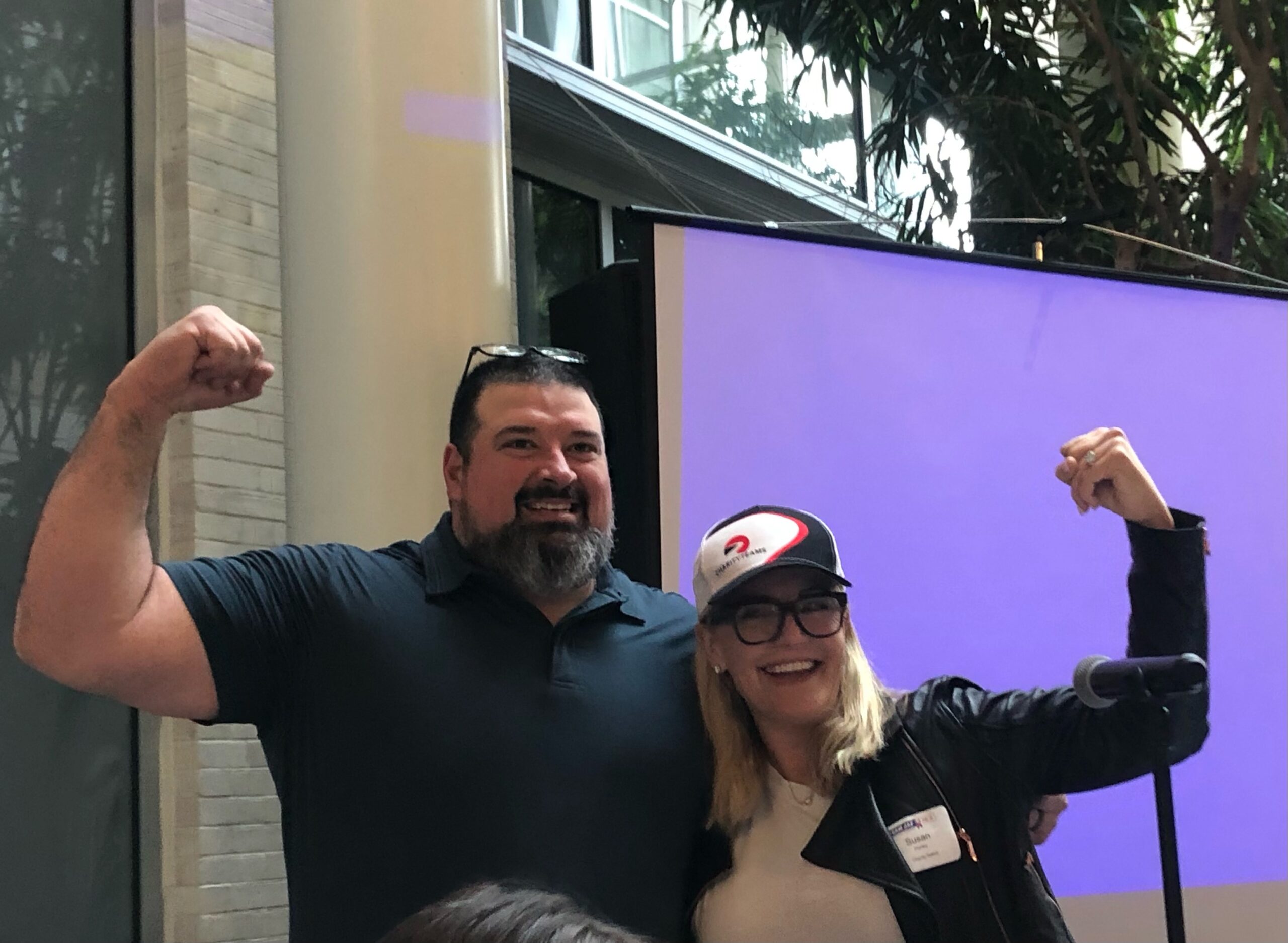 Susan Hurley, a friend of the Foundation for many years and founder of CharityTeams, an organization hired to help JAF runners, serves as a resource for the internal team. CharityTeams works with charitable organizations like JAF in recruiting athletes to raise funds for athletic events such as the Boston Marathon. In Hurley's words, charitable causes should always strive to provide knowledge of the organization's mission and goals to the athletes.
"JAF does a really good job from supporting the runners with their fundraising, providing patient inspirations, all of that is so helpful to runners," said Hurley.
"Every year, I just feel like JAF always has a great team," O'Brien said. "You hear of the bonds that are created within the runners and how much they put into it. Everyone at JAF is truly grateful for all of what they do."
So as thousands gather to watch exhausted and exhilarated Boston Marathon runners cross the finish line, know that Gillian O'Brien will be cheering on 21 special runners with incredible pride. When that last runner crosses, no doubt she will already be thinking about how to create another memorable experience for her next team. For that, WE are all so grateful.