Nearly two and a half years after the last in-person Boston Marathon®, 18 Team JAF athletes – along with their six teammates choosing to run virtually – completed the 125th edition of the storied race in support of the Joe Andruzzi Foundation's mission to provide financial assistance to patients living with cancer throughout New England.
A sincere thank you goes out to all our Team JAF athletes – Naudy Anzola, Charlie Blatchford, Melissa Booth, Michelle Brousseau, Ally Colton, Burton Deady, Savannah Deady, James Develin, Michelle Hanson, Steve Hewitt, Brooke Kelly, Matthew Kyller, Jack Lowell, Stephanie McHugh, Madison Peltier, Ali Pepe, Amy Pepe, Chris Roche, David Santoro, Alec Shelburne, Katherine Tully, Leland Wilson, Kristen Wingate, Trisha Winton, and of course, JAF President and CEO Jen Andruzzi – for their months of training and hard work, and their steadfast commitment to the JAF mission. JAF's Marathon team turned 10 years old this year, and this year, Marathon runners raised more than $210,000 for patients and their families!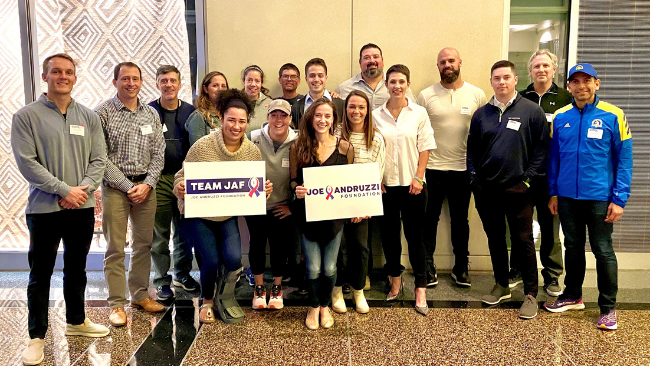 On the Saturday before the Marathon, Team JAF athletes met at Davio's Northern Italian Steakhouse in Boston's Back Bay, where they resumed their traditional pre-race pasta dinner after taking a year off due to the pandemic. There, a few of our athletes received special Team JAF superlatives. This year's winners are:
Matthew Kyller as Top Fundraiser for their unwavering commitment to raise money for the Joe Andruzzi Foundation as a member of Team JAF.
Ally Colton as Spirit Award winner for the runner who best represents an (Up)Beat attitude and dedication to JAF's mission throughout Marathon season.
Michelle Brousseau as Best JAF Ambassador Award winner for the runner who's shown the most dedication to increasing awareness of the JAF mission throughout Marathon season.
Kristen Wingate as the Unsung Hero Award winner for the Team JAF runner who best displays passion, perseverance, and determination throughout Marathon season.
Along with our amazing runners, there are so many talented organizations and personnel that have worked behind the scenes to help Team JAF conquer the finish line. They are:
The John Hancock Non-Profit Program, which provided Team JAF with bibs for our team members.
The Boston Athletic Association and its many volunteers for providing a fun, stress-free Marathon experience for all our runners.
Susan Hurley and CharityTeams for once again going above and beyond the call of duty in supporting Team JAF and our mission.
Bud Morton Photography for taking pictures of our runners showing Team JAF spirit as they completed our superhero 17-mile and pirate-themed 21-mile runs.
Charlie Blatchford, who, after completing the Marathon virtually on Friday, joined us at our cheer station and volunteered as a DJ so runners everywhere had music to pump them up as they passed the JAF tent.
Josh Cellars and Quality Beverage LP for their generous donations to our Team JAF kickoff event.
New Balance for helping to outfit our team with their donation of Team JAF training tanktops.
Davio's Northern Italian Steakhouse for hosting our pre-race pasta dinner.
Stacey Howard Photography for capturing so many memorable photos of our runners out on the course.
Brae Burn Country Club for generously hosting the Team JAF cheer station so athletes' friends and family members could have a place to watch their favorite runners in action. We'd also like to thank the many Team JAF alumni, JAF staff and board members, and the family and friends of runners who joined us to make our cheering section even louder.
ZenWTR, Marathon Sports, Dunkin' and The Carvalho Group, and D'Angelo for fueling our runners (and spectators) throughout the training season and on Marathon day.
If you weren't able to watch the Marathon in-person this year, check out our Facebook photo album (below) for the best moments of the 2021 race, and visit the JAF Instagram profile to watch the 'BOSTON21' Instagram highlight to see how the weekend unfolded for our virtual and in-person runners.
Once again, thank you to all of our dedicated runners, donors, and supporters who helped make Team JAF's return to the finish line on Boylston Street a big success. If you still wish to make a donation, we will be accepting them until October 21. Click here to support an athlete!
2021 Team JAF Boston Marathon Runner Spotlights
Steve Hewitt: https://joeandruzzifoundation.org/blog/boston-sportswriter-gets-his-turn-in-the-spotlight-running-marathon-to-support-cancer-patients/
Ally Colton: https://joeandruzzifoundation.org/blog/team-jaf-athlete-to-run-first-ever-marathon-in-honor-of-late-friend/
Michelle Brousseau: https://joeandruzzifoundation.org/blog/team-jaf-athlete-inspired-by-boston-marathon-champ-paralympian-to-run-first-marathon/
Alec Shelburne: https://joeandruzzifoundation.org/blog/from-financial-toxicity-to-financial-planning-how-one-team-jaf-athlete-was-inspired-by-his-mothers-cancer-battle/