Joe Andruzzi Foundation's (Up)Beat (Up)Date: April 2019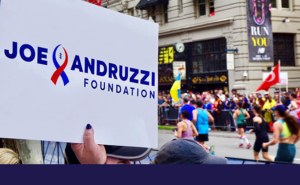 April has always been one of our favorite months of the year – the snow is usually gone, the sun is finally waking up from its hibernation, and we get to watch our amazing Team JAF Boston Marathon runners cross the Boylston Street finish line. What else could you ask for?
Spring has indeed arrived, and with it comes a busy summer filled with Foundation events and initiatives – but before we get ahead of ourselves, let's take a look back on the month that was and everything that made April so special at JAF.
All the best,
Jen & Joe Andruzzi
---
JAF By The Numbers
297
PATIENTS AND THEIR FAMILY MEMBERS TO BE ASSISTED THANKS TO 2019 MARATHON FUNDRAISING
150+
OF THESE FAMILIES WHO WILL RECEIVE FINANCIAL ASSISTANCE WILL USE THE FUNDS TO STABILIZE THEIR HOUSING SITUATION (MORTGAGE, RENT AND TAXES) TO HELP ENSURE THEY STAY IN THEIR HOME DURING TREATMENT
---
Team JAF Raises $200K Through Boston Marathon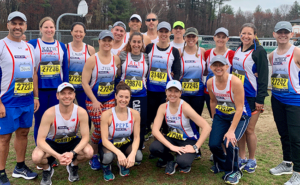 After months of hard work, 18 dedicated and determined members of Team JAF successfully crossed the finish line of the 123rd Boston Marathon on Patriots Day 2019 in support of the Joe Andruzzi Foundation's mission.
Team JAF runners ran for very personal reasons, but the one thing that unified them was the desire to make a difference in the lives of families faced with cancer. They chose the Joe Andruzzi Foundation because they understood the impact that a JAF grant can have for a family struggling to pay household bills, while also trying to cover the unexpected costs of cancer treatment.
Thanks to their training and fundraising commitments and the backing of so many generous supporters, JAF's 2019 Boston Marathon team raised more than $200,000 in support of New England cancer patients!
Weren't able to make it out to Marathon Monday? Check out our photo album on JAF's Facebook page (here) – and if you would still like to contribute to Team JAF's 2019 Boston Marathon campaign, donations will be accepted through May 20, 2019, at joeandruzzifoundation.org/event/2019-boston-marathon.
And for a full recap of Team JAF's 2019 Boston Marathon campaign, follow this link to our blog!
---
Run Falmouth This August With Team JAF!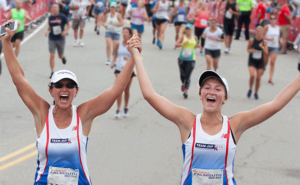 Inspired by Marathon Monday? Good news! We're currently seeking charity runners for the 47th New Balance Falmouth Road Race! Join us as we once again take to the scenic streets of Cape Cod on Sunday, August 18, 2019 and raise funds in support of JAF's mission.
Since 2012, hundreds of Team JAF Falmouth Road Race runners have raised more than $700,000 to help fulfill our mission and allow patients to focus on what really matters during treatment – getting better.
Will you join our team? Click here for more info and to apply today!
---
FORE! JAF's 11th Annual Golf Tournament Returns In June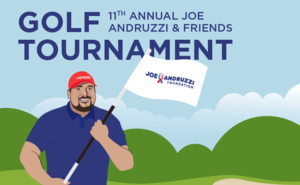 Speaking of warmer weather…join us on Monday, June 24, as JAF takes over the beautiful Pinehills Golf Club in Plymouth, Mass. for our 11th annual golf tournament, presented by East Commerce Solutions, Inc.
JAF's golf tournament is one of our largest annual fundraisers that support the Foundation's mission all year long – so now is the time to tee-it-up and directly impact the lives of cancer patients and their families throughout New England.
For more info, and to guarantee your spot in this year's event, please follow this link.
---
"I Never Thought It Could Be Cancer"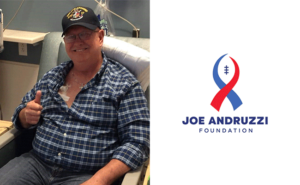 Kevin Finn is not what you'd call your typical 60-year-old. As a paramedic, he was routinely working 60-72 hour weeks in a job that had him constantly running up and down stairs, often carrying people as he did. He was also an avid weight-lifter, something he loved but also needed to do in order to meet the demands of such a physical job.
So, when his arm started hurting one day, he did what anyone in a job like this might do – he took some ibuprofen and didn't give it another thought. As the pain lingered, he figured he probably overdid it at the gym. He never could have imagined cancer was the underlying source of his discomfort, nor could he have foreseen the journey his life was about to embark on.
Read more about Kevin in the latest JAF Patient Story.