Joe Andruzzi Foundation's (Up)Beat (Up)Date: July 2018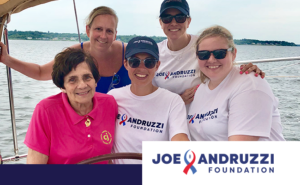 Happy "dog days" of summer! Where does the time go?
The fireworks that lit up skies across the nation earlier in the month now seem like distant memories as we barrel towards August and the first official sign that the end of summer is approaching: those pesky "Back-to-School Shopping" commercials. *GASPS* (Don't tell the kids!)
Fear not! The Joe Andruzzi Foundation has plenty of exciting events and initiatives to look forward to in August – before we turn the page on July, here's a recap of the month that was!
Don't forget your sunscreen!
All the best,
Jen & Joe Andruzzi
---
JAF By The Numbers
$52,550+
TEAM JAF'S FALMOUTH ROAD RACE FUNDRAISING TO DATE
19
DAYS UNTIL 2018 FALMOUTH ROAD RACE
---
Save The Date! JAF's 11th Annual Gala (Nov. 15)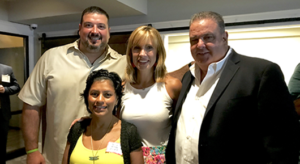 That's right – the Joe Andruzzi Foundation's gala is moving to a Thursday night! Be sure to mark November 15, 2018, on your calendars to save the date for our 11th annual gala, presented by The J. Derenzo Companies and once again hosted at Gillette Stadium's Putnam Club (West)!
Last Thursday, JAF staff and board members were joined by Foundation supporters at Towneship Restaurant in North Easton, MA for our annual gala kickoff where the group discussed plans and exciting details about the upcoming event. We want to thank David and Karen Howe and the incredible staff at Towneship for hosting us for the kickoff, as well as our patient speaker, Carrie Letham, who shared her cancer journey with attendees.
November 15th will be here before you know it, so be sure to keep an eye out later this summer for more details about JAF's 2018 gala! Click here to learn more!
---
JAF Night At The PawSox: Tix Going Fast!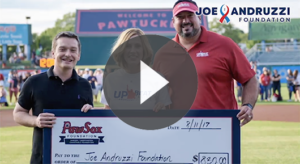 Join the Joe Andruzzi Foundation and the Pawtucket Red Sox for a "JAF Night at the PawSox" outing on Saturday, August 4, at McCoy Stadium in Pawtucket, Rhode Island.
A limited number of general admission tickets for the PawSox vs. Rochester Red Wings game (6:15 PM) are available to Foundation supporters at a very special rate – just $10 – with $5 of each ticket purchased through the link below benefiting JAF's mission to alleviate cancer's financial burden on patients and families throughout New England!
When you purchase tickets through this special JAF promotion, you will also receive access to a bunch of extras and goodies! Follow the link below to learn more and score your tickets while they last! Get tickets here!
---
Run For Team JAF At Falmouth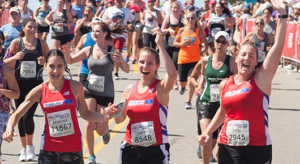 This August, 60+ Team JAF charity runners will represent the Joe Andruzzi Foundation at the New Balance Falmouth Road Race – all to raise funds in support of JAF's mission. We need YOU to help our runners reach their fundraising goals! To donate, visit www.teamjaf.org and scroll down/click on the name of a runner you wish to support.
In possession of a Falmouth bib? While Team JAF's charity entries have been claimed, we are still accepting applications from those who have independently secured a Falmouth Road Race bib and wish to run and fundraise ($500 minimum) as part of a non-profit team. To apply, click this link.
(P.S. – Even if you're not running Falmouth, you can still be an honorary "Street Team" member of Team JAF by cheering on our runners from the sidelines! Email teamjaf@Joeandruzzifoundation.org today for more information on how you can get involved on race day.)
---
Patient Spotlight: Westfield Mom Keeps Moving Through Cancer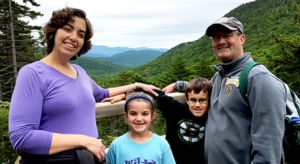 When Colleen Cekovsky was diagnosed with cancer, the 39-year-old Westfield mom had just gotten through her husband's deployment to Afghanistan.
"People told us, 'It's not fair, your family has given up so much'…but my husband being in the military taught us to be resilient."
Learn all about the Cekovsky family's inspiring cancer journey in the latest JAF Patient Story by clicking this link.
---
Champions Circle Business Spotlight: TierPoint

JAF: How did you hear about the Joe Andruzzi Foundation? What made you want to get involved as a Champions Circle member?
Brian Kern, Regional Vice President, TierPoint: One of our primary partners, ROI Communications, is a major supporter of the Foundation, and they asked us to get involved. It was an easy decision – supporting cancer patients and their families is a cause we all want to help with.
JAF: How does Champions Circle align with TierPoint's philanthropic focus?
Brian Kern: One of the core values of our company culture is family. For us, the concept of family is very broad and inclusive; it covers not just our immediate families but our colleagues and communities as well. That lines up very well with JAF's mission of providing 'help, hope, and a reason to smile' – to both New England cancer patients and their families.
JAF: Anything else you want people reading this to know about TierPoint?
Brian Kern: We're very proud to support this wonderful organization and the great work it does. We look forward to doing our small part to help JAF achieve its mission.
—
Champions Circle is the Joe Andruzzi Foundation's new giving society designed to recognize exceptional businesses who want to play a key role in emotionally and financially supporting New England cancer patients and their families through their cancer journeys. The program is focused on highlighting businesses and business leaders who commit to making an impact locally with their annual gift to JAF. As a member of Champions Circle, you join like-minded business leaders who share a commitment in supporting cancer patients with impact at a local level. For more information, please visit www.jafchampionscircle.org.