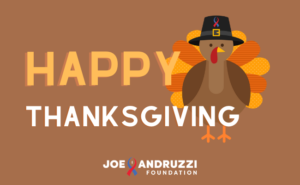 The (Up)Beat (Up)Date
During the season of Thanksgiving, the world pauses in gratitude. The Joe Andruzzi Foundation is no exception. In 2021, JAF received the blessings of having some of the most generous individuals and partners who believe in our mission and support us with their talent, time, and treasure – we are an extraordinarily grateful community.
We hope that all of you know that you have a tremendous impact on cancer patients and families you may never meet or even know their stories. However, every day at JAF, we receive letters of thanks and appreciation, sharing how the assistance they received made their journey a little lighter and, most importantly, gave them hope.
Next week is Giving Tuesday, a worldwide day of strengthening so many wonderful organizations. At JAF, we will look outward and dedicate our day to our partners in the oncology healthcare field – true heroes who have endured so much over these past two years and who have remained steadfast in their active support of cancer patients and their families. JAF would not have the reach and impact we do without the advocacy of healthcare partners, social workers, patient navigators, resource specialists, and individual oncology caregivers in treatment centers throughout New England. Please read below for more on how JAF will celebrate Giving Tuesday.
Wishing you and your family a blessed Thanksgiving.
Jen and Joe Andruzzi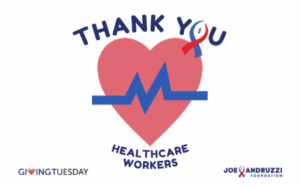 Giving Back On Giving Tuesday
Cancer doesn't stop, nor do oncology healthcare professionals. That's why JAF will be paying tribute this Giving Tuesday (Nov. 30) to our healthcare partners: social workers, patient navigators, resource specialists, and individual oncology caregivers who have continuously advocated and cared for patients through the ongoing pandemic.
This tireless community of professionals has continued to submit JAF grant request applications for patients and families, stewarding them even while many were working remotely. Their efforts have ensured JAF's resources reached those most in need during the most difficult of times.
In recognition of their dedication, JAF, together with our Healthcare Council Presenting Sponsor Bob's Discount Furniture, sent a very special self-care package this week to thank them for never stopping to provide emotional support and help patients navigate resources based on individual needs throughout the COVID-19 pandemic.
Next week, JAF invites our community to join us on this day of appreciation. Follow us on social for inspiring stories and a unique way to honor a healthcare worker (even someone you know!). Let's celebrate those who have been on the front lines and who have helped JAF give hope to cancer patients with an act of kindness and gift with impact.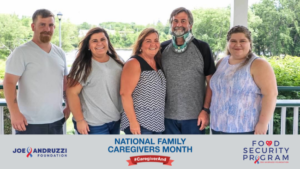 November Is National Family Caregiver Month
The Joe Andruzzi Foundation's newest pillar of support is the JAF Food Security Program. Presented by ROI Communications, the Food Security Program is available to patients of all ages and provides grocery store gift cards of up to $300 to one of five participating New England supermarket chains depending on the patient's location. This assistance provides patients and families with unrestricted access to food and groceries so they can get the nutritious meals they need during treatment. Food Security patient recipients can also apply for JAF's Financial Assistance program in the same calendar year in which they receive Food Security Program support.
One of those JAF Food Security Program recipients was Dennis, a Stage 4 cancer patient from Maine. With November being National Family Caregivers Month, we spoke with Dennis's wife, Theresa, about how the Program helped her and her husband, and about the challenges of becoming a full-time caregiver.
Read their story through the link below.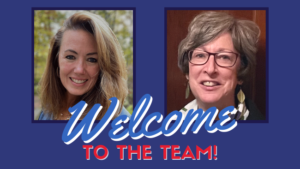 Welcome Nicole Anderson & Anne Murphy!
We are so excited to welcome two incredible new additions to the Joe Andruzzi Foundation Team: Nicole Anderson and Anne Murphy!
Nicole has joined JAF as Vice President of Development where she will lead all fundraising and development activities and serve as a key leadership team member.
Anne joins JAF as Vice President of Finance and Operations, where she will oversee financial management strategy, human resources needs, and contributes in the development of the organization's strategic goals.
Learn more about our new hires here (Nicole) and here (Anne)!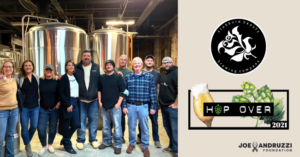 Holiday Hop Over Brewery Event Raises Nearly $10K!
Thanks to a group of incredible supporters, our first "Holiday Hop Over" event on November 11 at Stubborn Beauty Brewing in Middletown, Conn. was a HUGE success! We raised nearly $10,000 in support of New England cancer patients and their families.
Thank you to Stubborn Beauty for welcoming JAF and all our supporters into their taproom, and to our rockstar event committee – Alyssa Pillion, Robin Copperthwaite, Bill Donovan, Michael and Amy Garofalo, and Sue Garofalo – for selling out the event and pulling together an amazing silent auction and raffle table.
Our next "Holiday Hop Over" will take place on Thursday, December 9 at True North Ale Company in Ipswich, Mass.! Tickets are $50 per person and include food from Riverview Pizza of Ipswich, one beverage token, live music, and a meet and greet with Joe.
The first 30 people registered for the event get a free custom pint class courtesy of Brewmaster Sponsor Well Told Design. Get your tickets through the link below.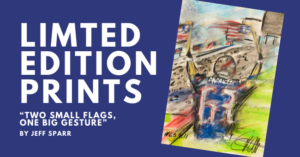 "Two Small Flags, One Big Gesture" Jeff Sparr Limited Edition Print
Local and well-renowned artist (and friend to Joe and Jen) Jeff Sparr created a one-of-a-kind piece, "Two Small Flags, One Big Gesture". This original design commemorates the historic game that all New Englanders will never forget, the Jets-Patriots game on September 23, 2001.
Thanks to Jeff's incredible talent and generosity, JAF will be selling 63 one-of-a-kind limited edition prints with all proceeds going to JAF. Each of the 63 prints will be hand-embellished by both Joe Andruzzi and Jeff Sparr, numbered, and signed, making it the perfect gift for any fan and art enthusiast.
To purchase your 1 of 63 "Two Small Flags, One Big Gesture" in time for the holidays, follow the link below.

THURSDAY, DECEMBER 9, 2021
'Hop Over' Holiday Series: True North Ale Company
JAF Night at the Massachusetts Music & Arts Society: Ask/Answer
January 20, 2022
Join Joe and Jen Andruzzi for a very special night at the theater for a performance of Ask/Answer written by Ernest Thompson (Academy Award winner for Best Adapted Screenplay, On Gold Pond) at the Black Box Theater and Morini Gallery. A portion of all tickets sold benefit JAF.
Ask/Answer is a love story between two strangers who discover all is not lost, even in the midst of a mutual cancer journey. Following the show, guests can enjoy a 'talk back' (personal Q&A) with Ernest Thompson and Joe and Jen! Tickets go on sale soon! To learn more about the play or to purchase your tickets, visit the MMAS website here.
The "Art for Hope" exhibition opens alongside Thompson's play. Artwork will be featured throughout the gallery adjacent to the theatre. Forty percent of all sold work will benefit the Joe Andruzzi Foundation.

Tis the season! Check out some of the ways you can kick off your holiday shopping while supporting New England cancer patients and their families!