Joe Andruzzi Foundation's (Up)Beat (Up)Date: December 2018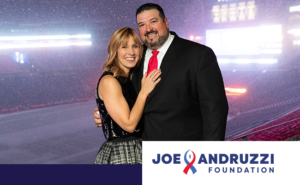 Ho! Ho! Ho!
We hope you and your family had wonderful holidays filled with love, laughter, and togetherness.
It's hard to believe another 12 months have just about passed, and we are grateful to so many for making this year one of JAF's most memorable. We launched a new brand and website this year, celebrated our tenth anniversary, and – above all – were able to provide financial assistance to a growing number of New England cancer patients. But this year could not have been as successful as it was for JAF if not for the overwhelming support by friends like you – thank you for making this year our most special one yet.
We also have some news to share – we will be entering 2019 with new titles! Jen is now officially "President and CEO" of the Joe Andruzzi Foundation, and Joe has been tapped as "Chairman of the Board". We are both so excited to hit the ground running next year with new energy and an incredible support system pushing us towards our goal of eliminating financial toxicity for patients across New England.
But, before the 2019 ball officially drops, let's take a look at some last housekeeping items to close out the amazing year that was!Hope to see you "next year"!
All the best,
Jen & Joe Andruzzi
---
JAF By The Numbers
1,800+
PATIENTS ASSISTED IN 2018
$1.1 MILLION+
GRANT DOLLARS PROVIDED IN 2018
---
Make Your Year-End Tax-Efficient Gift To JAF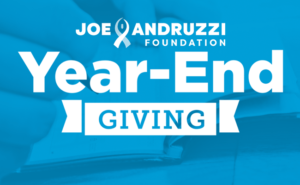 There are only five days left in 2018! That means there are still a few days remaining to make a donation to JAF before the tax year comes to a close. Your gift, no matter the size, will directly impact and make a difference in the lives of cancer patients reaching out to JAF in need of financial assistance.
Making a year-end donation is simple – just visit the "Ways to Give" page (here) on the JAF website to browse the various ways you can support JAF – or, you can keep it simple and visit our donation page here.
There are also some other easy tax-efficient ways you can make a year-end gift to JAF, like…
Individual Retirement Account (IRA): Are you 70.5 or older with an IRA? You can transfer a donation directly to JAF without incurring taxes.
Donor Advised Funds: Give through your donor advised fund to maximize your impact to JAF patients and their families in need of financial assistance. Your fund sponsor handles all record-keeping, disbursements, and tax receipts.
Stock or Securities: Did you know you can also make a gift of stock or securities to support JAF without any capital gains tax?
Questions about any of the ways you can make a year-end tax-efficient gift to JAF? Contact Erin Chatham at Erin@joeandruzzifoundation.org.
---
Fundraise in 2019 for JAF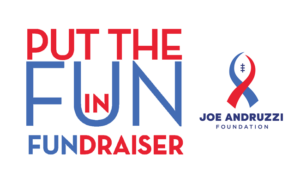 Have you been thinking about hosting your own event, fundraiser, or athletic campaign to benefit the Joe Andruzzi Foundation? Getting your third-party fundraiser up and running is just a few clicks away…
First, be sure to review JAF's brand-new Supporter Hosted Fundraising Toolkit to discover fundraising campaign ideas, tips, and resources available to help you reach your goals.
Next, feel free to reach out to our event staff (here) with any questions you still may have before applying.
Excited and ready to go? Awesome! Simply submit your campaign idea through JAF's online Supporter Hosted Fundraising application here. (Or *here* – for athletic campaign applicants)
For complete info on how you can get your fundraising idea off the ground, follow this link.
---
JAF Patient Story: Amy Deveau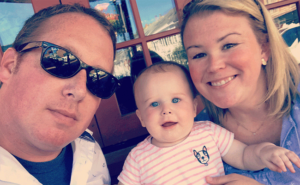 Having your first child is about as big a life changing event as it gets. When you walk out of the hospital carrying a newborn and you realize no one is coming with you, that's when it really hits: you're on your own to figure this out.
That's how Amy Deveau felt while driving home from the hospital with her husband, Michael, their newborn, Millie, and a car full of flowers and balloons. She couldn't help but wonder if they were ready for this. She was already exhausted from a difficult childbirth, and as joyful as it felt when she looked at Millie, she couldn't help but wonder how they were going to handle it. The truth is, she had no idea what was coming.
In the latest JAF Patient Story, Amy discusses her young family's journey navigating her cancer diagnosis.