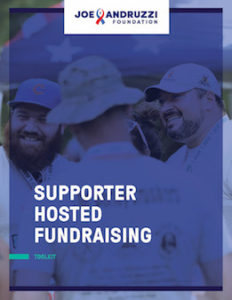 The Joe Andruzzi Foundation appreciates your interest in supporting our mission through third-party fundraising.
The Foundation hosts several fundraising events each year, and our internal resources are completely dedicated to ensuring their success. By leading a supporter hosted event/campaign, you (as a third-party fundraiser) assume the responsibility of creating a successful event/campaign without involvement from JAF staff.
Please review JAF's Supporter Hosted Fundraising Toolkit before completing the following Supporter Hosted Fundraising application.
If you have any questions, please contact Gillian O'Brien by emailing gillian@joeandruzzifoundation.org or calling 508-261-0630.