Joe Andruzzi Foundation's (Up)Beat (Up)Date: July 2019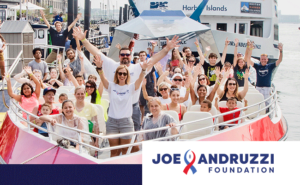 Is it us, or does July seem to fly by faster than any other month?
Between planning for upcoming Team JAF events and mapping out some big fall initiatives, the Joe Andruzzi Foundation office has been buzzing along all summer.
And while the month seems to have gone by too fast, for Joe, a major milestone couldn't have come quick enough. We're so proud that Joe was able to return to Southern Connecticut State University last Monday to receive his degree, more than 20 years after he left the school to join the NFL. It was a journey Joe set off on in 1993, and something that always stayed in the back of his mind after leaving school a few credits short to pursue his football dream.
If you haven't had the chance, the Hartford Courant and Newsweek had some nice recap pieces – and, of course, be sure to read on below to get caught up on the month that was at the Joe Andruzzi Foundation.
All the best,
Jen & Joe Andruzzi
---
JAF By The Numbers
587
JAF PATIENTS AND FAMILY MEMBERS ASSISTED WITH TRANSPORTATION RELATED EXPENSES THIS YEAR
$93k
2019 TRANSPORTATION RELATED EXPENSES DISTRIBUTED BY JAF TO DATE
---
JAF Patient Families Cruise Boston Harbor on 'Codzilla'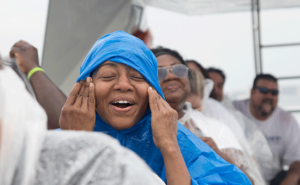 Thanks to our amazing friends and supporters at Boston Harbor Cruises, Joe Andruzzi Foundation patient recipients and their families got to enjoy a beautiful day out on Boston Harbor for our 10th annual Codzilla Thrill Ride (Up)Beat Opportunity!
Codzilla is a high-speed powerboat that whips around Boston Harbor at upwards of 40 miles per hour as music blares and waves splash. Most importantly, our annual outing gives patients a much-deserved day of laughs and fun away from treatment.
A big thanks again to Boston Harbor Cruises and the entire Codzilla Thrill Ride staff who are always so generous and a pleasure to be around each and every year!
---
Mother and Daughter: A Story of Love and Caring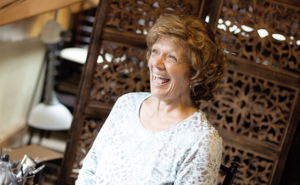 Alyssa was working night shifts and attending nursing school in 2016 when her late mother, Carole, was diagnosed with Stage IV cancer.
Like so many families facing the disease, Alyssa's only option was to quit her job and become her mother's sole caregiver. Then, bills began to pile up and the true Cost of Cancer revealed itself.
Learn about Alyssa's journey from daughter to caregiver in the latest JAF Patient Story.
---
LAST CALL: Run Falmouth in August with Team JAF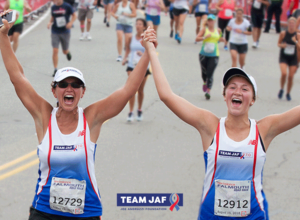 Team JAF is currently seeking a few final charity (and invitational!) runners for the 47th New Balance Falmouth Road Race! Join us as we once again take to the scenic streets of Cape Cod on Sunday, August 18, 2019 and raise funds in support of JAF's mission.
Since 2012, hundreds of Team JAF Falmouth Road Race runners have raised more than $700,000 to help fulfill our mission and allow patients to focus on what really matters during treatment – getting better. Will you join our team?
To apply today, or to make a donation in support of a current Team JAF runner, follow this link.
---
Pedal for Patients at Team JAF's Spin-A-Thon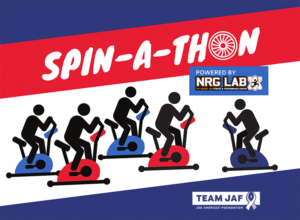 We are thrilled to partner with NRG Lab in Mansfield, MA for our inaugural "Team JAF Spin-AThon" Powered by NRG Lab.
Team JAF is looking for local charity spinners to join us as we saddle up for a night of music, cycling, and fun, on Friday, September 20, 2019, from 6:00PM – 8:00PM – all to help raise funds for JAF to assist cancer patients and their families throughout New England.
Only 25 spin bikes are available, so be sure to sign up today!
---
Bike, Run, or Walk the Tour de South Shore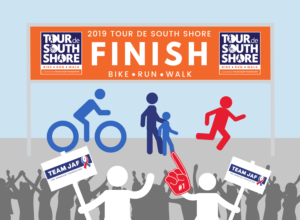 We're seeking athletes of all ages and abilities who want to support JAF's mission through the Tour de South Shore in Hingham, MA on Saturday, September 21. The event has something for everyone – cyclists, runners, and walkers. Plus, kids can join in the 5k Walk/"Fun Run", so the whole family can participate together in support of JAF!
Follow this link for full details, and for additional questions – or to register children aged 12 and under – please contact Gillian O'Brien at gillian@joeandruzzifoundation.org.
---
Team JAF Heads North to Maine This Fall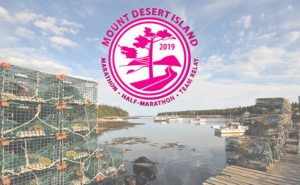 Team JAF is heading to Maine this October for the first time, and applications are now open for charity runners to apply for the 2019 Mount Desert Island (MDI) Half Marathon! Join us as we take to the picturesque roads of Northeast Harbor, Maine on Sunday, October 20, 2019, and raise funds in support of JAF's mission along the way.
Team JAF's 2019 MDI Half Marathon squad will be comprised of first-timers, experienced runners, individuals touched by cancer, and friends/supporters who want to fundraise for and represent what JAF stands for – all while participating in one of the most scenic road races in the Northeast.
Will you join our team? Apply today through this link!