Joe Andruzzi Foundation's (Up)Beat (Up)Date: October 2018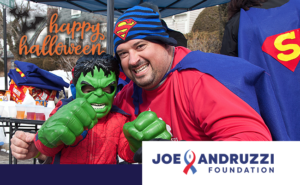 On behalf of the entire Joe Andruzzi Foundation, we want to wish you and your family a very Happy and (Up)Beat Halloween!
Speaking of which, it certainly is scary how quickly October flew by! We're just a few weeks away from our annual Gala, and before you know it, we'll be decorating the tree and swapping presents.
But before we start getting our heaviest winter coats out of the closet, let's take a look at everything that kept the Joe Andruzzi Foundation busy in October!
All the best,
Jen & Joe Andruzzi
---
JAF By The Numbers
1659
TOTAL JAF GRANTS AWARDED TO PATIENTS FOR HEAT BILLS
$611,000
CUMULATIVE AMOUNT OF GRANTS AWARDED TO PATIENTS FOR HEAT BILLS
---
Last Call: Score Your JAF Gala Tickets Today!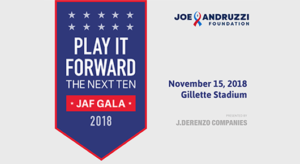 Team up with JAF as we play it forward and bring on the next 10! The Joe Andruzzi Foundation is excited to celebrate our 11th Annual Gala, which will be held at Gillette Stadium's Putnam Club West on Thursday, November 15, 2018, presented by J.Derenzo Companies!
Through ten years, the gala has raised more than $6,000,000 in support of the Foundation's mission of alleviating the financial distress a cancer diagnosis can cause in the lives of New England patients and families. It will take teamwork to make this a record-setting event in November, so be sure to join us!
Plus: for the first time ever, we're throwing a post-gala after-party in Gillette Stadium, complete with desserts, cordials, dancing, and a live band!
Tickets are expected to sell out shortly, so follow this link to score your tickets ASAP!
---
JAF Champions Circle Member Appreciation Night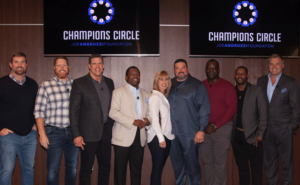 On Tuesday, October 23, the Joe Andruzzi Foundation hosted its second annual Champions Circle Member Appreciation Night at Gillette Stadium's Cross Insurance Pavilion. Champions Circle is a business giving society within JAF that connects cause-minded business leaders who share a goal of being a champion for cancer patients throughout our community.
Tuesday's event marked the culmination of year-two of the business giving society as representatives from nearly 100 businesses gathered to network and enjoy a special Patriots-themed panel. Hosted by Scott Zolak, New England football legends Matt Light, Ty Law, Ted Johnson, Jarvis Green, Troy Brown, Dan Koppen and our own Joe Andruzzi reminisced about their early-aughts Super Bowl runs, what made them successful year after year, and how they have transitioned to new careers post-football.
A huge thank you goes out to Cross Insurance for letting JAF use their beautiful space for the night and to all of the Champions who came by to celebrate year-two of the business giving society.
For details on how your business can join Champions Circle, visit  JAFChampionsCircle.org.
---
'Tis The Season For Holiday-Inspired Fundraising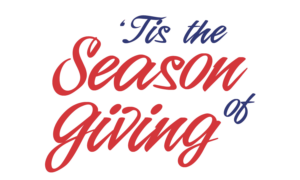 Have you been thinking about hosting your own event, fundraiser, or athletic campaign to benefit the Joe Andruzzi Foundation? This holiday season is the perfect time to get started!
Whether it's a Movember campaign, an office-wide ugly sweater contest, a holiday party, or something even more original, getting your third-party fundraiser up and running is just a few clicks away…
First, be sure to review JAF's brand-new Supporter Hosted Fundraising Toolkit to discover fundraising campaign ideas, tips, and resources available to help you reach your goals.
Next, feel free to reach out to our event staff (here) with any questions you still may have before applying.
Excited and ready to rock? Awesome! Simply submit your campaign idea through JAF's online Supporter Hosted Fundraising application here. (Or *here* – for athletic campaign applicants)
For complete info on how you can get your fundraising idea off the ground, follow this link.
---
Patient Spotlight: Jessica Ellsmore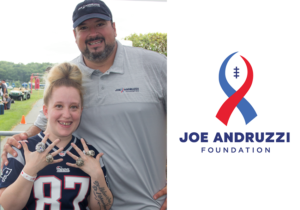 Jessica was holding down two jobs, attending college, and caring for her young autistic son. Then cancer hit the 29-year-old single mom of Maine.
Despite the challenges Jessica faces, she will tell you that life these days is all about staying positive and living with a "go, go, go" attitude.
Follow this link to read all about Jessica's journey in the latest JAF Patient Story.