Ashley Haseotes was working in the mortgage industry when her son, Nicholas, was born. Her life changed, however, when Nicholas was diagnosed with cancer when he was two years old. She and her husband, Ari, were devastated.
Thankfully, Nicholas beat cancer and is in remission today, but Ashley and Ari were so inspired by the resiliency shown by their son and many other children living with cancer.They started One Mission to give back to the pediatric cancer community that supported their family during such a difficult time in their life.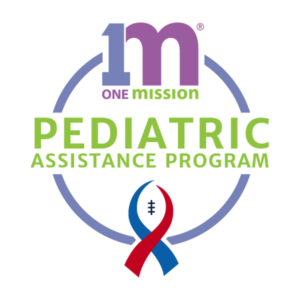 Even though Ashley and Ari had no experience in the non-profit sector, their creative energy and passion to help pediatric patients fighting cancer in New England allowed the organization to grow. One Mission's centerpiece, the Buzz Off event, was born after Ashley was worried about what Nicholas would look like when his care team suggested his head be shaved before chemotherapy would make his hair fall out. Ashley was hesitant to do it to him at first, but Nicholas's smile and shaved head inspired her.
"I'm going to get people to shave their head, and somehow in my mind, by me doing that, the parents and the children who had to go through what we went through in that moment were going to know that people cared," Ashley said.
View this post on Instagram
One Mission's partnership with the Joe Andruzzi Foundation began in 2019 when JAF was granted $50,000 from One Mission to establish JAF's Pediatric Assistance Program. In early 2020, One Mission awarded JAF again with a $100,000 grant for a Pediatric Extraordinary Needs program, strengthening the partnership between the two organizations and allowing them to help more children and families in need.
In 2020, Ashley was honored as a JAF Game Changer at our annual Gala.
"What was a friendship grew into a true partnership. What One Mission has done for pediatric is huge and is game changing," says JAF President and CEO Jen Andruzzi. To date, JAF has given out 78 grants between the two pediatric programs with funding from One Mission.
"I didn't know what #financialtoxicity was until I became a member of a club no parent wants to join."

JAF's @BuzzforKids Pediatric Assistance Program helps provide funding to young cancer patients like Paisley.

Think we can help you or someone you know? https://t.co/mSPSzkz2EN pic.twitter.com/RpC6n5DnBk

— Joe Andruzzi Foundation (@joeandruzzifndn) June 11, 2020