2018 has been a big year for the Foundation, especially considering we celebrated our tenth anniversary in May. That is quite an accomplishment for any organization – let alone a non-profit – and we reached that milestone because of the generosity of so many amazing supporters.
But cancer knows no bounds, and we're already thinking about the next 10 years for JAF. In fact, that was the theme for the Joe Andruzzi Foundation's eleventh annual gala: playing it forward and bringing on the next 10. Just like getting a first-down on the football field, the chains keep moving and the drive forward continues!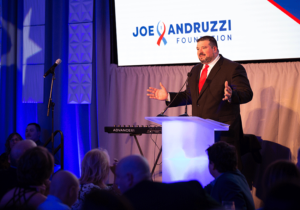 And everyone who joined us at Gillette Stadium on Thursday, November 15th certainly came ready to help us "play it forward" despite the winter wonderland that was accumulating on the ground outside. By the end of the night, we had raised an incredible $1.2 million – meaning the gala has raised more than $7 million over its 11-year history!
It's all thanks to YOU – our amazing supporters – who helped us reach these new heights. If we said a million thank yous to each and every one who contributed to making our eleventh annual gala such an overwhelming success, it still wouldn't be nearly enough – but that's not going to stop us.
It was truly a team effort thanks to our donors, supporters, and volunteers. Our thanks go out to the event's sponsors, led by Presenting Sponsor J.Derenzo Companies. We also want to thank our Diamond Sponsors, Bob's Discount Furniture, East Commerce Solutions, and Suffolk Construction; our Platinum Sponsors, CVS Health, MedScience Ventures, The Kraft Group, Stop & Shop, and Zudy; our Gold Sponsors, ALEX AND ANI, Pharmacyclics and Janssen, Rodman Ford, and the Remondi Family, along with many other generous sponsors.
A congratulation and "Thank You" is also in order for Nate and Lexi Solder – our 2018 (Up)Beat Award recipients. Since 2011, the Joe Andruzzi Foundation has invited its most benevolent sponsors and supporters to attend the Gala to receive the award – which recognizes an organization, team, or individual that particularly embodies JAF's positive attitude and philosophy.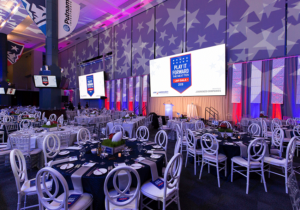 Nate was diagnosed with testicular cancer in April of 2014, but after undergoing surgery, he was able to play that entire season with the Patriots. But it was when Nate felt a lump on his son's side while giving him a bath that he and Lexi learned they were in for an even more difficult battle.
In 2015, Nate and Lexi's son Hudson was diagnosed with cancer when he was just 3-months old.  A few months later, they chose our annual Gala to share that news with the world.
That night, Nate delivered an inspiring speech that I'm sure many of you remember quite well.  Here are a few lines from that speech that have stuck with us since:
Lexi and I do not believe in accidents or coincidence – we believe that we all live for a purpose. Maybe part of the purpose of our young child getting cancer was because tomorrow somebody else will receive the same news. Maybe knowing that someone else is going through the same thing as you can be a source of comfort and strength for somebody out there.
Hudson's cancer battle inspired Nate and Lexi to share his story in an effort to raise awareness for childhood cancer as well as funds for pediatric cancer research. This awareness is critical, as childhood cancer often has limited recognition and funding given its relatively low number of cases in the U.S. each year.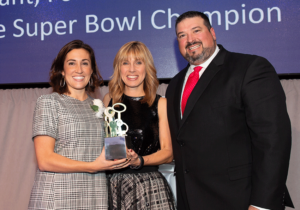 A few months following the 2015 Gala, JAF launched the "Tough Like My Dad" fund – inspired by an adorable photo of Hudson taken shortly after his diagnosis. Nate and Lexi had asked that those wishing to support Hudson's battle to make a donation to JAF in his honor through the Fund – an incredibly thoughtful and selfless act, especially considering what the young family was going through at that time.
In the years since, Nate and Lexi have supported JAF at every turn. In the last two seasons, Nate has even worn JAF's logo on his cleats as part of the NFL's My Cause My Cleats campaign. Nate and Lexi's courageous decision to share Hudson's journey shows their continued commitment to pay it forward and make a difference in their community. Needless to say, we are so blessed to have them not only as longtime supporters of JAF, but also as our friends – we love them!
It was a game-week for the Giants, so Nate was unfortunately not able to be at this year's gala, but Lexi was on hand to deliver a moving speech, and Nate did put together a video to share a heartfelt message:
We also owe a major "Thank You" to our friends at ALEX AND ANI, who helped us capture and share an amazing video filmed by David Bettencourt at the gala featuring one of JAF's healthcare partners, Dana D'Alessandro Haseotes, discussing how JAF is there as a critical resource for cancer patients.
Patients who apply for financial assistance from JAF work closely with their social worker or patient navigator at their healthcare facility. These social workers are key members of a patient's advocacy team and they work in close partnership with JAF to get them the financial assistance they need when they need it most. We were honored to be able to recognize their efforts at this year's event:
We also want to thank the athletes and celebrities who came out to the event; and the Kraft family and Gillette Stadium, for welcoming us into their fantastic venue inside the Putnam Club once again. Of course, we want to give a big thanks to our emcee, Bob Socci – the radio voice of the New England Patriots on 98.5 The Sports Hub – who was the perfect addition to our program this year. Also, we want to shout out our amazing auctioneer, John Terrio, the Gala Committee members, the Gala Event Chairs – David and Karen Howe, our dedicated Foundation staff, volunteers and JAF's Board of Directors. Thank you all for everything.
Looking for photos from the Gala? Check out our Facebook event photo album here and "Guest Shots" photo album here.
See you next year!