The 13th Annual Joe Andruzzi & Friends Golf Tournament returned to Black Rock Country Club in Hingham, Mass. for the second consecutive year on Monday, June 14, 2021, where more than 100 golfers hit the links to raise money for New England cancer patients, so they don't have to choose between paying for treatment or paying their bills.
Because of the loyal support of our generous donors, Monday's event raised more than $320,000, enough to support over 1,000 New England cancer patients and their families! Within those funds raised, more than $50,000 came from generous donations during our appeal, where 100% of the proceeds directly benefited JAF's new Food Security Program. Thank you to Black Rock Country Club for being gracious, professional hosts for the second consecutive year, and our presenting sponsor, East Commerce Solutions, Inc., for their continued generosity.
This year's total also means that the event has surpassed $3 million since its inception — a major milestone we could never have imagined reaching 13 years ago! Thank you to all who have supported us since that very first tournament!
Even though Mother Nature played a few tricks on the attendees as intermittent showers halted play earlier than expected, participants enjoyed mingling and attending JAF's first full event in the post-COVID-19 era.
Many local celebrities attended and had a great time — thanks to sponsor Bob's Discount Furniture — including former Red Sox stars Jim Rice, Tim Wakefield, and Manny Delcarmen, the voice of the Patriots, Bob Socci, actor Kevin Chapman, NESN Bruins color commentator Andy Brickley, ABC's The Bachelor contestant Jared Haibon, and many more!
Before play began, golfers enjoyed breakfast in Black Rock's main dining area. Then, JAF Co-Founder Joe Andruzzi and President and CEO Jen Andruzzi delivered their opening remarks to attendees while thanking JAF volunteers, staff, and supporters.
"We're able to do what we do day in and day out because of you. So a huge thank you to all of you," Jen Andruzzi said.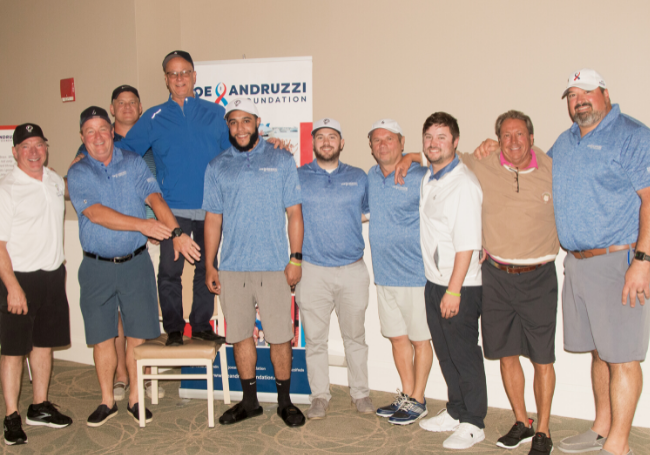 "We're happy to have all of you back after last year's event not being at full capacity," Joe Andruzzi added.
Lunch was served to golfers on the course, and golfers also enjoyed a selection of Tree House Brewing beers at the turn. Meanwhile, JAF hosted a former patient recipient and their guests at an (Up)Beat Event where they ate lunch in the clubhouse and played "The Pebble," a nine-hole putting course at Black Rock.
The Helicopter Ball Drop, presented by Aetna, a CVS Health company, was unfortunately postponed due to the weather, but it will be rescheduled to a later date and location, so stay tuned for details if you had purchased tickets. All Ball Drop sales will be honored at a rescheduled date.
The sky couldn't rain on our auction's parade, though, which was a huge success, raising more than $20,000 with items that included Patriots tickets, a Rob Gronkowski autographed Buccaneers jersey, VIP passes to a concert at the Xfinity Center in Mansfield, Mass., golf outings, overnight trips to Martha's Vineyard and Newport, R.I., and much more! Our three Chance prize winners also went home with a private tour of Tree House Brewing, a liquor basket, and a North Shore fishing trip experience!
Thank you #JAFGolf21 Mission Sponsor @JDerenzoCos for helping us remember who we are playing for today: patients and families battling cancer across New England. pic.twitter.com/HpAVTCy76Q

— Joe Andruzzi Foundation (@joeandruzzifndn) June 14, 2021
Play was halted at approximately 2:30 p.m. due to the weather, but the day's events didn't stop as guests enjoyed a cocktail hour before heading to dinner and participating in the live appeal program, sponsored by the Derenzo Charitable Foundation, arguably the most important part of the day. There, Joe and Jen explained how JAF will launch its own Food Security program later this summer to assist patients with cancer who are also struggling with food insecurity. Stop & Shop generously donated $50,000 worth of Stop & Shop gift cards to start JAF's pilot program to tackle food insecurity, and Monday's tournament attendees matched that and more during the appeals portion of the program.
"Food insecurity has been something that our families have faced forever," Jen said. "A lot of the things we've heard, because of the pandemic, our patient families have faced forever. But what COVID did for JAF was we were able to look at things and say 'okay, if our families are already facing all these hardships, how can we do more to help in a bigger way?'"
East Commerce Solutions CEO Ed Medeiros, a longtime supporter of JAF known for his generosity, made a $10,000 gift to the Food Security program.
"When you have cancer, JAF is like the brother or sister you don't have that steps in and helps you out," Medeiros said.
"Cancer chose Joe and what happened is we chose JAF," Jen Andruzzi, alongside husband and ex-@patriots Joe Andruzzi.

The @joeandruzzifndn has raised more than $8 million to help 30,000-plus cancer patients and their families.

Amazing people. Amazing organization.

1/2 pic.twitter.com/L2vABVM5iD

— Bob Socci (@BobSocci) June 14, 2021
ROI Communications President Dan Gill also announced the company's generous donation to the Food Security Program and spoke directly to how it will impact New England patients with cancer where they need the most help.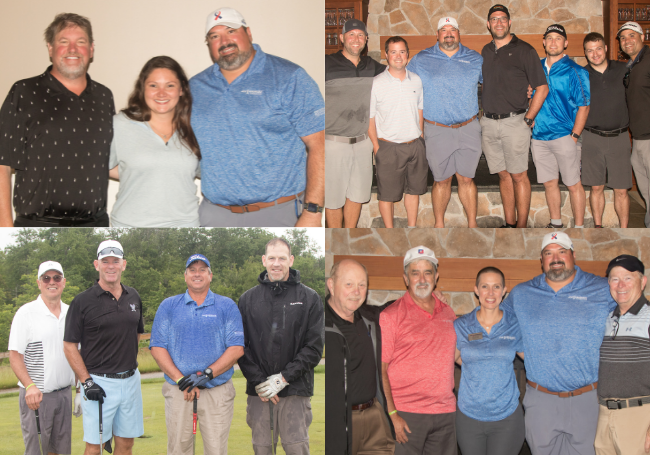 "Food insecurity should not ever be on patients' minds," Gill said. "Cancer is a hard fight. That's not a time where you should be worrying about those things. You should be worrying about being healthy. You shouldn't have to worry about feeding yourself, feeding your family, making choices of receiving treatment versus feeding your kids."
Thank you to all of our attendees, generous sponsors and donors, dedicated staff and volunteers, and professional, friendly staff at Black Rock Country Club for hosting the event. This was truly a team effort by all involved and JAF's mission could not thrive without all of this incredible support.
Thank you and we hope you will participate in next year's tournament!