As we get closer and closer to our big
golf fundraiser
(next Monday the 18
th
!), Joe and I just want to take a breather to thank all our generous and loyal supporters and sponsors. The Fourth Annual Joe and Andruzzi and Friends Golf Tournament could not happen – and cancer patients and their families wouldn't receive as much of our Foundation's help – without you!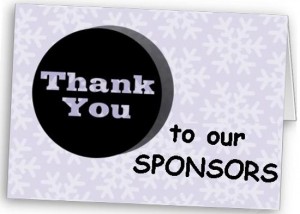 In addition to our good friends and co-hosts Patriots Rob Gronkowski and Rob Ninkovich – who are generously lending their star power to our event, along with many other Boston sports personalities and celebrities – we want to recognize our key sponsors. Please support their businesses; they all do so much good in our community and we treasure their ongoing partnership.
As many already know, we've enjoyed a long and meaningful relationship with our Presenting Sponsor, Credit Union Kids at Heart. Established in 1996, the Credit Unions Kids at Heart program is a collective group of credit unions that raise funds for patient and family programs and services at Children's Hospital Boston, and other child-focused organizations. To date, the program has donated more than $3.5 million, which has been used to fund a family lounge at Children's, as well as fetal cardiac and pediatric brain cancer research through a special relationship with the Joe Andruzzi Foundation.
We're also incredibly grateful to Millennium, East Commerce Solutions and Team Impact for their Silver level sponsorships, as well as The Home Depotfor its Bronze level donation. Other key golf tournament sponsors include Salvatore's Restaurant (providing lunch), Bob's Discount Furniture (donating goodie bags), and Hobbs Brook Management, LLC and I.B.E.W. 104(stocking the beverage cart). We also thank, CBS Radio Boston, Majestic Construction, Inc., Quality Beverage, Inc ., Powerade and Grey Goose for their donations.
And don't worry… there's still time to help our Foundation make this annual day of golf a smashing success, and raise even more money for families fighting cancer and pediatric brain cancer research! A limited number of sponsorship packages are still available at
JoeAndruzziFoundation.org
(details
here
) or by calling 774-284-4694.