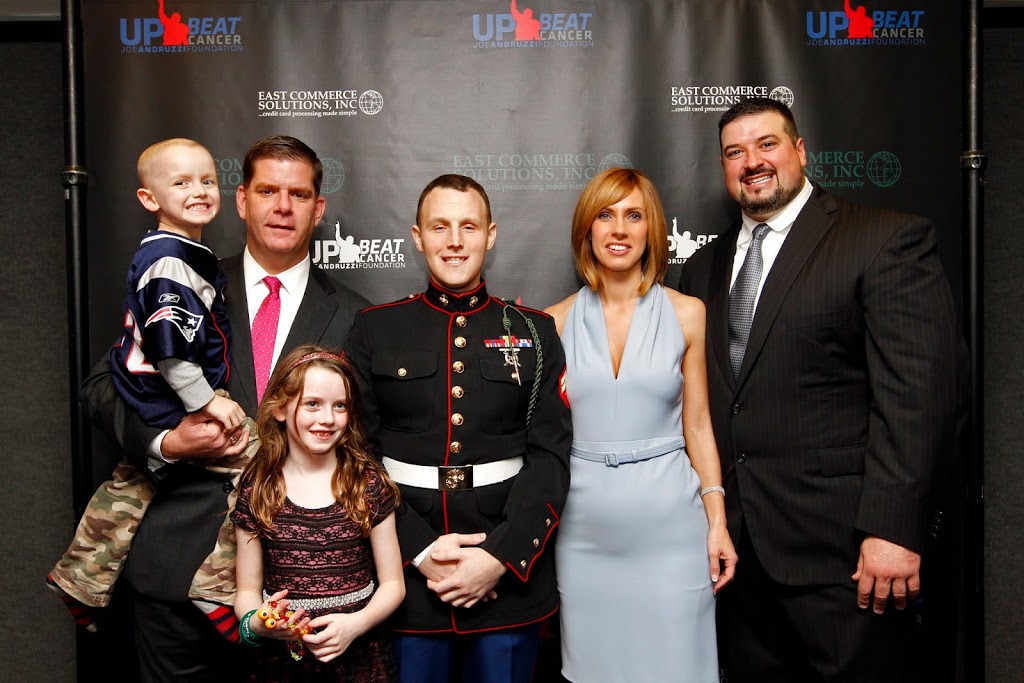 Each year, Thanksgiving inspires us to reflect on the JAF family's good fortune throughout. It's incredible to look back on how much we've raised and how many people we've helped with the generosity of friends like you.
At our Gratitude Gala, presented by East Commerce Solutions, Inc. on Monday, November 24th, we had the opportunity to formally express our thanks to many of our friends who have played vital roles in our success this year.
The sold-out event in the Putnam Club at Gillette Stadium featured a host of local celebrities, current and former New England Patriots players, and our special keynote speaker, the Honorable Mayor of Boston, Martin J. Walsh.
Mayor Walsh's compelling tale of a childhood with non-Hodgkin's Burkitt's lymphoma, the very same cancer that Joe battled, was inspiring, as was the incredible bidding during the live and silent auctions. We are pleased to announce we broke last year's record, raising over $900,000, and couldn't have done it without all of you! An evening like that reminds us how fortunate we are.
With the support of National Grid and your generous donations, the "Points for Patients" program continues to help families coping with the hardships of cancer. Your chance to pay it forward continues through the end of the regular NFL season.
We'd also like to thank Honey Dew Donuts for their help in raising $39,000 with the sale of window decals. Thank you to all who have donated!
Plus, we celebrated an exciting anniversary this year: one year of partnering with Alex and Ani on the sales of the "Positive Is How I Live" bangle.
And we'd be remiss if we didn't mention our friends at Patriot Subaru of North Attleboro, MA. They are once again rolling along with

their

"Share the Love" holiday charity event, and we are extremely thankful to them for choosing JAF as this year's hometown charity.
Every time we are able to help a cancer patient and their family, we are reminded of our gratitude to the many corporate sponsors who have teamed up with the Foundation. Without their support we wouldn't be able to help patients focus on the most important thing in their lives – getting better.
Over the course of this year, we've met some truly remarkable people. People like Colleen Sullivan, whose "Be Bold, Be Bald" surprise party was one of the most moving and emotional events we attended. Experiencing the warmth of her friends' devoted support is something we will never forget.
So from our family to yours, our best wishes for a wonderful Thanksgiving and holiday season surrounded by friends and family. We cherish your support as one of the things for which we are most thankful every day!