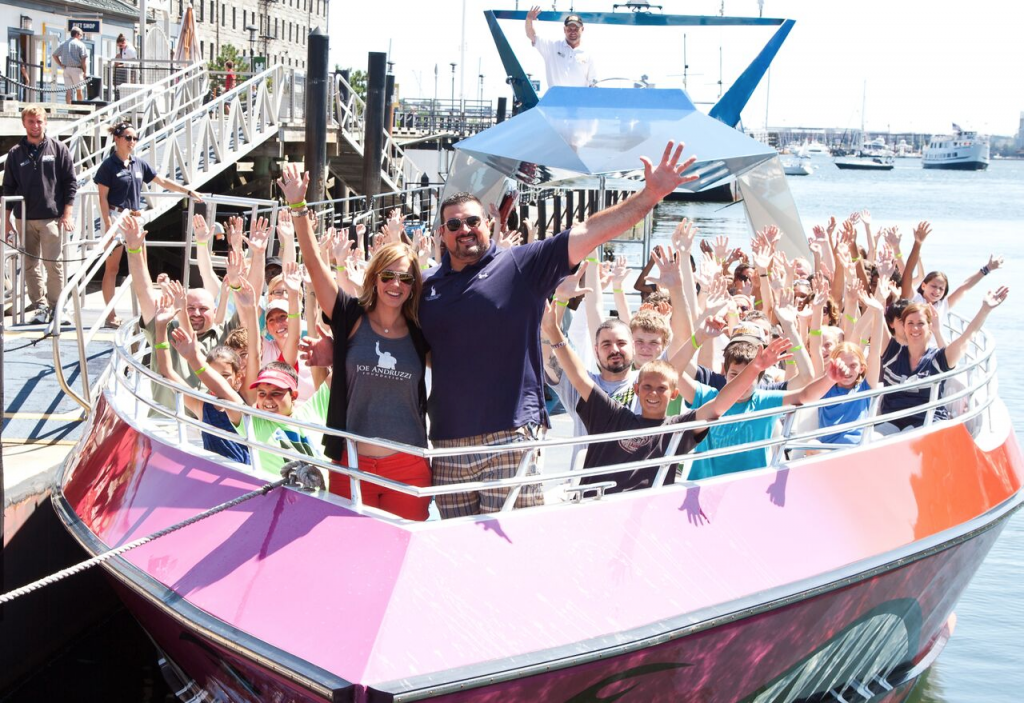 Thanks to Joe's successful career in the NFL, our family was fortunate enough to be able to handle cancer's financial hardships when Joe was diagnosed with Non-Hodgkin lymphoma in 2007. With that perspective, and Joe's clean bill of health months later, we wanted to find a way to protect and assist those less fortunate families dealing not only with a diagnosis, but mounting bills that don't yield for any disease. From there, the Joe Andruzzi Foundation was born.
Joe's battle didn't just open our eyes to the personal financial perspective of a cancer diagnosis, though. It became evident from the start of treatment that if we were going to get through the tough road ahead, we all needed to stay positive and optimistic; for Joe, for the kids, for our family. 
And that's why JAF is grounded in our (Up)Beat Cancer mentality – an expression of who we are as an organization: fun, full of laughter and happiness. Upbeat. We truly believe laughter is the best medicine, and that patients and their families can greatly benefit from the relief of cancer's financial and emotional burdens so they can focus on what really matters: getting better and enjoying life.
At the forefront of this mantra is our foundation's ongoing series of (Up)Beat Outings – events and gatherings organized to help take patients' minds off of treatment, even if just for an afternoon.
So far, Summer 2015 has been jam-packed with exciting outings for JAF patients and families, which kicked-off in June with a day at Fenway Park. Thanks to our friends and supporters at CVS Health, we were able to provide tickets to patients and their guests for a day of fun cheering on the Red Sox.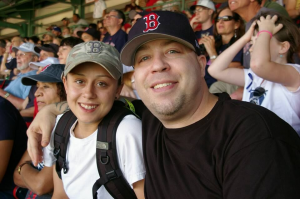 "Cancer can take you to dark places and break you down," said 36 year-old Michael Drillis of Lynn, MA, a JAF patient recipient and attendee of the Red Sox (Up)Beat Outing, who was diagnosed with multiple myeloma last December. "I couldn't work, was bed-bound for months. But positivity was key, because what is getting upset going to do for you?
"It's hard to fully take your mind off of it, but [outings like the Red Sox game] allow you to find time to enjoy yourself during all the ups and downs."
Patients have also been treated to a variety of other JAF outings so far this summer, including a Monster Jam rally at Gillette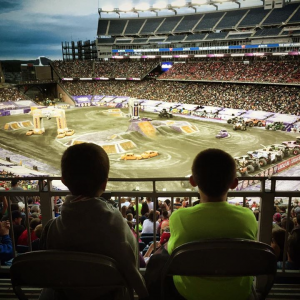 Stadium and concerts at the Xfinity Center, generously donated by venue GM Jeff Mann, to see mega-stars Kelly Clarkson and Train perform.
This past Wednesday – for the sixth straight summer (thanks to our friend's and sponsors at Boston Harbor Cruises!) – got to take JAF & Dana Farber/Jimmy Fund patient families on the wild and wet Codzilla Thrill Ride. The high-speed powerboat whipped around the harbor at upwards of 40 miles per hour as music blared and waves splashed, giving patients a much-deserved day of laughs and fun away from treatment.
"We come to Boston all the time, but mostly for infusions, chemotherapy and radiation," said Marissa Mitchell, whose young son, Max, is a patient at the Dana Farber Cancer Institute. "To come into the city for the sole purpose of doing something fun is really amazing.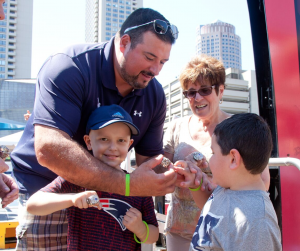 "You have to stay upbeat, because kids follow your lead. If you're feeling down, they can recognize it and then they feel down. When you are doing fun things and staying positive, they can feel that too."
Before the ride, patients and their families spent some time getting to know Joe, which was a pleasure for both of us. They marveled at his four Super Bowl rings and even got to model them while striking their best "World Champion" pose for a photo. And what summer day is complete without ice cream, which was waiting for everyone back on the pier for a post-ride treat.
Its days like our Codzilla outing that truly reinforce what an impact our foundation can make. Many of the families in attendance on Wednesday have been battling through extraordinary circumstances, and to provide an (Up)Beat and carefree opportunity for them to take their mind off it is something Joe and I are so proud of.
Next up this summer is our annual Patriots Dream Camp (Up)Beat Outing in August, where JAF grant recipient families will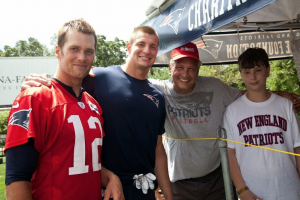 enjoy a fantastic morning at Patriots training camp at Gillette Stadium, watching the action from a special VIP tent, throwing
around footballs, and, of course, meeting some of our favorite NFL stars – all thanks to the Patriots Charitable Foundation. We can't wait.
Are you interested in donating experiences, tickets, or other fun outings for JAF patients to enjoy? Please email events@joeandruzzifoundation.org – it's incredibly rewarding to help others leave their worries behind, because we all know there's life beyond cancer (and during it, too).
Max's mother Marissa summed it up best on Wednesday: "Everyone has this day – the sick and the healthy – so why not make it as fun and happy as can be?"
That's what (Up)Beat Cancer is all about.
– Jen Andruzzi