Catherine Beer has the most moving image in her mind when she runs that we have ever encountered: she pictures her mother, at the finish line, arms wide open for a hug. Her mother – also a runner – passed away suddenly when Catherine was only 13 years old, but she still inspires her daughter every day. Especially when she trains.

We're so grateful this extraordinary 18-year-old high school student from Sudbury has joined our team this year, and that she's planning to volunteer with Jen at our foundation this spring. We are astounded by her incredible example and motivation.

Thank you, Catherine, for bringing your commitment and enthusiasm to JAF!

– Joe Andruzzi
JAF: What inspired you to run for JAF this year?
Catherine: The Joe Andruzzi Foundation's focus on a positive commitment to beating cancer parallels my interest in a future life embodied by leadership in service to others. Working with JAF will aid me in reaching my goal of service to others by providing the means to gain knowledge. I am looking forward to helping an organization I have a deep passion and interest in through participating in an activity that I simply cannot get enough of: running.
I am a senior at Noble and Greenough High School in Dedham, Mass. During the spring, most seniors will drop a class to work on a project that interests them and that fulfills the mission statement of the school. This spring, I plan to work on a project with Jen Andruzzi and her team on a daily basis, in order to help out and learn how to develop an intellectually stimulating and moving campaign.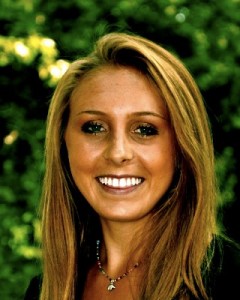 My goal is to serve others and to learn as much as possible. I will be able to shadow professionals, partake in the intricate planning that goes on for major events and develop my own knowledge in a number of different areas. I will be able to serve others by helping raise money and by planning major events that the organization will hold; furthermore, my goal is to learn the intricate steps in planning such elaborate and successful campaigns. Specifically, I will learn how to market a campaign. By shadowing learned professionals and offering up my young mind and skills to this organization, I will partake in a building experience that will ultimately provide me with the steps required to run such poignant campaigns and such a successful foundation.
JAF: What's your fundraising goal and how are you meeting it?
Catherine: My marathon fundraising goal is $7,500. I have reached out to the teachers at Nobles, the parents of friends and my extended family through emails for help. And I plan to reach out to my father's community of businessmen, as well as friends in our town and surrounding towns. Furthermore, I hope to run a campaign at my high school and possibly hold a soccer clinic for younger kids in surrounding towns. All of the proceeds will benefit JAF. I am still brainstorming and experimenting with more ideas on how to raise the money.
JAF: How do you train?
Catherine: Currently, I am still very busy playing soccer, and that will continue throughout the spring and summer; therefore, my training revolves around my soccer schedule, and I am trying not to over work my body. I focus on one really long run per week, currently at about 17 miles, and the other days I run between 2 and 8 miles, depending on whether I have soccer practice. I also like to take spin classes at my local gym, Bosse Sports. I have had a personal trainer at Bosse Sports ever since I was in eighth grade, who I see religiously once a week for an hour. She takes me through an intense workout that keeps my muscles balanced and prevents injuries. After each workout with her, I write the regimen on a piece of paper. I have a great deal of workouts at this point that I keep in a folder. Most days when I run, I will choose one of the previous sheets of paper and do a weight lifting workout, as well.
JAF: How do you stay motivated to train in winter?
Catherine: It is not very hard to motivate myself to train when it is cold or snowing. I have been playing soccer year-round since I was in fourth grade, which means we practice outside throughout the winter. The snow is plowed off of the field and my team bundles up for practice three to four times a week during the winter. I am used to such conditions!
JAF: Do you do other charity work?
Catherine: Last spring, I went to India for two weeks with my best friend and ten other students from my school. We raised money prior to the trip, and spent the majority of our time aiding a poor village, Donk, in the foothills of the Himalayas. We built a water system for the village and played with the children. It was an extremely moving experience to be in the presence of such wonderful and inspirational people in such a seemingly hopeless environment. I thoroughly enjoyed this trip with my colleagues.
JAF: Tell us about your family?
Catherine: Although I woke up one day and decided I would try to run the marathon, it was not something completely new to my family or my life. My father has run six marathons and my mother ran the New York marathon. They have been an inspiration to me ever since I was born. My father is a figure I look up to day in and day out; he pushes me enough to reach my potential, but never overdoes it. He lets me take the reins and find the motivation within myself to reach my own goals. He reminds me to set reachable goals and to never lose sight of them, but he does not set my goals for me.
My mother passed away when I was 13 years old to a pulmonary embolism that killed her immediately, at the age of 42. She was and is an inspiration in my life. She was the most loving, caring, dedicated and passionate mother/wife/sister/friend/daughter anyone could ask for. She coached my soccer team, taught CCD (religion classes) at the church, ran every event possible at the school, held countless parties for my friends and much more. She touched everyone she came in contact with through her beaming smile and endless energy.
This upbeat attitude she exemplified in every aspect of her life motivates me to be my best. She pushes me to my potential, when I feel like I am going to fall. I live to try to impress her in heaven because I know she is watching my every move. She is my super hero; she was a wonder woman. She did absolutely everything. When times get rough, I ask myself what my mother would do.
While I wish I could actually listen to her advice, her influence on me in 13 years was enough to push me every day to reach my potential for the rest of my life. Specifically in training, I push myself harder by reminding myself of my mother.
When training, I often picture my mother at the finish line with her arms wide open, waiting for a hug. Although this might sound sad or depressing to some people, because it is utterly impossible, it pushes me to reach the finish. I would do anything to have my mother back, so allowing that image of my mother to appear at the finish line pushes me to my potential every single day.