After a two-year hiatus, more than 60 members of the Joe Andruzzi Foundation's business giving society – Champions Circle – gathered on Thursday, September 22 at Blue Hill Country Club in Canton, MA, to mark five years and $300,000 of assistance for cancer patients in New England.  
 "In 2017, we had the vision of bringing together like-minded individuals from the business community who shared the common commitment of supporting those living with cancer in their communities.   That group was the Champions Circle.  We are so grateful to our talented business friends such as Mark Cummings, Joe DeStefano, Eric Kagan, and Tom Perry and so many others who gave a great deal of their time to setting us up for success," said Jen Andruzzi, President and CEO.  
 The event offered a networking cocktail hour followed by a light dinner and formal program, featuring a Mission Moment video sponsored by JAF's newest Champions Circle member, 5Tool Productions of Norwood, MA.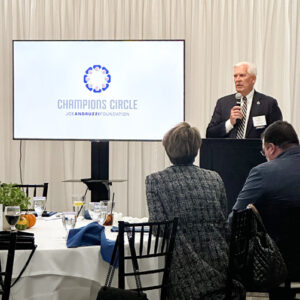 Emcee and Champions Circle member, State Representative Jay Barrows whose business, Barrows Insurance Agency, is a founding member, added:  
 "As a business owner, it is important to me to support organizations that give back to those in our community.  That's why all of us are here tonight.  We want to support a non-profit that helps people we know – our neighbors, our customers.   Champions Circle has been a great way for me to do that." 
 Joe Andruzzi, the Foundation's Co-Founder and Chief Engagement Officer, added his thanks: 
 "Jen was with me during my own cancer journey. Together, we saw how cancer was financially devastating families around us.  We knew we had to do something.  Here we are, 15 years later having provided over $9 million dollars in patient support to nearly 40,000 patients and their families since 2008. Everyone in this room has helped us do that.  Tonight, we say THANK YOU for sticking with us and helping so many people in need." 
 The Joe Andruzzi Foundation's (JAF) giving society, Champions Circle, recognizes exceptional businesses who want to play a key role in financially supporting New England cancer patients and their families. Champions Circle is focused on highlighting businesses and business leaders who commit to making an impact locally with their annual gift to JAF.  Membership opportunities start at $500 a year and include promotional and networking benefits. The Appreciation Night is the Foundation's yearly event to thank Champions for their support and share the impact members have. The last in-person event was in 2019 and welcomed former Patriots quarterback turned wine maker, Drew Bledsoe as well as a panel of patient recipients sharing their stories.  
 Champions Circle Hall of Fame and MVP Members recognized for 2022 were:   
 Our Hall of Fame Members 
ACS Services, Inc.
REP Marketing Solutions, Inc. 
 MVP MEMBERS 
Bestgen Wealth Management, LLC
Landmark Medical Center
One Stop Painting & Renovating, Inc.
ROI Communications
Southeastern ABA
The Dumpster Depot
Thrive
Toshiba 
 Click HERE for a full list of Champions Circle members.