Like many returning members of Team JAF, Gina Chupka was stopped just short of her 26.2 mile goal last year – but, she will return to the starting line this April to finish what she started last year (and is more motivated than ever!).
After the turmoil of last year's marathon, Gina reunited with the rest of last year's JAF marathon team to finish the last mile of their race. This year, she is determined to finish the race in one shot and will once again join Team JAF to achieve her goal and officially have completed a marathon in all 50 states. Inspired by the bravery and kindness she saw in the wake of last year's tragedy, Gina is looking forward to returning to the race route and running alongside the new and returning members of Team JAF.
Joe and I are so proud of the strength and determination that Gina and all our Team JAF runners have shown. We cannot wait to cheer them on as they cross the finish line next month!
Click here to help Gina reach her fundraising goal for Team JAF!
– Jen Andruzzi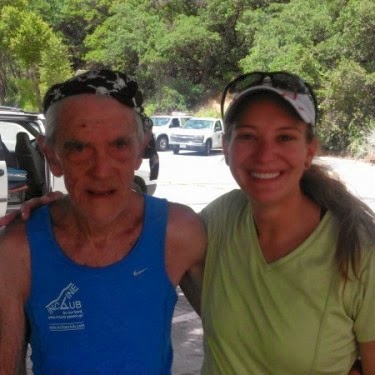 HOMETOWN: Golden, CO
OCCUPATION: Chemist
JAF: What inspired you to return for the Joe Andruzzi Foundation Marathon Team this year? And how did you originally find out about Team JAF?
Gina: I originally found Team JAF searching through the Boston Athletic Association charity webpage. When I read the mission statement and the patient stories, I wanted to run for them. After finding out that we would be allowed to return to Boston after not crossing the finish line, I knew immediately that I would run for Team JAF again. Jen and Joe are truly inspirational people and there was no other Team I could imagine being part of. I can't wait to return and see many of the same team members from last year and meet some of the new members as well.
JAF: What was it like being part of the 2013 Team JAF Boston Marathon team? Any inspiring stories you'd like to share?
Gina: It was an experience I will never forget. It was amazing that a complete stranger took me to the train station and bought me coffee and a donut once we were allowed to move forward and get our drop bags from the buses. He also stayed and waited with me until my family could find me. Our hotel was not allowing anyone in and I would have been sitting outside alone, cold, and hungry.
The second amazing thing that happened after the race was getting in touch with some of the people that had run on Team JAF and returning to Boston to run the last mile with them later that spring. Jen and Joe were there and even got us on a private bus to bring us back to the point where we would start from. Having their support was truly awesome and crossing the finish line was the most emotional race finish I have ever had, even surpassing the emotion I felt finishing my first 100 mile race.
JAF: What's your marathon fundraising goal? How do you plan on reaching that goal? How does it differ from 2013?
Gina
:
My fundraising goal is $2,620
. This year I have written personal letters and thank you notes on top of sending thank you emails. I wanted to make sure to put a personal touch on everything, given that the world seems to hide behind cell phones and computers these days.
JAF: How's training going? What is your regimen?
Gina: As far as training goes, I personally don't really train for most of my runs (and I don't recommend my strategy to anyone). Yes, I trained for my first marathon, but since then I have mostly trained by just running races, which means some weeks I don't run at all, and some I run 26.2 miles. Just recently, a friend's father had a stroke. I told him I was going to run at least one mile per day until his dad was released from the hospital. Unfortunately, he was never released, and his dad passed away right before Christmas. I kept the running streak going as best as I could. There were two nights that I didn't get my run in until after midnight, but I have been really consistent about getting out there. I ran a 100k race a couple of weeks ago and even ran a mile the next day, which was not easy!
JAF: What are you doing to fundraise this year?
Gina: I write personal letters to potential donors. I also plan to host an event at my house where I provide food and entertainment in exchange for donations.
JAF: Anything else you'd like our supporters to know about you or your family heading into the 2014 Marathon season?
Gina: I'm very grateful for the opportunity to run Boston again. This year, my mom and dad will not be able to be at the race. I'm disappointed that they can't make it, but I'll still be out there thinking about them as I run the course. I don't know how or what I'll feel as I am running, but I will be part of something bigger and it will be another amazing experience no matter what happens.
TO READ OTHER TEAM JAF RUNNER PROFILES, VISIT:
CLICK HERE