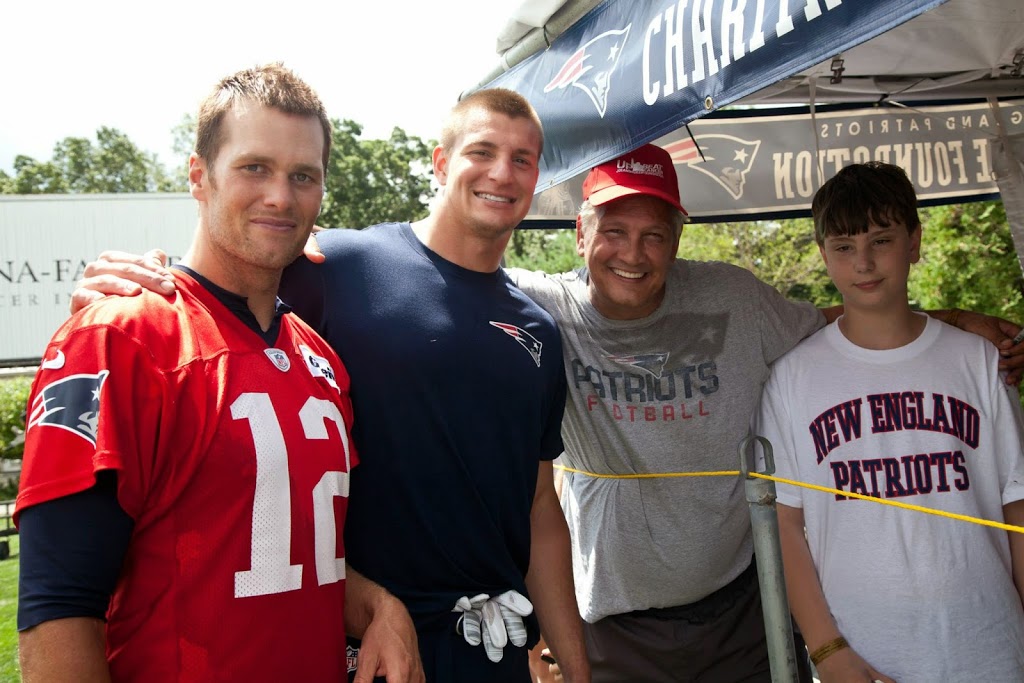 Last Saturday we scored another touchdown helping patients and their families fight cancer with an (Up)Beat attitude at our annual Dream Camp event. Thanks to the Patriots Charitable Foundation, three cancer patients and their families, and three JAF grant recipient families enjoyed a fantastic morning at Patriots training camp at Gillette Stadium, watching the action from a special VIP tent, throwing around footballs, and of course meeting some of our favorite NFL stars.
In addition to having the chance to witness the Patriots' first practice in pads, one of the highlights of the morning was learning that Danny Nickerson, the Foxboro-based six year old suffering from an inoperable brain tumor who recently celebrated a milestone sixth birthday, would be serenaded by local police and firefighters, as well as the Patriots team, Coach Belichick and even Chairman and CEO of the Patriots, Robert Kraft. What an amazing (Up)Beat moment to witness!
JAF also helped 56-year-old Joe McQuaid check a very special moment off his bucket list. Diagnosed with pancreatic cancer in 2012, McQuaid has been tackling his bucket list with the hopes of accomplishing all of his lifelong dreams and goals. A huge fan of the Patriots, high up on his list was meeting Tom Brady. It was so exciting to watch his dream come true at Dream Camp this Saturday!
After an exciting practice (during which we witnessed Joe on the field in his role as a member of the team's strength and conditioning coaching staff!), more players than ever before came over to visit our guest families. Tom Brady, Rob Gronkowski, Julian Edelman, Jared Mayo and many others stopped by to say hello, sign autographs and pose for pictures, showing our guests that they have a whole team cheering for them and their health. Meanwhile, Joe and fellow alumni Matt Chatham chatted up our guests as Matt shared a close up look at his Super Bowl XXXIX ring. For the entire morning, our guests were the Very Important People of the day, and we were excited to make it an extra special one.
Dream Camp is just one of the Foundation's (Up)Beat outings, providing cancer patients and their families with the opportunity to leave their cancer worries behind and enjoy life's special experiences. We are so grateful for the support from our (Up)Beat partners like the Patriots Charitable Foundation, and we can't wait to keep dreaming through next year!