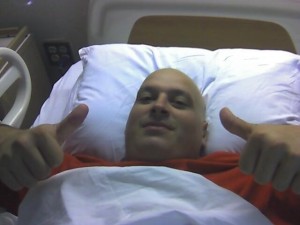 Today, I mark five years of remission in my battle with non-Hodgkin's lymphoma.
I have mixed feelings about highlighting this milestone. On one hand, it feels like just another year, another notch. And – probably like a lot of cancer survivors – I do feel a little superstitious about it. Many people do have second and third battles… setbacks. We all just want to look forward.
But five is a nice number. And so much has changed in my life in this time – in the life of my family. It's nice to take stock and recognize all the good that's come about.
Jen and I started the Joe Andruzzi Foundation. We've helped more than 100 patients and families now, as they struggle to pay their bills while fighting cancer. And we've pursued our longtime mission to honor our young friend, the late C.J. Buckley, with support for pediatric brain cancer research. Every year, we've more than doubled our giving. And we've connected with our friends and family on a deeper level, drawing them into our mission and experiencing the power of community.
We're helping more and more people, and we want to keep growing, doing more. I feel so blessed by the support of our friends, family, donors and supporters. It's truly humbling.
My memories of cancer treatment don't feel that distant, and they help me connect with the patients we help. I think back to the summer of 2007, being in and out of the hospital for 50-some days, undergoing chemo for five to ten days straight. I remember lying in that hospital bed, being poked by needles, getting spinal taps, nurses coming in and out all night, waking me up, throwing up. I remember being rushed back to the hospital when my blood and platelet counts were low. I remember having a dangerously high fever for three days and sleeping with ice bags.
There's also a lot I don't remember. They call it "chemo brain." Lots of things are fuzzy. I remember having to take Benadryl and telling Jen, "Goodnight, I'll see you in a few hours." I remember important visits, but I think I've lost at least half of that summer. That's probably not a bad thing.
But Jen experienced it all. She was the one who dealt with our emergency move from Cleveland to Massachusetts, who arranged my family caring for our kids until school ended. Who organized our move and unpacked the house. And who was at my bedside 90 percent of the time, rushing home in the mornings to be there when our four – at the time – kids woke up. People usually focus on the patient, but cancer is tough on the whole family. Everyone is going through it.
Jen really carried the burden for all of us. And that experience has given her enormous empathy for caregivers. It drives her, making her a powerful force behind our Foundation's growth and success. She knows every little bit counts, every dollar, every handshake. She's built a dedicated and caring staff that's helping us reach our goals. These past five years have left me amazed, overwhelmingly proud and impressed by my wife.
This summer, our family took our annual trip to Wildwoods in New Jersey. My parents took us there every year, as kids, and now I take my family. Five years ago, my parents took our four children, while Jen tended to me. That was on my mind this summer, and I felt grateful and blessed to be having fun with my family.
We learned, through or own experience, how much little things matter. I feel so lucky to have had a job that paid very well for awhile; our family had the resources to weather cancer's financial storm. But so many families need both parents working, and when one has cancer, they lose half their income. Chemo protocols generally last for a year or two. That's a long time to scrape by. We're proud to lift some of the burden, by making a crucial rent or mortgage payment, or making sure the lights stay on.
When times are tough, you do what you can to get through. For me, laughter was definitely the best medicine. So I try to spread that to others, through events like our recent Codzilla ride, when we took young Dana-Farber patients out for a day on Boston Harbor. That wild ride put so much joy on their faces, and in my heart.
It's the same when we bring patients to Patriots training camp and introduce them to players. I know they'll treasure those memories. The next time they're lying in bed, getting poked with a needle, they'll have something more fun to think about.
As I mark five years cancer-free, I am grateful for everything in my life. We don't really have any big plans; I'm just trying to move forward, stay healthy and keep helping people.
The milestone I'm really looking forward to this month is the first birthday of our youngest son, C.J. He's our "miracle baby," as I wasn't expected to have more kids after treatment.
I cherish him, and every day with my family. That's what surviving cancer really teaches you.