Greg Kundicz refers to himself as a 'tin knocker', or what most of us would call a sheet metal worker. More specifically, he installs ductwork in commercial buildings.
He's done installations in places like grocery stores, chocolate factories, and spin bike studios, as well as rehab projects in older buildings. Every job is a bit of a puzzle, and he absolutely loves what he does.
He's also been a member of the National Guard for the last seven years.
In whatever spare time he has, he loves to go out riding on his motorcycle. He also likes to fish and enjoys playing video games.
In short, Greg is the kind of person who always wants to be active.
One day in the fall of 2018, Greg came home from work, played some video games, felt a little hungry, and went to the kitchen to grab a snack.
Then, out of nowhere, had a seizure.
Luckily, his girlfriend was there with him and called 911. Greg was rushed to the hospital in an ambulance, and once there, doctors ordered an immediate CAT scan. Not long after, while Greg was still sitting in the ER wondering what had happened, doctors came and told him some daunting news – he had a mass the size of a tennis ball behind his right eye.
At that moment, Greg's cancer journey began. Doctors said it was a mass that had probably been growing there for years. They were stunned Greg had not shown any previous symptoms before his seizure.
Doctors needed to do a biopsy, which meant immediate brain surgery. The biopsy surgery required surgeons to split Greg's jaw muscle in half to get at the mass.Recovery wasn't easy and the results were not good – Stage III Anaplastic Astrocytoma. With that news in hand, there was only one next direction to move:  brain surgery, or craniotomy, to remove the mass.
This surgery was far more complicated. It took a 25-person surgical team using MRI's and CAT scans to remove the mass. Surgery lasted fifteen-hours. The good news? When Greg woke up, doctors told him they were happy with the results of the surgery. Step one was finished, and the news was promising.
After, Greg was in the ICU for a while, but as soon as he was moved to a hospital room, he started getting antsy about going home. He did not like being in the hospital and was not what he would call a "cooperative hospital patient".
Nurses would find him walking around the halls and he would not sit still. He was so adamant about going home that doctors decided to bring in physical therapists to assess Greg's ability to do basic everyday things, making sure he could not make things worse by going home. He passed their tests and was home just thirty-six hours after his surgery.
Even so, it was a tough recovery. A large bandage covered Greg's entire head and he had 25 staples in his head.
Then came the hard part.
Greg started radiation therapy almost immediately. It was a grueling schedule. He would have to endure radiation treatment five days a week. Thirty-three sessions in all. Fortunately, the sessions themselves weren't long, just twenty minutes each. Doctors created a custom mask for him, and Greg would lay on a table and a machine would circle around his head.
In addition to the radiation treatments, he started also started chemotherapy at the same time.
Life, as you would expect, changed completely for Greg. As a person who absolutely loved to work and be busy, he was now more or less couch-bound. He couldn't work and he couldn't drive. Without work, there was no paycheck. But Greg was lucky. He knew some great people who truly cared about him. The guys he worked with donated their vacation days to Greg so he could keep getting paid. The soldiers in his National Guard unit started a GoFundMe page. Even the breakfast diner where he and his four brothers all worked when they were younger threw a fundraiser for him.
Even so, bills still piled up—they still do today. Greg says he has stacks of bills piled 20 high that he still needs to go through.
As far as the Joe Andruzzi Foundation goes, Greg is still amazed at the help he received. He was given financial assistance to pay a monthly mortgage bill, which, he says, was very crucial. But the role of the Joe Andruzzi Foundation in Greg's life went beyond just the financial help.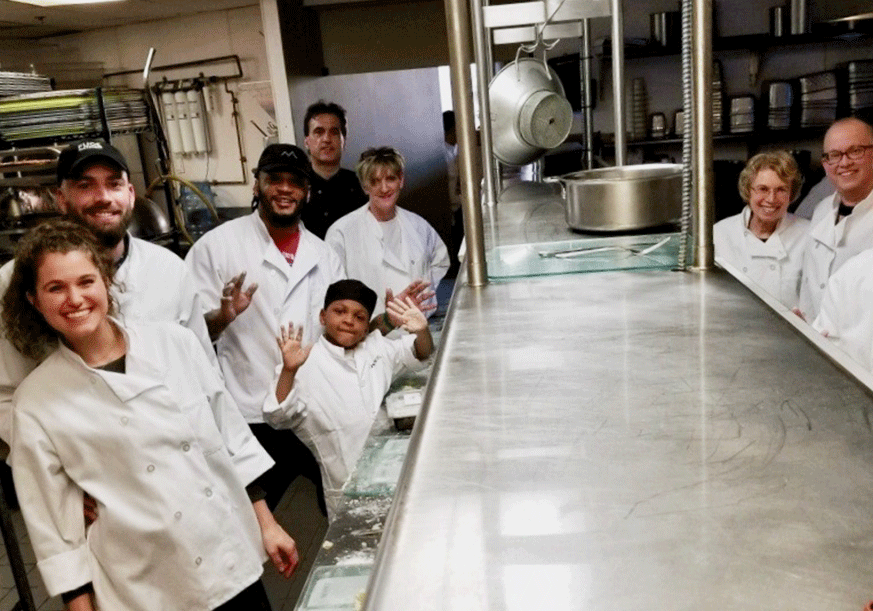 They called me one day and asked me if I wanted to work in the Davio's kitchen making gnocchi with Patrick Chung. Are you kidding me?", Greg remembers, "Yes, I absolutely want to do that." Greg had a blast. He and his girlfriend not only met Patrick Chung and cooked in the Davio's kitchen with him and owner/chef/JAF-supporter Steve DiFillippo, but they were also then treated to a five-course meal and Joe Andruzzi himself hung out with them for quite a while. It was quite the experience.
Today, Greg is still on his chemotherapy regimen, but his cancer is under control and his prognosis is good. He gets routine scans and is now back at work.
"It's funny, one of the hardest parts of all this was learning how to accept help.", he says," I'm a worker and have worked all my life. I was amazed at what people did for me. If I could give advice to anyone in my situation, it's that. There are people out there who can help, so let them."