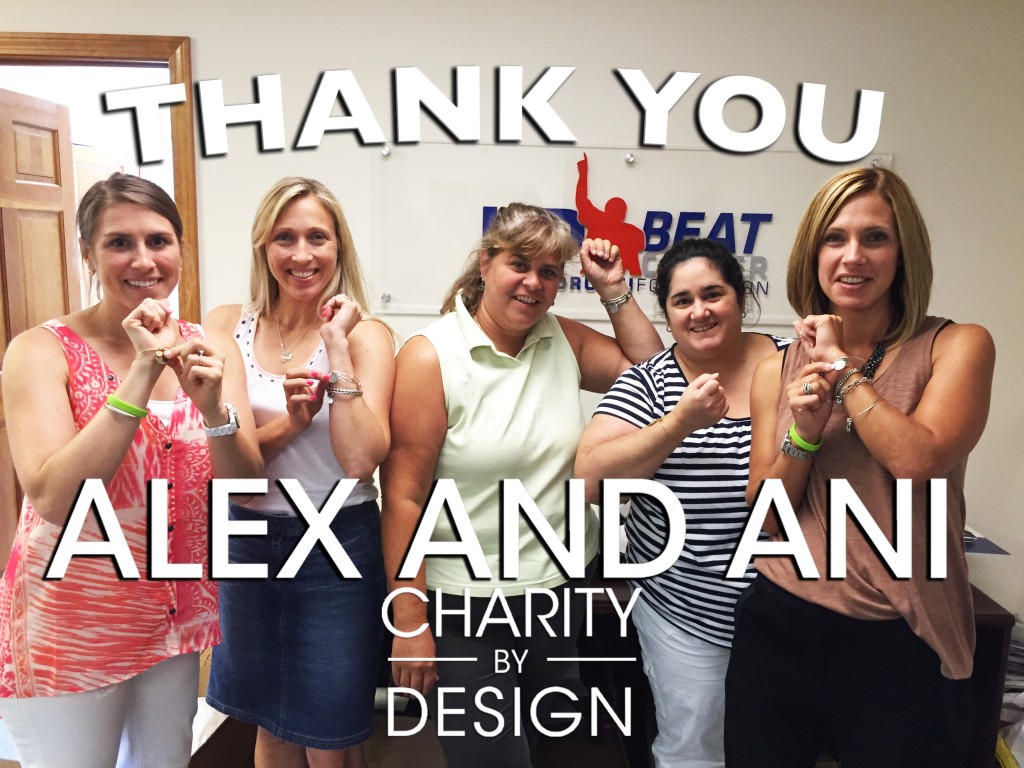 August 6th is always a very special day for us at Joe Andruzzi Foundation.
It marks the birthday of C.J. Buckley – one of the inspirations for Joe and I starting JAF – who we were blessed to meet years ago as he was battling an inoperable brain tumor. CJ touched our hearts in an unusual way, and he and his family became extended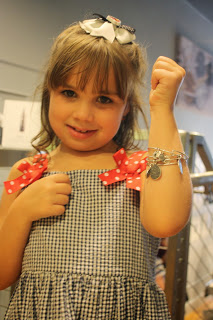 family members to the Andruzzis. In 2003, we started the C.J. Buckley Brain Cancer Research Fund at Boston Children's Hospital in his honor, and today, on his birthday, we remember his upbeat attitude, positivity, and courage he fought cancer with. August 6th also happens to be the birthday of C.J.'s mother, Lucy, one of JAF's honorary board members.
Eight years ago today – August 6, 2007 – was the date of Joe's last chemotherapy treatment. Months later, we found out Joe was cancer-free, and ever since we've been sharing his story, helping those less fortunate battle the disease. 
Today also marks the two-year anniversary of our incredible partnership with ALEX AND ANI | CHARITY BY DESIGN – when we launched our "Positive Is How I Live" bangle, specifically made for the Foundation, and to date, thousands of bangles have been purchased. 20% of the proceeds from every bangle, which retails at $28.00, directly supports JAF's mission of providing help, hope, and a reason to smile for cancer patients and their families by contributing financial and emotional support when it is needed most.
We can't believe its already been two years since we designed the charm, which features the word "Positive" in languages from all over the world, transcending cultural barriers to remind everyone to stay (Up)Beat in the face of adversity. The positive message also gives strength to anyone struggling with any battle, reaching beyond our organization to bolster anyone in need of positive reinforcement for any reason.
On behalf of our entire organization, I'd like to extend a HUGE Thank You to ALEX AND ANI | CHARITY BY DESIGN. Your commitment to our Foundation is continuing to help cancer patients and their families overcome unforeseen obstacles and discover the incredible power of an upbeat attitude.
And the message is resonating with both JAF and ALEX AND ANI supporters alike! Here are just a few of our favorite messages received over the last few years.
Christine Diviak I have this bracelet and wear it often. It helps me to remember to stay positive even when things aren't going in a positive direction. Such a great CHARITY BY DESIGN bangle.
Stephanie Corliss I wear mine everyday as a reminder that every day my feet hit the ground is a positive day! Hitting my 5 year survivor anniversary soon!
Debbie Feeney Llanes I wear mine everyday and I am often asked about the meaning and I love sharing the JAF story and how Joe and Jen came into our lives.
Carla Dube Love mine. Also gave as a gift to a few special caregivers who helped me through the last year. Need to gift a few more still.
Dorian Alba Love my positive ALEX AND ANI!
Doreen Kirby  Will be getting one for my friend that shares the same ideas about being positive that I believe in…Thanks.
Heather St Onge Love my positive ALEX AND ANI Braclet!!♡
Christopher Brierly Just gave one to my wife as a Mother's day gift!
Christine Diviak I have this on today. I am wearing it with Laugh Out Loud, Completely Blessed, St. Jude, and the Winged Sneaker. A perfect combination for me today. 
Its no coincidence that August 6 is such a source of positivity for our Foundation – the same upbeat attitude we learned from C.J.
Buckley, and leaned on years later when Joe was battling cancer, culminated in JAF's (Up)Beat Cancer mantra. And it's that
mission statement that we are spreading through our "Positive Is How I Live" bangle today, exactly two years after its launch.
If you haven't gotten your "Positive Is How I Live" bracelet yet, make sure you get one today! To learn more and purchase a bangle, visit their website. 
Have an upbeat day!
– Jen Andruzzi
We would love to hear and see how wearing your Alex and Ani bangle has made a difference in your life! Snap a shot of your bangle and tweet it or post it on Facebook using #PositiveIsHowILive and tag @joeandruzzifndn and @charitybydesign to share the positive impact it has made.
positive is how I live. #AlexAndAni ?? pic.twitter.com/Jpj10uHX6R

— mad oldroyd (@madoldroyd) April 22, 2015
My favorite one so far! {Positive Is How I Live} #alexandani pic.twitter.com/xbsfbscaUN

— annie little (@anniebananiee_) June 11, 2015