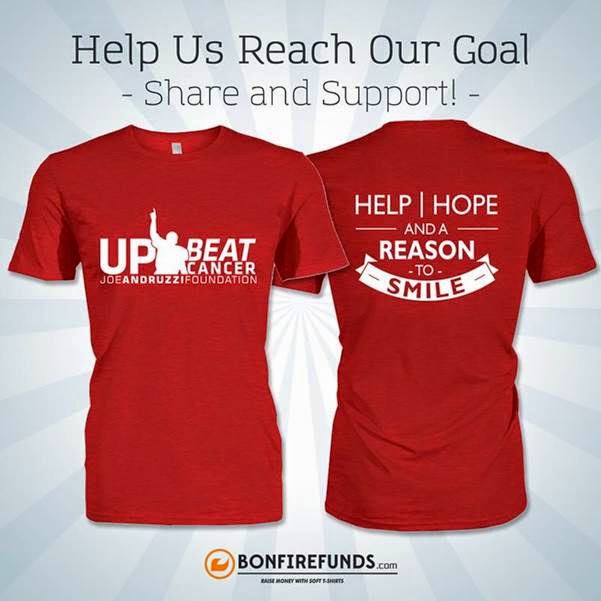 As a family and a Foundation, we have countless reasons to celebrate this holiday season, and hope you do too! During this season of giving, we want to share a few ways for you to support the Joe Andruzzi Foundation as you shop.
-Alex and Ani "Positive Is How I Live" Bangles:
This year we celebrated the one-year anniversary of partnering with Alex and Ani to design the Charity By Design "Positive Is How I Live" bangle.

To date, over 70,900 bangles have been sold with 20 percent of the proceeds from each bracelet benefiting the Foundation!

They're unique, stylish and help the Foundation help others.
-Goodshop Shopping:
Goodsearch is a fantastic search engine, donating half of its revenue to charities designated by users like you! You can download the Goodsearch/Goodshop toolbar here:

http://www.goodsearch.com/

.While you're holiday shopping at over 5,000 participating stores, you'll be making a donation to JAF.
-Amazon Smile Program:
AmazonSmile is another simple, automatic and effective way for you to support the Foundation every time you shop, at no cost to you!

Amazon Smile provides the exact same shopping experience as Amazon.com, but with an added bonus: Amazon will donate a portion of the purchase price to the charity of your choice. For more information visit:

https://smile.amazon.com/

.
-Host a Holiday Event to Benefit JAF:
Who doesn't love a holiday party?

Your guests will enjoy gathering to celebrate the season even more knowing they're helping cancer patients and their families. Third-Party events are a fun way to raise funds, awareness and expand the Foundation's reach. For more information, visit:

https://joeandruzzifoundation.org/third-party-events

.
-#Giving Tuesday:
In the midst of the madness between Thanksgiving and the holidays, a day has been dedicated to simply give. "Giving Tuesday," on December 2, is a day for the world to celebrate generosity. After Black Friday and Cyber Monday, make a conscientious decision to celebrate "Giving Tuesday" – please consider donating to JAF and sharing your generosity socially using #GivingTuesday.
Make the decision to give back this shopping season, and make a difference in a cancer patient's life. From the bottom of our hearts, we thank you for your support and generosity. Happy shopping!