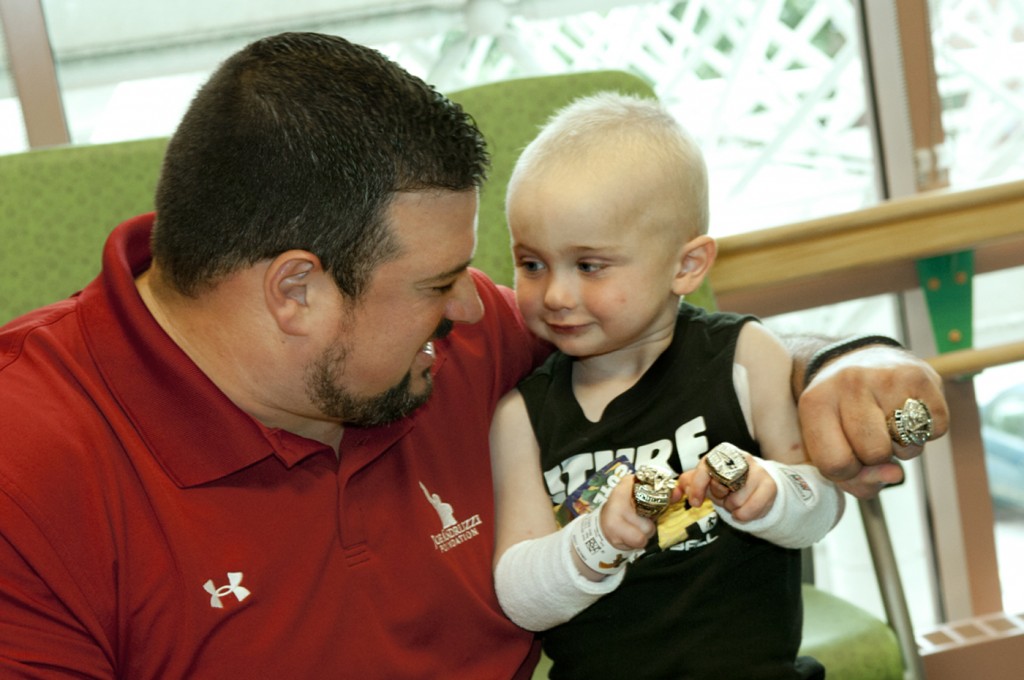 As a Foundation, we've been a part of many patient visits to area hospitals. It's hard not to. It's amazing the impact that a few hours with a handful of patients can have on their attitude, their families and their overall outlook for the future. Each hospital visit reaffirms our belief that the work we do helps to lessen the impact that cancer has on patients and their families. With September being Childhood Cancer Awareness Month, Joe and I took a trip to Hasbro Children's Hospital in Providence to spread our (Up)Beat attitude to a group of young patients.
We were pleased to see, as we visited the first group of patients at the Hospital's outpatient treatment center – the Tomorrow Fund Clinic – that the staff already had the kids in a great mood. We are always impressed by the staff at Hasbro Children's Hospital. We have the utmost respect for doctors, nurses, social workers and child life specialsts who, day in and day out, devote their lives to improving the conditions of their patients. Their impact is certainly visible. When we arrived, arts and crafts were in full swing, and other youngsters played mini basketball. Joe jumped right in, helping to retrieve missed shots and offer his best suggestions for the next artistic creation.
Once the kids settled down, Joe took time to sign autographs, hand out Foundation bracelets and football sweatbands, and pass around his Super Bowl rings. The kids always love this – their faces light up as they have something new to play with – but for us, the most fulfilling part of a patient visit is being able to share our story with patients and families and make a connection with them.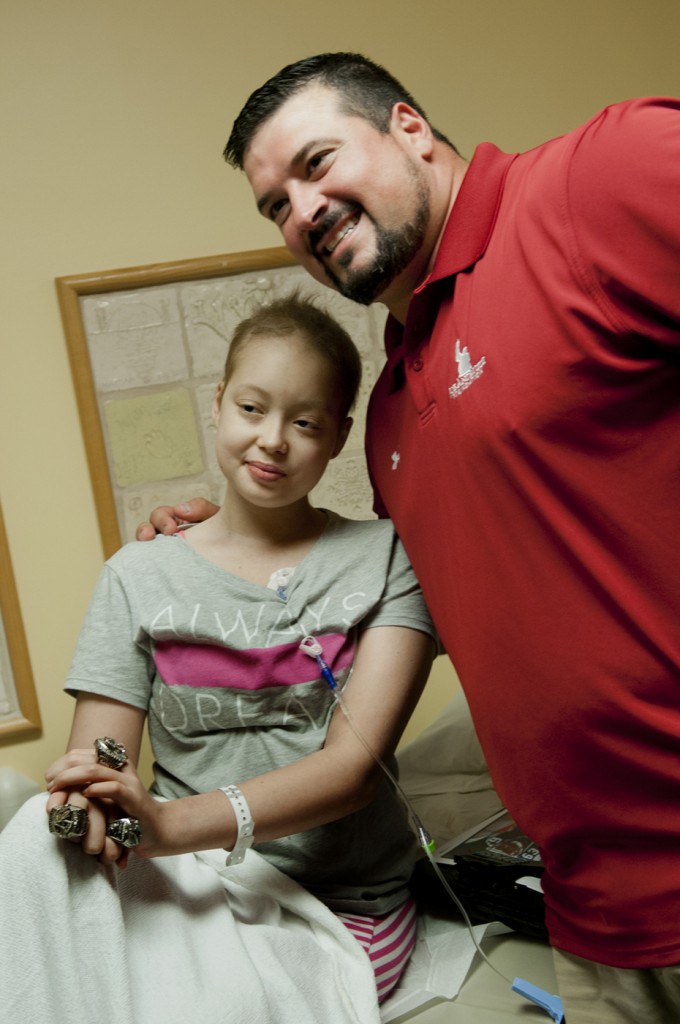 Many of the patients we visit are in a very similar situation to Joe. To hear Joe's story, to understand that he was once in the same hospital bed as they are – is inspirational. When Joe shows a picture of his once bald head to a patient with little hair, they laugh. When he shows the scar on his chest from his medicine port to a patient receiving similar treatment, they are encouraged. To see that Joe – a now healthy and strong NFL Veteran – was once in their shoes is inspirational. The stories we share gives these patient families hope and helps to buoy their spirits during a very difficult time.
Joe and I also always love to hear from the patients. We like to learn about their family, if they have any brothers or sisters, and what they are looking forward to once they finish their treatment. After spending some time with one young lady at the hospital, her grandmother approached Joe and I in the hospital hallway. She mentioned that our visit was the first time her grandaughter had smiled in weeks, and thanked us so much for making the effort to see her family. Hearing that woman's gratitude warmed my heart, and once again confirmed that the work we do as a Foundation makes a tremendous impact.
Each year, nearly 13,000 children in the United States under the age of 21 are diagnosed with cancer. We're proud to share that since 2012, the Foundation has provided $101,250 in financial assistance to 138 patients either living in or receiving treatment in Rhode Island. As always, we continue pushing forward with fundraising initiatives to create a greater impact in the region. Last week, our Mardi Gras Celebration at WaterFire Providence raised $96,000 – another great step in providing assitance to more patients in Rhode Island and beyond.