Margo Pacheco knows what it's like to feel "helpless" in the face of cancer, which is why she's running for us – to lend a hand to families when they need help the most. We're so grateful this Norton mom broke out her old marathon sneakers for our Foundation!

Thank you, Margo, we know you'll do your mother, husband Jeff and son Max proud!

– Joe Andruzzi
JAF: What inspired you to run for JAF this year?
Margo: This past October, my mother was diagnosed with breast cancer a few days before her birthday. It has been a situation that she has handled with grace, dignity and a strength that I always knew she had, but wished she would never need. She is still in the process of dealing and healing the breast cancer, and she is doing an amazing job! I know that she will beat this.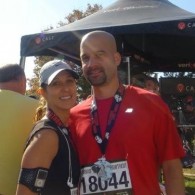 Unfortunately, too many of us know exactly how it feels to have someone we love diagnosed with cancer. It is always scary – sometimes it makes you sad, sometimes it makes you angry, but all the time it makes you feel helpless. Helpless is just about the worst feeling in the world. I decided to no longer focus on what I can't do but focus on what I can do, and I can run. I am coming out of retirement, dusting off my marathon sneakers and hitting the pavement with a mission. I will run the 2013 Boston marathon for my mother and for every other sister, brother, mother, father and child who has felt helpless because of cancer.

There are so many amazing charities to choose from, and they truly all make a difference. I chose to run for the Joe Andruzzi Foundation because it helps people with cancer and their families when they feel the most helpless. I have seen the families that JAF has helped; it is truly unbelievable to see the smiles and hope it has brought to their lives.

JAF: What's your fundraising goal and how are you meeting it?
Margo: My personal goal is $5,000. I have a very supportive family and friend network and, along with them, some very good raffle prizes. I am confident to hit and exceed my goal. I held a shopping event at my cousin's boutique, which was very successful. Also, I am lucky to have a supportive, crazy sports fanatic for a husband, who has season tickets to all the Boston sports teams. So we held an ultimate raffle, where we sold 100 tickets at $25 each and the winner wins two tickets to the Bruins, Red Sox, Pats and Celtics in 2014.
JAF: What's on your marathon resume?
Margo: I have run Boston in 2007, 2008 and 2010, and The Marine Corp in 2009.

JAF: How do you train?
Margo: Training has been going well. I have friends/neighbors who are also running Boston for different charities and we keep each other on track. I usually run small runs – 3 to 5 miles three times during the week – and one long run on the weekend.
JAF: How do you stay motivated to train in winter?
Margo: My friends are usually banging on my door. And all I have to do is think of what my mother has to go through and I get right out there.

JAF: Do you do other charity work?
Margo: Not really, except to donate to some charities that I hold near and dear to my heart. We are very supportive of St. Jude's Hospital, CF and Epilepsy.

JAF: Give us a good marathon story!
Margo: I met my husband training and running the 2008 Boston Marathon; that was, by far, my favorite marathon ever!
JAF: What would surprise non-runners about marathons?
Margo: It is 90 percent mental and 10 percent physical.
JAF: Runner's high… myth or reality?
Margo: Very real, except I don't experience it until I finish the run!
JAF: What's the best training snack?
Margo: Everything!!!!