Jen and I are always touched when our runners have a personal connection to cancer, and run for a loved one. So we're honored Melissa Frontino has joined Team JAF this year, running in memory of her late cousin, Lucy, who passed away from ovarian cancer.

Melissa is a 36-year-old Communications Manager at Financial Engines and lives in Quincy. She says her family – as well as her boyfriend Matt and dog Moxie – support her "150 percent" and are helping her meet her goals. She's very proud to help our cause, and we're, of course, equally proud she chose to run for us!

Good luck, Melissa!

– Joe Andruzzi
JAF: What inspired you to run for JAF this year?
Melissa: Four years ago, I set a goal for myself to run three marathons, and I knew Boston would be the last one. I took last summer off from marathon training, so when the time came to start thinking about running Boston, I was ready! I knew I wouldn't qualify and would be running for a charity, but I wanted to make sure it was for the right cause. One of my co-workers (Rich Desilva) ran with the JAF team last year. And after hearing all about them, I knew I had found the right foundation. I run all my marathons in memory of my cousin Lucy, who passed away from ovarian cancer almost five years ago. And seeing the strain it put our entire family under, I wanted to be part of an organization that helps families during one of the most difficult times of their lives.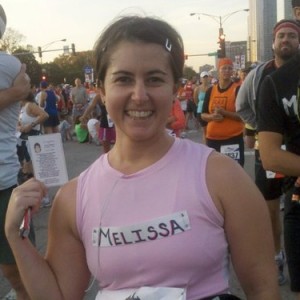 JAF: What's your fundraising goal and how are you meeting it?
Melissa: My goal is to raise $5,000. I've been reaching out to friends and co-workers, who have been great. I'm also planning on hosting a fundraiser with lots of great prizes.
JAF: What's on your marathon resume?
Melissa: I ran the Chicago marathon in 2010 and the NYC marathon in 2011.
JAF: How do you train?
Melissa: So far the training is going well. It's the first time I've trained for a spring marathon, so I've had to get used to going from training in the heat to training in the cold! To try and prevent injury, I do a few different things during the week. I run at least three days per week, with my long run on Saturday. I do a Masters Swim program on Mondays and Wednesdays and then also take a Pilates class and yoga once a week.
JAF: How do you stay motivated to train in winter?
Melissa: The cold is tough, but the worst is that it's so dark out! Funny enough, one of my biggest motivators for getting outside when it's cold is my dog. She loves to go on runs, so I feel like I'm letting her down if I don't go. If it is too icy, then it's off to the Y to run on the "dreadmill," where I've come up with different ways to keep it interesting. Having run a couple of other marathons, I just know how important it is to get the runs in. It also helps that my boyfriend likes to coach me and basically kicks me out the door in the morning!
JAF: Give us a good marathon story!
Melissa: A few days prior to running the NYC Marathon in 2011, I came down with a terrible sinus infection and was feeling a bit miserable prior to the race. At the 16-mile mark, my boyfriend jumped in and ran with me until we got to Central Park. Since we thought he wouldn't be able to jump out of the race once in the park, we split up. But he made me promise that I would run the rest of the way. Half delirious I said, yes, yes, I promise. And off he went. I got about 100 yards into the park and had just started to slow down a bit, and maybe take a step or two, when all of a sudden from up above I hear "Hey! No walking, you promised!!" Turns out he was on a trail that ran parallel to the course, but was a bit elevated, so he could look down and still see me. After that, I took my cousin Lucy's obituary card (which I carry for every race) and started running again until I reached the finish line. I think I was just paranoid of getting yelled at again!
JAF: Got a theme song?
Melissa: Kanye West's "Stronger," as well as Journey's "Don't Stop Believing." I mean, how can you NOT be motivated to keep going when those come on your Ipod?! I have them in my mix and usually pull them out towards the end of a long run to give me that little extra "umph" to finish it up.
JAF: Who's your favorite superhero?
Melissa: Underdog. He's not the most well-known, and he makes mistakes and crashes sometimes, but he's out to do good.
JAF: How do you stay "upbeat" and motivated?
Melissa: It's all about the people around me, who help keep me upbeat and motivated. I'm generally a pretty upbeat person anyway, but being part of the Charity Teams group and getting to interact with so many great, excited people makes it that much easier. I mean, how can you not be upbeat when Susan Hurley shows up for the long run on Groundhog's Day in a giant fur-looking hat, jumping around?
JAF: What would surprise non-runners about marathons?
Melissa: I think of how much of your life becomes all about training. It is a big time commitment. But then you finish…and after a couple of days when you can walk again, you keep thinking about how AWESOME it was. And how the crowds are great and how seeing your friends and family on the course is like a Godsend and how, maybe, just maybe, you might need to run one more.
JAF: Runner's high… myth or reality?
Melissa: Oh, it's real! The problem is trying to figure out how to get it on every run. Some days your feet hit the pavement and it's like you can fly, you could keep running forever. Then the next week, you get out there and feel like you're running through molasses.
JAF: What's the best training snack?
Melissa: I always have a cinnamon raisin bagel with peanut butter about 30-40 minutes before a long run, and then vanilla or chocolate outrage Goo every 6 to 7 miles while I run. Seems to do the trick.