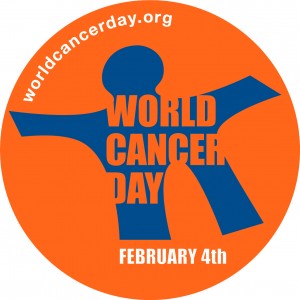 According to a report from the Centers for Disease Control and Prevention (CDC), 14 million people are diagnosed with cancer each year. The #1 leading cause of global economic loss from premature death and disability, cancer has an annual economic toll of $895 billion on patients and families, as reported by the American Cancer Society and LIVESTRONG. This finding excludes direct medical costs, which could possibly double the total economic cost of cancer.
It's clear to see that Cancer is a global epidemic. It affects people of every race, social class, size, shape, gender, and age – no matter where they may be in the world. It's up to us to unite for positive change and prove that cancer is not beyond us! The solution to cancer exists and is in our reach.
Each year on February 4, the Joe Andruzzi Foundation (JAF) joins individuals, organizations, and government agencies worldwide to honor World Cancer Day and the fight against the global cancer epidemic. Established in 2000 by the Union for International Cancer Control (UICC), World Cancer Day is a unique opportunity to raise awareness of the disease, encourage its prevention, detection, and treatment; and urge public officials to make it a global health priority.
This year, World Cancer Day takes place under the campaign "Not Beyond Us" to highlight existing or accessible breakthroughs in the areas of prevention, early detection, treatment, and comprehensive care for cancer patients and their families. By implementing what we already know, we can significantly decrease the global cancer burden.
World Cancer Day 2015 has selected four main areas of education and action:
Choosing Healthy Lives
Early Detection
Achieving Treatment for All
Maximizing Quality of Life
The Joe Andruzzi Foundation is committed to providing help, hope, and a reason to smile for cancer patients and their families by contributing financial and emotional support when it's needed most. We know there's life beyond cancer. Spread the word by helping us celebrate the "Not Beyond Us" campaign and taking an (up)beat, proactive approach to cancer – not only today, but every day of the year.
Take action for the global  fight against cancer by making a donation to the Joe Andruzzi Foundation today in honor of World Cancer Day! A contribution of any amount helps us meet the financial and emotional needs of cancer patients and their families in addition to funding pediatric brain cancer research. Contact us for more info or visit our secure donation page to donate now.