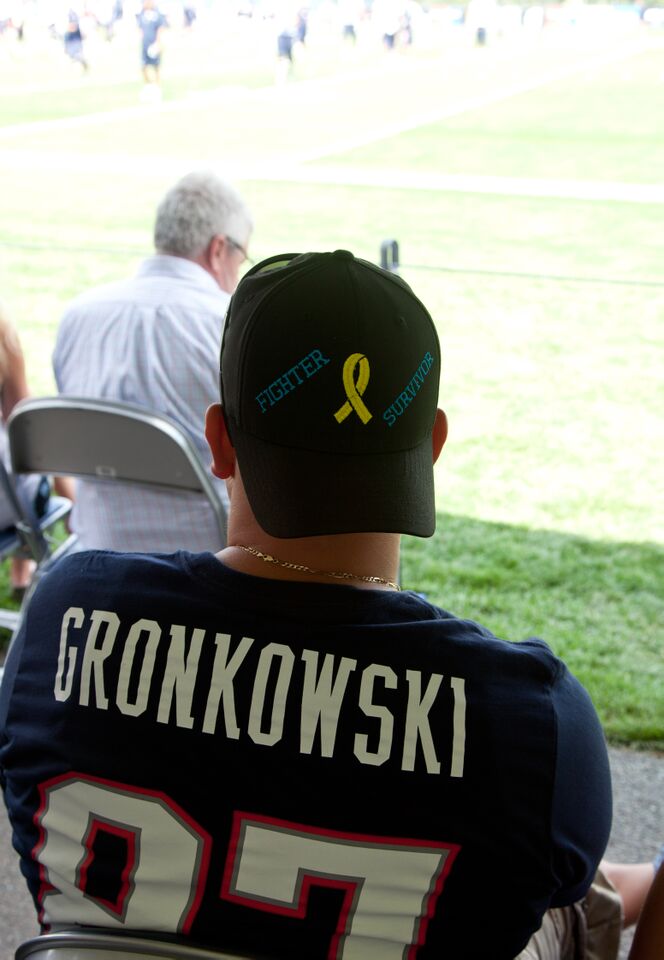 Matthew Ducharme – a typical, fun-loving 26 year old – had everything going for him. A steady job as an oil service technician, a new truck, a loving wife, and, most important of all, the couples first baby on the way.
"I had everything, and I loved everything," Matthew recounts.
And then, in an instant, his world turned upside down.
The Smithfield, Rhode Island native says it was just a typical day at the office last August when he was moving a boiler at work down a tight stairwell.
"I didn't have a lot of room, and when I slipped, my shoulder moved the wrong way," Matthew recently shared. " The boiler weighted about 800 pounds, and I thought I tore my shoulder."
By days end – after persistent urging from his co-workers (and all the signs of a torn rotator cuff) – Matthew went to UMass Memorial to figure out what was causing him so much pain. A day that started so innocuously ended in uncertainty, and a few days later a biopsy confirmed what Matthew and Jessica never saw coming: cancer.
Specifically, Matthew was diagnosed with Ewing's Sarcoma – a rare disease in which cancer cells are found in the bone or in soft tissue. Doctors at UMass quickly referred him to the Dana Farber Cancer Institute in Boston, and from there, Matthew faced the first of many difficult decisions for both he and his four-month pregnant wife – both emotionally and financially.
"There were a few options the team at Dana Farber presented to me – including the removal of different parts of my arm – but in the end I opted for a surgery that would remove the tumor but leave me with a 25-pound weight limit on that side," Matthew recalls. "I had a rod put in, my rotator cuff removed. In the end, I had 14 sessions of treatment, and it really slowed me down."
"I tried to go back to work after the chemo[therapy], but I ended up having to be rushed to the hospital multiple times. I was unresponsive on Christmas Eve for four hours, I possibly had a stroke at one point, and maybe even a heart attack a few weeks later."
Needless to say, Matthew's career would need to be put on hold, as would Jessica's, who became his caregiver – standing by her husband's side each step of the way.
Even as his medical outlook improved, daunting medical bills, prescription fees, mortgage payments and utility bills began to mount – not to mention the costs associated with becoming first-time parents.
"It came down to losing our house or my truck, so I sold my Dodge back to the dealership," Matthew remembers.
That's when a social worker recommended looking into financial assistance grants, and after some research, the couple found the Joe Andruzzi Foundation. Shortly after applying, JAF provided Matthew and his family with financial relief, helping to assist with their monthly mortgage, electric, and heat payments.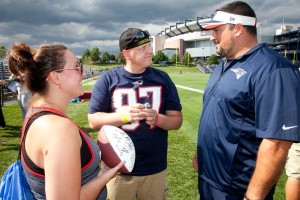 "It was such a relief knowing foundations like [JAF] exist out there," Matthew says. "I kept looking at my situation – couldn't work, in treatment, baby on the way – and though 'how am I going to pay my mortgage this month?' It helped us out so much."
A few months later, the Ducharme's welcomed a beautiful, healthy baby son into the world – Hayden.
From the very beginning of his diagnosis, Matthew understood just how important it was to stay mentally strong throughout his fight and maintain an upbeat outlook.
"You don't pick some of the fights, they pick you, but everything happens for a reason," he says. "I had to focus on staying calm, and not to show my fear to my wife and son – that was most important."
This past August called for quite a celebration – after months of battling, Matthew was informed that his cancer was fully in remission. Just two days later, the Joe Andruzzi Foundation reached out with an invitation for Matthew and Jessica to attend its annual Patriots Dream Camp outing – where patients are invited to take in a day of training camp from a special, VIP tent next to the field.
The purpose of the event – as is the same with all of JAF's "(Up)Beat Outings" – relates back to the Foundation's mantra of staying positive throughout a diagnosis, helping to take patient's minds off their disease, even if just for an afternoon of fun.
"It was such an awesome day," Matthew says. "It helped take my mind off of everything I had been going through, and for the first time in a while I felt normal, like the person I was before I was a cancer patient."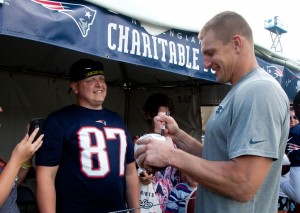 "We got to talk to Gronk, which was so much fun, and then Joe [Andruzzi] walked over after practice, and we got to meet for the first time. He was awesome, I tried on his Super Bowl rings, and after one conversation I felt like I had known him for years."
Matthew is now looking forward in his life – a life beyond cancer – and has some valuable advice for patients receiving a new diagnosis.
"Don't set a date at the start for when your chemo will be over," he says. "Those dates can just keep getting pushed back, and you have to take it one day at a time."
"Keep your head up, because there is always something on the other side. Never give up"