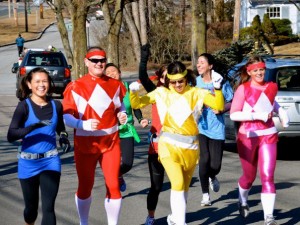 What's blue and "Bubbly" and can run 17 miles?
Well, that would be me – Michelle Greene – in my pigtails and Powerpuff Girls costume, training alongside two of my best friends on the road from Newton to downtown Boston.
I'm one of about a dozen athletes who will proudly run the Boston Marathon for the Joe Andruzzi Foundation, raising money for cancer patients and research. Last Saturday, our team completed its longest run yet – a 17-mile stretch that included the infamous Heartbreak Hill. (It was also my longest run ever!)
But back to Bubbles. Covering that many miles can get a little boring, so about 50 runners from various charity teams that train together – the Andruzzi Foundation, New England Patriots and Doug Flutie's team – decided to dress up as superheroes.
We Powerpuff girls were joined by three Power Rangers, as well as Ninja Turtles and other action heroes. (And yeah, we got a lot of attention, especially in Boston.)
There were even little caped Supermen at the Andruzzi aid station on Heartbreak Hill. (Which, I have to say, was the best station along our route; it was like a party, with Joe Andruzzi and little caped kids cheering us on and serving awesome snacks. It made me proud to run for Team Andruzzi and really showed how much they care about their runners.)
I'm pretty new to running; last fall, I did a half-marathon in New Hampshire and that gave me the courage to tackle the Boston Marathon. For me, running is really social; friends got me into it and keep me going, making it fun. I don't think I would wake up on my own on a Saturday morning and think, "Hey, I should run 17 miles."
I'm especially excited to run for the Andruzzi Foundation; when I heard about its mission, I immediately knew it was the team for me. Ten years ago, my father underwent surgery to remove a tumor in his skull. His treatment was successful and he's still in remission. So I'm happy to say both my parents will cheer me on as I cross the finish line on Marathon day. No one in my family has done anything this physically demanding before, or worked this hard for a charity.
Saturday's run inspired and reassured me; I now really believe I can run that 26 miles. My training regimen – running and cross-training, weightlifting and yoga – is very physical. But it's also mental. I now feel confident I can conquer this challenge.
March 24 will present another big mental and physical milestone, as our team runs the "Hop 21." At 21 miles, it's the longest training route we'll complete before the big day. We're all planning to dress up as Easter bunnies and chicks. And after the run, I'll hold my personal fundraising event, with raffles and auctions, at the Bleacher Bar in Boston. All the money I raise will benefit this amazing organization – a goal that's kept me motivated during this long, cold training season.
With about 50 more days to the Marathon, the countdown is on! I know I'll make it if I stick to my schedule. And luckily, I'll have a lot of superheroes running alongside me – and cheering from the sidelines – to keep my spirits high and legs moving!
— Michelle Greene, Joe Andruzzi Foundation Boston Marathon Team runner