By all accounts coming out of Pennsylvania recently, Oakmont Country Club – host of this week's 116th US Open – may very well be the most difficult course in the history of American golf. But with the way me and my friends hit the ball, Pinehills Golf Club in Plymouth, Mass. makes Oakmont look like a pitch and putt.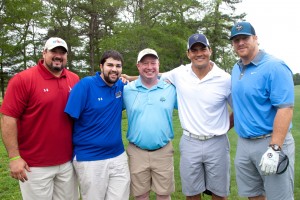 Nevertheless, on Monday, June 27, 2016, the Joe Andruzzi Foundation will once again take over the beautiful Pinehills Golf Club for our EIGHTH annual tournament – presented once again by our incredible friends at East Commerce Solutions, Inc.! Can you believe that? EIGHT YEARS! Time flies when you're having fun.
Jen and I have always been in awe of how our tournament attracts such wonderful and big-hearted supporters/friends, and it's because of your generosity that we are able to realize the full potential of the services we provide to cancer patients and their families.
The 2015 golf event alone raised more than $265,000, and with the help of our supporters, proceeds from this month's tournament will again go towards JAF's mission of providing help, hope and a reason to smile for cancer patients and their families by contributing financial and emotional support when it is needed most.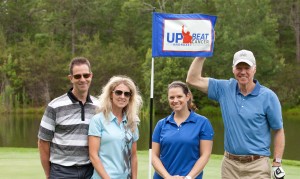 Since its inception, the event has raised over $1.5 million to date, which has allowed us to assist over 2,100 patients – what an incredible ride!
Interested in playing in or sponsoring this year's event? There are still a few spots left! Just visit our website (here) to sign up today – HURRY!
Once again, golfers will tee off at 10 a.m. and play a fun and upbeat "scramble" format – where foursomes tee off, then choose the best of the groups shots for the next shot. All golfers then play the second shot from that location, and again choose the best shot. This process is continued until the ball is holed.
For those looking for a little extra competition – we will be hosting a silent and live auction, offering bidders the chance to win priceless sports memorabilia, entertainment packages and more!
Lastly, I'd like to mention that the entire event would not be possible without the continued support we receive from our Presenting Sponsor, East Commerce Solutions, Inc. Thank you for your incredible generosity and commitment to our mission! (Check out the video at the bottom of the page to see Jen and East Commerce CEO Ed Medeiros talking about the event on The Rhode Show)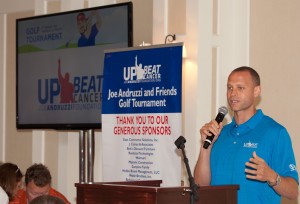 We want to send another huge thank you to Lenny Clarke and Tony V for leading our live auction on tournament day, as well as CSNNE's Dalen Cuff, who will once again be our emcee.Please also help us thank the 2016
Please also help us thank the 2016 day-of supporters, including: Dinner Sponsor J. Calnan & Associates; Celebrity Sponsor Bob's Discount Furniture; Auction Sponsor Walmart, Lunch Sponsors Randstad Technologies (Jones Course) and Behavioral Concepts Inc. (Nicklaus Course); Breakfast Sponsor Majestic Construction, Inc.; Passport Sponsor ROI Communications, Beverage Cart Sponsors Hobbs Brook Management LLC (Nicklaus Course) and Foxwoods Resort Casino (Jones Course); the Zampine Family, our Snack Sponsors; Hole-in-One Sponsors Brewster EMS (Jones Course) and the Kagan Family (Nicklaus Course); and Chance Sponsor, Walsh Brothers.
Can't wait to see you all out there for a great day on the links – hit 'em straight!
Eighth Annual Joe Andruzzi & Friends Golf Tournament
2016 Schedule of events
8:00 AM            Registration and continental breakfast
10:00AM           Shotgun start
12:00 PM          Lunch on the course
4:00 PM             Cocktail reception, silent auction and presentation of prizes
5:00 PM             Dinner, guest speaker and live auction
6:00 PM             Conclusion
For more information or inquiries on this year's event, please contact: events@joeandruzzifoundation.org or 508-261-0630