Over the years, we've been honored to partner with some amazing companies that believe in, and support, our foundation. Today, we're so excited to share that The Paper Store – the largest family owned and operated chain of Specialty Gift Stores in New England – will be partnering with the Joe Andruzzi Foundation from April 14th through April 24th to assist in our mission of providing emotional and financial support to cancer patients and their families.
All 59 Paper Store locations in Massachusetts, New Hampshire, Connecticut, Maine, Rhode Island and New Jersey will be selling JAF-branded decals at checkout for a $1, $3 or $5 donation, with 100% of the proceeds coming back to JAF!
We're so excited to partner with The Paper Store on this campaign for a variety of reasons, but most of all, because it allows us to be able to help even more cancer patients and their families. We can't thank them enough for their generosity towards the Foundation, helping us provide a little bit of relief for families whose lives are affected by cancer.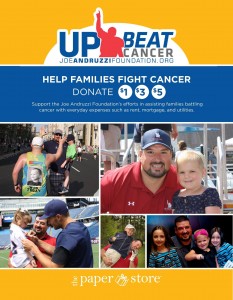 Proceeds raised through campaign with The Paper Store will also support our 2016 Boston Marathon Team JAF runners – who will be tackling cancer with each they take on Patriots' Day. Be sure to follow The Paper Store's social channels on Marathon Monday, where they will be sharing live updates about Team JAF on their Facebook and Instagram pages so that those who want to support from afar can still cheer the team on!
Want to help us kick off the campaign in person? Later today, on Thursday, April 14 (11-1PM), Joe and the entire Joe Andruzzi Foundation will be visiting The Paper Store's Dedham Legacy Place location (320 Legacy Place, Dedham, MA) to get things started! If you are in the area, stop by, say hello, take a photo with Joe, and pick up one of our JAF/The Paper Store decals for a $1, $3 or $5 donation!
Can't make it to Dedham? That's okay! You can visit any of The Paper Store's 59 locations throughout New England and New Jersey today (through April 24) to pick up one of the specially created decals. You can also donate online! Again, all funds raised through the decal sales will directly support JAF's financial assistance program, which provides grants that help patient families with everyday expenses, including rent and mortgage payments, utility bills, and more.
And please help us send a very special THANK YOU to the Anderson family and everyone else at ThePaper Store who made this campaign a possibility. The Paper Store is a family-owned and operated business, and their commitment to giving back to the community and helping others so perfectly aligns with what we believe in here at the Joe Andruzzi Foundation.
Finally, thank you – our supporters – for always backing our mission and the cool fundraising campaigns we partner with amazing businesses on. And be sure to tag us in your social media posting with the decals so we can share them over our Twitter, Facebook and Instagram pages!

– Jen Andruzzi