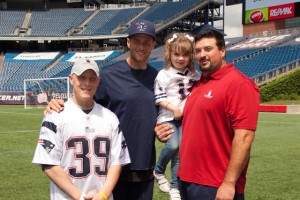 I'm beyond excited to tell you all about JAF's new campaign this fall: "
Touchdowns by Tom
," benefitting our Patient Touchdown Program.
It's a partnership between our Foundation, my former teammate and New England's favorite quarterback Tom Brady, National Grid and CBS Radio Boston – known to us sports fans as the home of 98.5 The Sports Hub Patriots Radio Network.
Here's how it will work: every time Tom throws a touchdown pass this regular season, National Grid will donate $700 to our Patient Touchdown Program. National Grid will also match public donations, dollar for dollar up to $75,000, to our "Touchdowns by Tom" campaign.
Yes, that means YOU can donate to our Patient Touchdown Program this fall, and your contribution will be doubled!
Like all of our patient grants, this program helps patients and families fighting cancer assist with everyday household expenses – like rent and mortgages, power bills, car payments and groceries. But it awards one-time $700 grants specifically to patients who contact us directly, rather than through a patient advocate or social worker at one of our affiliated cancer institutions.
We're immensely proud of the strong partnerships we've established with our region's most esteemed cancer treatment facilities – Dana Farber Cancer Institute, Boston Children's Hospital, Hasbro Children's Hospital, Rhode Island Hospital and Women and Infants Hospital in Providence.

But we remain committed to those patients who write, email or call us directly for help – our Patient Touchdown Program will ensure we remain accessible to the broader cancer community. And thanks to Tom and National Grid, we'll help more than 100 additional families directly this year. One hundred percent of National Grid's – and our supporter's – donations will reach patients.
And it gets better. Thanks to The Sports Hub, National Grid will host JAF patient families at Patriots home game this season, and will also be announced on the radio and honored before every game broadcast.
Jen and I are so grateful to our generous friend, Tom, who gives so much to this region, as a person and player. Tom and I landed in New England at the same time, and played five seasons together – winning three Super Bowls. If feels fantastic to team up again to help our patients and families.
And we can't say a big enough thank you to CBS Radio Boston for providing public service announcements and promoting this campaign, and to National Grid, a local energy company that gives so much back to our community. This is our first partnership with National Grid, and we're proud to join the many deserving local nonprofits and charities the company supports.
At the end of the season, we'll celebrate with Tom and National Grid as we announce the total amount raised. You can follow our progress on the CBS Boston website, or via the
JAF website
,
Facebook
page and
Twitter
feed.
I personally can't wait to watch the Pats play this fall, knowing every seven points scored by Tom's passes means $700 dollars for another patient family. No pressure, Tom!