Ever since she was 19, 42-year-old Attleboro, MA native Tricia would have fibroadenomas—or noncancerous bumps that shrink over time—appear on both breasts. In late 2020, however, things gradually took a turn for Tricia.
While she did discover new bumps on her breasts, what became noticeable for Tricia was her decreasing energy. She soon felt extreme exhaustion, with days becoming tough to get through without taking a nap. Soon after she turned 40 in January 2021, Tricia went to her doctor for a mammogram.
"I remember the doctors saying, 'Oh, we see something. We want to do a biopsy,'" said Tricia. "I was thinking, 'Ok, it's maybe just another fibroadenoma,' so it was just routine because I had been through this many times before."
In early June 2021, Tricia did her biopsy and waited for the results. Curious, Tricia checked her patient portal to find that the new bumps that had appeared weren't benign but cancerous. Later, she was officially diagnosed with stage III breast cancer. Her world had turned upside down.
The biopsy showed the new bumps weren't benign but instead cancerous. Tricia was shortly officially diagnosed with stage III breast cancer.
"After I read all of the biopsy reports, I called my best friend and just started crying," Tricia said. "It was incredibly nerve-wracking and felt like my whole life was just flipped on its head."
Tricia started chemotherapy treatment at the Dana-Farber Cancer Institute after the fourth of July. Her care plan originally consisted of 26 rounds of weekly chemotherapy.
Heading into her first chemotherapy session was scary for Tricia as she felt anxious and under the weather. Fortunately, her care team made her feel as comfortable as can be during treatment, and she got through the start of many long days at Dana-Farber.
After finishing her first set of chemotherapy rounds, Tricia underwent a bilateral mastectomy in November 2021 to remove both breasts. After recovering from surgery, Tricia was back on another treatment plan in 2022, consisting of 14 additional rounds of chemotherapy. Cancer can take a physical and mental toll on a patient, which became more evident for Tricia as the weeks went on.
"It was so draining," said Tricia. "All of the side effects compounded over time, but the one I really felt was the fatigue. I would be completely wiped out after every visit, and it became difficult to even get up from bed."
Despite the grueling treatment, the financial aspect of cancer was looming. Though Tricia was able to keep working her job at an organization that helped fund legal aid programs in Massachusetts, her increasing medical and household bills started to weigh heavy on her, and she wondered how she would provide for her teenage son, Caleb.
In the spring of 2022, Tricia was in a workout class with fellow cancer patients/survivors at a local YMCA, where she heard how the Joe Andruzzi Foundation (JAF) helped decrease the financial burdens of cancer. She spoke with her Dana-Farber social worker about the Foundation, and the social worker applied to JAF on Tricia's behalf.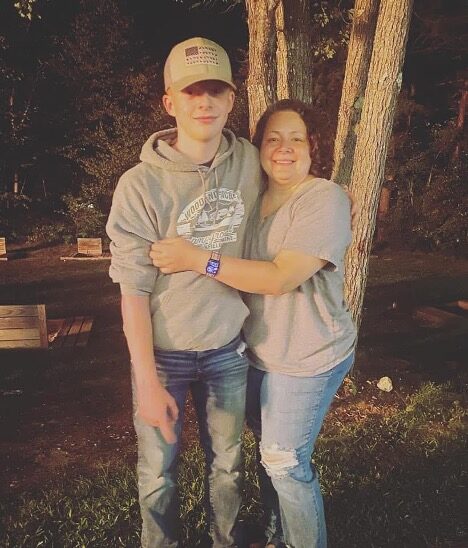 In a short time, Tricia's financial concerns, specifically her mortgage bill, were eased thanks to JAF. Along with getting help paying her mortgage, Tricia received a Market Basket gift card from JAF as part of the Foundation's Food Security Assistance presented by Amplix. That gift card was significant for Tricia, as she could buy the necessary dietary nutrition for herself and keep her son fed.
"It was so helpful and really great to know I didn't have to worry about the finances and bills because of JAF," Tricia said. "Being a single mom, it was hard financially. It wasn't easy having to worry or think about, 'Do I have the money for this? Can I pay for that?' What the Foundation did was a great benefit for me and my son."
Today, Tricia's cancer is in remission, and she takes a daily chemotherapy pill with another surgery scheduled in March. Through it all, Tricia stays positive thanks to the support from so many, including JAF.
"Cancer can turn anyone's life upside down multiple times," said Tricia. "It's a relief knowing that you're not alone in this journey and that there are people out there willing to help like JAF. It honestly feels like a family that I've become a part of."
The Foundation is proud to be here for patients like Tricia and relieve some of the financial stress a cancer diagnosis can cause.