Hopping Into Spring!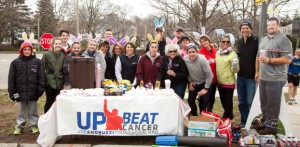 We can't believe it's already Spring – but as the saying goes: time flies when you're having fun, right?
And what fun we had in March, largely thanks to our amazing Team JAF New York City Half Marathon runners, who collectively raised more than $30,000 in support of our mission on their way through Manhattan towards the Times Square finish line!
We also spent the month doing our best Superhero and Easter Bunny impressions (more on that below) – and even treated a group of patients to a Rihanna concert in Brooklyn!
But, believe it or not, those were not the only things JAF was up to in March – read more about the month that was below!
All the best,
Jen and Joe Andruzzi
---
JAF BY THE NUMBERS
2016 BOSTON MARATHON FUNDRAISING TO DATE: $133,731
2016 NYC HALF FUNDRAISING: $30,550
---
Start Spreading the News…Team JAF Tackles NYC Half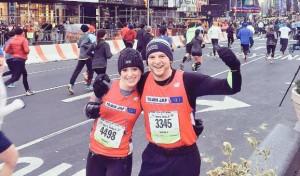 On March 20, 2016, the Joe Andruzzi Foundation's Team JAF charity runners took to the streets of New York, throughout Manhattan – from Central Park to Times Square – all to raise funds and awareness at the United Airlines NYC Half Marathon for the emotional and financial support of cancer patients and their families. The perseverance and determination of our runners is inspiring, and we couldn't possibly be prouder of their work in the name of our Foundation's mission.
When it was all said and done, 11 Team JAF charity runners had raised more than $30,000 for the Joe Andruzzi Foundation – and with each stride, we collectively took a step closer to helping more patients and families than ever before.
For the first time, Team JAF fielded awareness runners (17 in all) to don JAF singlets during the race – led by team captain Susan Hurley of CharityTeams –  to help spread JAF's mission throughout the Greater New York area.
We would like to send special shout-outs to our good friends at Davio's Manhattan, who hosted Team JAF for an awesome pre-race celebration on their rooftop terrace – as well as our supporters at New Balance, who once again provided our runners with their amazing singlets for the race!
If you missed it, check out the great race photos on our Facebook page that some of our supporters sent us! And for more on Team JAF's triumphs in NYC, click here!
---
Down the Stretch they Come! Marathon Monday = 18 Days Away!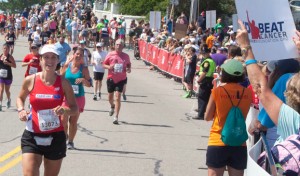 In just over two weeks, 19 of the Joe Andruzzi Foundation's Team JAF Boston Marathon runners will be coming down Boylston Street on Marathon Monday – all of whom have been raising funds throughout months of training in support of JAF's mission. To date, our runners have raised more than $130,000 – and there is still plenty of time to support the cause!
It's hard to believe Team JAF's first Marathon was almost five years ago. Since that race, more than 100 special runners have pledged to train and fundraise as a member of our Marathon team, becoming the ultimate foundation ambassadors along the way.
And just this week, we welcomed another Marathon runner to our 2016 team: JAF's Executive Director Jen Andruzzi!
Jen, who recently received an invitational entry, made a last minute decision to run the 120th Boston Marathon for JAF in honor of individuals who are diagnosed with cancer and have no choice but to begin treatment immediately. Jen is taking this 30-day challenge head on, and every stride she takes will be for individuals who receive the diagnosis of cancer and do not get the option of training for treatment.
Jen's $18,200.00 fundraising goal has a special meaning behind it: it represents 26 cancer patients and families that will be able to receive a JAF Financial Assistant Grant – one for each mile.
You can support Jen by visiting her fundraising page.  To read more about her decision to run, click below to visit the JAF blog.
---
It's a Bird…It's a Plane…It's a…Bunny?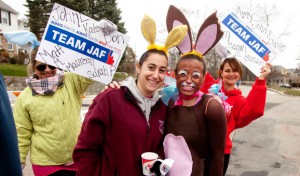 As you can imagine, members of Team JAF's 2016 Boston Marathon team have been hard at work over the past few months, diligently training for the big race on Patriots' Day. Our runners will do whatever it takes to get to the finish line, even if it means dressing up in wacky costumes.
Our team had a blast at the annual Superhero 17 training run last month (photos here), and they followed it up with a very strong showing at CharityTeam's Hop 21 Boston Marathon Training run last Saturday.
Be sure to check out the photos – and please help us send a very special thank you to Star Market, Marathon Sports, Honey Dew Donuts and BODYARMOR for donating product to our water stop!
---
ALEX AND ANI Sponsors (Up)Beat Patient Outing with Rihanna!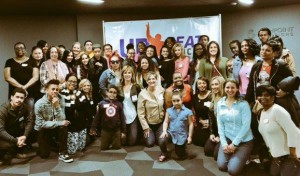 Thanks to our amazing friends at ALEX AND ANI, the Joe Andruzzi Foundation was able to host a V.I.P. reception for 45 cancer patients and guests at last nights Rihanna concert at the Barclay's Center in Brooklyn, NY!
The event was part of JAF's ongoing series of (Up)Beat Opportunities – helping cancer patients and families stay positive by enjoying time away from treatment, even if just for one night.
Please help us send a huge THANK YOU to ALEX AND ANI for hosting an amazing night, and for all they do in support of JAF patients!
---
Join the JAF Smile Brigade!

Providing cancer patients with help, hope, and a reason to smile has always been at the core of the Joe Andruzzi Foundation's (JAF) mission – but the need is never-ending, and that's why we are hoping you will join our JAF Smile Brigade: annual donors committed to helping defeat frowns all across the region!
Think of how far $700 can go to help with a monthly mortgage payment, or what $500 could do for a family struggling to make rent during treatment cycles. Think of last winter, and how $250 could have alleviated the strain of a monthly gas or oil bill. Even $100 can help families pay their phone bill, and $50 can provide much needed groceries.
And that's why we need your help to alleviate cancer's financial burdens on patients and families so they can focus on what really matters: getting better!
---
Support the #ToughLikeMyDad Fund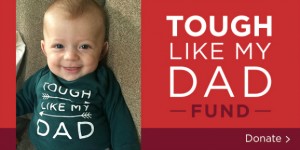 We want to thank Patriots co-captain and cancer survivor Nate Solder, our gala's keynote speaker, for bravely sharing his own experiences with cancer – including the diagnosis of his four-month-old son, Hudson, which was revealed to our gala crowd.
Nate, a testicular cancer survivor, and his wife, Lexi – both long-time supporters of JAF – have asked that those wishing to support Hudson's battle make a donation towards the Joe Andruzzi Foundation's Tough Like My Dad Fund, appropriately named after the adorable photo of Hudson the Solders shared with the gala audience in November.
Proceeds of the Fund have already exceeded $33,000! Thank you for your support of Hudson and JAF's mission!
---
8th Annual Joe Andruzzi & Friends Golf Tournament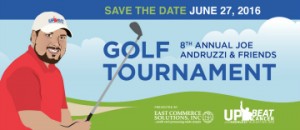 The Joe Andruzzi Foundation's will return in 2016 to the beautiful Pinehills Golf Club in Plymouth, MA for our 8th Annual Joe Andruzzi & Friends Golf Tournament, presented by East Commerce Solutions, Inc.
Check back next month for details on foursomes. For questions regarding sponsorship opportunities, please contact events@joeandruzzifoundation.org.
---
44th New Balance Falmouth Road Race®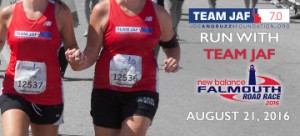 SAVE THE DATE! On Sunday, August 21, 2016, the Joe Andruzzi Foundation's Team JAF runners will once again take strides against cancer at the 44th New Balance Falmouth Road Race in Woods Hole. Fifty Team JAF runners will join more than 12,000 participants as we gather for the scenic 7-mile run in the heart of Cape Cod – all to raise funds in support of JAF's mission of providing help, hope, and a reason to smile for cancer patients and their families.
Interested in running for Team JAF? Stay tuned for our official 2016 application in the coming weeks – but in the meantime, email teamjaf@joeandruzzifoundation.org to join our mailing list and be first to learn about Team JAF initiatives and announcements.
---
#UpBeatCancer Spotlight
Bill Donovan Exemplifies #UpBeatCancer Through #ToughLikeMyDad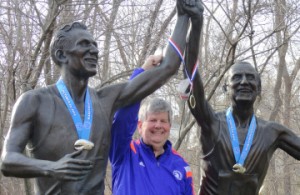 If you asked 100 people why they run, it's very possible that you would receive 100 different answers. Some run for exercise, some run for fun, others enjoy the competition.
For Bill Donovan, running literally saved his heart – and he used his second lease on life to help "pay-it-forward," one stride at a time.
Click here to read the amazing story behind Bill's motivation to run the 2016 New York City Half Marathon in support of the Joe Andruzzi Foundation's Tough Like My Dad Fund.